Kiev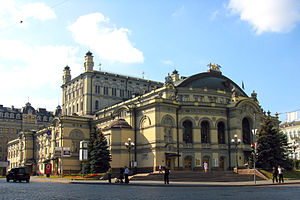 Kiev
(
Ukrainian
:
Київ
,
Russian
:
Киев
),
Europe
's city of intrigue, is the capital of
Ukraine
and its largest and most vibrant city with 3 million inhabitants. It is in the north of
central Ukraine
on the Dnieper River (Ukrainian: Днiпро, Russian: Днепр).
Understand
The official name of the city has long been Kyiv, a transliteration from the Ukrainian Київ. The common English name of the city, Kiev is a transliteration of the Russian Киев. Expect to see Kyiv used more often inside Ukraine and Kiev to be used by most foreign media. The spelling of the city name in English-language guidebooks is debatable.

History
The Ukrainians are understandably very proud of their capital's role in establishing European civilisation in Eastern Europe. Kiev is one of the oldest cities in Eastern Europe dating back to the 5th century although settlements at this location existed much earlier. By the late 9th century, Kiev was at the centre of an emerging Eastern Slavic state. Between the 10th and early 13th centuries, the city reached its golden age as the capital of the first Ukrainian state known today as Kievan Rus (Kyivan Ruthenia, or Rus-Ukraine). It was this state that shaped the religious and cultural foundations of the modern Slavic eastern European states.
In the middle of the 13th century, Kievan Rus was overrun by the Mongols. Later that century, Kiev became part of the Grand Duchy of Lithuania. In 1569 the city was absorbed into the Polish-Lithuanian Commonwealth. In 1654 the Cossack, Hetman Bohdan Khmelnytsky "liberated" Kiev from that Commonwealth, but then promptly folded it into Russian hegemony in an action that continues to be a sore point for Ukrainian nationalists.
Full Russian annexation came in 1775 and the city remained under Russian rule with brief independence between 1918 and 1920 during the chaos that followed the Russian revolution. Over these two centuries, Kiev experienced growing Russification and Russian immigration. After the collapse of the Soviet Union in 1991, it became the capital of independent Ukraine and is now discovering its place as a large European capital.

Climate

Average temperatures are maximum 26°C (79°F), minimum 15°C (59°F) in summer and maximum -2°C (28°F), minimum -8°C (17°F) in winter. Spring and autumn (fall) can be very brief. Heat waves featuring temperatures as high as 38°C (100°F) are rare but not unheard of in the summer months and brief but potent cold spells with temperatures as low as -20°C (-4°F) are not uncommon in winter.

Talk
In general the people in Kiev are hospitable and will be eager to help you. However if you don't have a knowledge of Ukrainian or Russian you may find service in restaurants and shops difficult, though this is slowly changing among younger generations with more exposure to English.
While 85% of residents claim Ukrainian ethnicity, most Kievans usually speak
Russian
(all Kievans can understand and speak
Ukrainian
, nonetheless); Ukrainian is primarily spoken by immigrants from Western or Central Ukraine. Like many former Soviet cities, Kiev is a multicultural place: you will certainly meet ethnic Russians - which form about 13% of the city's population - and also Armenians, Azeris, Belarusians, Georgians and Tatars. There are also people claiming Jewish, Polish, Romanian and Hungarian descent.
Officially, all signs are in Ukrainian only. Since 2011, signs with Latin transliteration are starting to make an appearance throughout Ukraine.
Get in
By plane
Kiev has two airports. Most "full-fare" airlines use
Boryspil
, east of the city, while most budget airlines use
Zhulyany
just west of the centre.
Boryspil Airport
Boryspil International Airport

phone: +380 44 281 7154, +380 44 281 7356

This is the hub for Ukraine's "flag-carrier" airline, Ukraine International Airlines. There are scheduled direct services to the main European capitals, Russian cities, Yerevan, Istanbul, Tel Aviv, Gulf states, New York, Toronto and Beijing, plus summer services to Mediterranean and Red Sea resorts. There are domestic flights to Odessa, Chernivitsi, Dnipro, Kherson, Ivano-Frankivsk, Lviv and Zaporizhzhia. As Kiev's air traffic is much reduced nowadays all flights use the modern terminal D: international gates D1-D16, domestic D17-D22. There's free Wi-Fi in all passenger areas (network name: Free Borispil WI-FI). The duty-free store has that rare commodity, a genuine bargain: local vodka is €5 a litre. Mobile sim cards can be purchased in the ground-side Arrival hall. Terminal D has decent rates for currency exchange except for the exchanges just outside Arrivals which are poor - keep walking to the left to find an office with 7% better rates.
Getting there/away: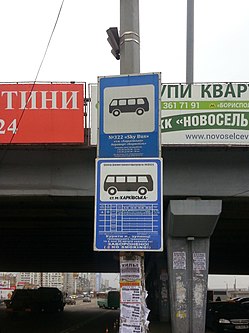 By bus — The Sky Bus runs 24 hr between the airport and Kiev's Central Railway station every 20-30 min, taking 50-70 minutes, fare 106 грн (66 грн to Kharkivska metro station) if bought online, 100 (60) грн if paid with cash to the driver. Buses run from Georgiy Kirpy St on the south side of the railway station: use the station bridge to cross to north side (Symona Petlyury St) for Vokzalna metro station and to walk into the centre. These buses also stop at Kharkivska metro station (Green Line) on the eastern edge of the city. Heading from airport to city, get off and change to the metro if your destination lies on the east bank or if it's rush hour. It's less convenient to do this, heading out to the airport since the bus might skip the stop if it's already full and even if it does stop, the seats will be taken and you'll be standing all the way. At Kharkivska, the bus stop for Sky Bus is clearly marked.
By train — Kyiv Boryspil Express started in November 2018 and runs between Boryspil Airport and Kyiv Railway Station, via Darnytsia railway station. Train runs every 30 min during peak periods and every 60 min during non-peak. Travel time takes about 40 min. Ticket costs 80 грн.
By taxi — For taxis, the minimum price to the city centre is about 320 грн (May 2017) when you book in advance. Alternatively, Uber and Bolt offer the best value for the last minute calls (about 350 грн to the centre or alternatively around 200 грн to the closest metro station Boryspilska in June 2019). As of 2018 March, the official taxi charges a fixed rate of 160 грн for the first 10 km and 11 грн for each kilometer after. If you don't go downtown but overnight in Boryspil instead (4-6 km), it's still 160 грн, however taxis outside are negotiable and take you to a hotel in Boryspil (not downtown) for 120-150 грн or possibly less during daytime. You can also call a taxi if you have a phone.
Zhulyany Airport
phone: +380 44 242 2308, +380 44 242 2309

address: Vul. Medova, 2

Mostly served by budget airlines, chiefly Wizz Air, but LOT have scheduled flights to Warsaw, Belavia to Minsk and Alitalia to Rome.
Getting there/away:
By bus – Trolleybus 9 runs to the Central Railway Station, on Metro Line 1. Bus 78 runs to Vasylkivska Metro Station (Line 2). Trolleybus 22 runs to Dorohozhychi Station (Line 3).
By train – Volynsky Train Station ("Київ - Волинський") is a suburban-line station 500 m west of the airport. "Elektrichka" local trains run to the Central Railway Station every 15 min or so, 06:00-20:30, taking 15 min. Occasional inter-city trains also call here.
By taxi – To the city center it costs 100-150 грн if booked or negotiated in advance.
By train
There are international direct trains to Chisinau (15 hr), Minsk (12 hr), Moscow (14 hr), St Petersburg (23 hr),
Vienna
(24 h) and Warsaw (17 hr).
Ukrainian Railways
has Intercity trains from Poltava (3 hr), Lviv (5 hr), Kharkiv (4 hr 30), Dnipro (5 hr 15 min) and Odessa (7 hr 15 min) among many other smaller cities - usually with two daytime trains and one slower overnight train. Direct trains from Crimea remain suspended.
phone: +380 44 239 8951, +380 44 503 6050

address: Sq Vokzalnaya, 1

All mainline trains arrives here. The station is wide, with a bridge across the tracks between the north and south terminal buildings - each has its own ticket offices and other facilities. North side is the main entrance facing city centre, with metro station "Vokzalna" (Line 1), Pivnichna suburban train station, and buses and taxis into town, all in the square just outside. South side has the bus stops for both airports.
By bus
phone: +380 44 525-5774

address: Moskovskaya sq, 3

International buses stop at the central station, which is a squalid place that is anything but central. There are frequent direct buses of variable quality from Germany, Poland and Moldova. Kiev is served by Euroclub-bus from various destinations in Germany: Bremen, Cologne, Frankfurt and Rostock and from Vienna in Austria. Inland buses by Autolux and Gunsel.

address: Vokzalna sq, 1

Polissia Bus Station

phone: +380 44 430-3554

address: Shevchenko Tarasa sq., (пл. Шевченка,) 2

For northern directions.

phone: +380 44 257-4004

address: Prosp. Akademika Hlukova, (пр-т академика Глушкова,) 3

To/from Vinnytsa and other southbound destinations.

phone: +380 44 559-4618

address: Prosp. Haharina, (пр-т Гагарина,) 1

Dachna Bus Station

phone: +380 44 424-1503

address: Prosp. Pobedy (пр-т Победы,) 142

Western directions.

phone: +380 44 417-3215

address: Vul. Nizhny Val, (ул. Нижний Вал,) 15-а

Vydubychi Bus Station

phone: +380 44 524-2182

address: Naberezhno-Pecherskaya Rd, 10

To Kaniv and Cherkassy.
By boat
It's possible to organize trips down the River Dnieper to the Black Sea in summer. A travel agency in Ukraine can book these trips for you.
Get around
Kiev can seem quite foreign to the western tourist, as most signposts are in Cyrillic script. It is still largely a city where few people know English, but their number among young people is growing quickly. Many may not be able to maintain a conversation but are likely to understand spoken English. Many cafes and restaurants offer menus in English and the Metro has all announcements in Ukrainian and English. For the non-Russian or Ukrainian speaker, it's quite possible to get around easily, and it is a very interesting city to explore.
It is advisable, however, to pick up a pocket Russian or Ukrainian phrasebook, and learn the Cyrillic alphabet, which can be fun and is easy to learn. Spend some time practising key words and phrases (e.g. 'hello', 'thank-you' and 'bill please'). Even what you regard as a feeble attempt at Ukrainian or Russian will amuse most people to the point where they become comfortable engaging in pantomime or trying out the little bit of English they know.
It is impolite to chat loudly (e.g. in the Metro), point or wave one's hands. You should also avoid whistling inside or being under-dressed, although in summer very short mini-skirts are widespread. All of these actions will regularly attract the wrong type of attention, including outright hostility.
Navigating
Pick up a "Kyiv Tour Guide" map book (Geosvit books - around US$3–4), which is available at a number of kiosks or at the central post office.
Kiev#Post Offices
Basic tourist maps are available at the baggage carousel at Boryspil Airport. If you are spending much time in Kiev, get the matching Ukrainian version of your map, many locals have as much trouble with the version that is transliterated to Latin characters as you will have with Cyrillic. They need the version in Cyrillic. When asking for directions or setting out in a taxi, it helps to locate the place you want on the English map and then point out the same spot on the Ukrainian version.
Also, there (understandably) has been another wave of old names being returned to many streets (
Horkogo
is now
Antonovycha
,
Chorvonoarmiyska
is
Velyka Vasilkivska
and so on); these have by and large filtered down to the online maps, but the signs on the houses often hadn't been changed, and some businesses can still list the old-style addresses - and vice versa, your paper map (and maps on the info stands on the streets) can be out of date. If you suddenly find that the address given to you is either not on the map or points somewhere completely unrelated, ask.
By metro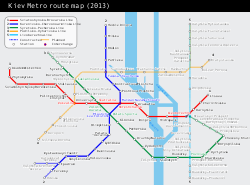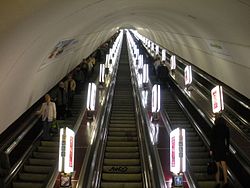 The Metro (Ukrainian: Метро) is one of the pleasures of Kiev. It is a clean and fast subway system and it is easy to navigate once you realize that all three metro lines (red, blue and green) go through the city centre. In total there are 52 stations, with ambitious plans for extension. The official website can be found at
www.metro.kiev.ua
When you enter the Metro, you can purchase an entrance token from the cash desk, Kasa (Ukrainian: каса) or from a special ticket machine. One token is valid for one trip, no matter how far you go. A token is 8 грн and one needs to slip the token into the turnstile to enter. Be aware that you can't buy more than one token per person out of concern that passengers may stock tokens during the period preceding an upcoming price increase.
A note of caution:
make sure you walk through the correct side of the turnstile (that's usually on the left side of the turnstile you slip your token in), or you will be hit with a metal gate that will slam shut.
You can also obtain an unlimited monthly ticket with a magnetic tape, which is available for sale for 610 грн during the first week of the calendar month or the third week for half the price (but not strictly so).
As of early 2017
, all Metro stations also accept contactless card payments, such as Mastercard's PayPass or Visa's PayWave. Visitors can use the brightly yellow/orange-coloured turnstiles (usually only one per Metro entrance) to tap and pay with their card. You can confirm if you have the right turnstile by looking for the contactless payments symbol. An audio tone like the token insertion indicates if your payment has been successful. The cost of using the contactless payment is the same as a token, and additionally, discounts are automatically applied if you travel frequently. You can also associate your contactless card with a monthly/half-monthly unlimited travel plan for further discounts.
As of 2012, the Kiev metro has undergone a major improvement with respect to the navigation. Most maps and signposts are translated into English. Additionally, every station has a unique three-digit number, with the first digit showing the number of line (M1 for red, M2 for blue, and M3 for green). Once on board, every station is announced by loud speakers and TV screens. These screens show a lot of weird ads between the stations, but flag an impending station before arrival. Upon departure, they then show the next station.
Metro stations where you can interchange have two different names - one for each line. If you are changing lines, the other station can be reached by an overpass in the centre or near one of the ends of the platform.
Trains run every 30 to 150 seconds during business hours, every 5 min after 20:00, and every 10–15 min after 22:30. Last trains depart from the terminal stations around midnight, so your last chance to catch a train in the city centre is between 00:15 and 00:25 (check the timetable of late departures, which is signposted on each station). Trains are often very crowded. Be prepared to push, as this may be the only way you get on the train during peak hours.
It's interesting to note that the Kiev metro has some of the deepest stations in the world. The Arsenalna station (Ukrainian: Арсенальна) station is the deepest metro station in the world, at 107 m deep, and the Universytet station (Ukrainian: Університет) has one of the longest escalators (87 m long). Many stations have two long and intimidating escalators in a row.
If you enable "Cell Info Display" on your GSM phone, it will show you the name of the station (in transliterated Latin characters (for UMC and Kyivstar subscribers) just like your map) when you are underground in the vicinity of a station. Your mobile/cell/handy should work on most of the network, including between stations.
Spend some time looking at the stations. The red line features impressive architecture, similar to that seen in the
Moscow
and
Saint Petersburg
metro systems. Elaborate mosaics in the
Zolotye Vorota
station depict rulers and other historical characters of the medieval Kievan Rus.
By bus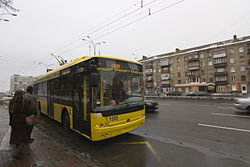 There are two types of city-run buses available – bus (
автобус
) and trolleybus (
тролейбус
) – as well as slow and moribund trams. These can be hailed from assigned stops, which are marked by an inconspicuous sign on a telegraph pole. The buses are often
very crowded
during peak hours, but the norm is to push your way in. Once on board, you need to get a ticket and validate it by punching a hole with one of the small punchers that are attached to the posts inside the bus. If you can't get near the hole puncher, ask someone to validate your ticket for you. Tickets cost 8 грн and are normally available from a conductor on board (oddly enough, they first sell you as many tickets as you want, then asks you to validate one). Tickets can be also purchased from drivers or in kiosks throughout the city.
By marshrutka
You can also travel on so called route taxis or mini-vans called
marshrutky
(
маршрутки
). These are privately run vehicles that travel assigned routes, which are listed on the front of the bus. You can hail a
marshrutka
at the assigned bus stops. When you board, you pay the driver directly or, if you're not near the driver, pass the money to the nearest passenger who will pass it to the driver. Your change will be returned in reverse order, but it is unwise to pass big bills. When you are reaching your destination, simply yell out to the driver to stop
"Na zupyntsi"
with stress on "-pyn-"', which literally means "on the stop" in Ukrainian, or use Russian: "Na astanovkie", stressing on "-nov-" (some 100 m in advance to the bus stop you need). If you overshoot you get a nice walk and a driver gets a little extra stress a day. The fare ranges for about 5 грн, and is usually stated on the front and sidewalk-side of the vehicle, so you will know how much you pay in advance. It is good to have some change, so you can pay exact amount.
Marshrutka routes
can be hard to figure out, but they have a list of stops on the window and a Metro logo for the metro stops. The best way to figure out where these go is to ask some of the locals. City maps usually picture all public transport, normal buses, trolleybuses, trams and marshrutky. The one downside to using marshrutky is that they tend to be a little overpacked (understatement) and very warm or cold, depending on season.
By tram
Travelling by tram mostly for on or to suburbs can be an option. In western Kiev maybe a useful end station which is at the Kontraktova metro station. From here depart No.14 far to westward and No.18 to the 'Vokzalna' station. Also from Kontraktova depart to northbound No.11 to Obolon metro station, No.19 to Minsk metro station, No.12 to northwest, a bit out of city limit to Horenka settlement. For more info visit
Kievpastrans website.
By taxi
Most of the time, Über is very cheap in Kiev and reliable. Foreign bank cards can be used for payment as normal, however, the Ukrainian Über accounts allow cash payments as well. Tourists accustomed to Über will avoid a lot of stress dealing with local taxis by sticking to it. Other popular taxi hailing apps include Bolt and the local company called Uklon.
As with many former Soviet cities, it is perfectly acceptable for any car to stop and pick you up. An unmarked vehicle is a '
gypsy' cab
. To hail a ride, simply stand with your arm out. When a car pulls over, negotiate a fare. As a rule of thumb, rides within the downtown should not cost more than 20-40 грн and moving across the city might be 30-70 грн (also depends on car model, time of day, weather and traffic conditions, whether both of you need to get to the same part of the city, etc.) Therefore, you should choose a proper street side, and your gender and numbers usually matter for the price. Generally, girls would find informal taxis easier and cheaper than men. It is safe enough compared to many cities, but in the middle of the night you may be taking a risk. It's worth saying that the proliferation of taxi apps quickly removes gypsy cabs from the city streets and makes them unnecessary and barely existing.
Official company taxis
can be hailed, or booked over the phone. There is usually someone who speaks English working for the company. Simply ask 'pa angliski pazhalusta' (or "English please"). The operator will give you a quote, which will save you from the sometimes intimidating process of negotiating on the street. Taxi
fares
do vary widely. On the same route, a local could pay 15 грн while a foreigner may be quoted 60 грн with the driver being prepared to settle for 30 грн. Don't hesitate to bargain!
By funicular
phone: +380 44 425-1252, +380 44 254-6590

address: Vul. Sahaidachnoho Petra, 3

A scenic way to get from the upper city down to Podil (or, naturally, the other way around) is to catch the funicular from Mykhaylivs'ka Ploscha to Poshtova Ploscha in Podil. You can enjoy views of the Dnieper and left bank on the way down. To pay the fare, buy a token from the kiosk next to the gates and insert it into the entrance barrier; sometimes the worker in the kiosk will just wave you through without actually giving out the token, so pay attention to his/her body language and to the red/green arrow on the gate.
See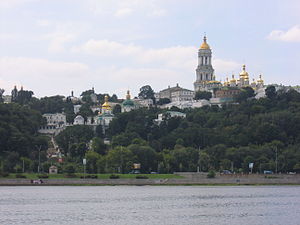 Khreshchatyk StreetThe main drag of the city centre is closed to traffic on some weekends and full of entertainers and people wandering around. A big happy crowd and very conducive to people watching.

Maidan NezalezhnostiIndependence Square or Maidan is the place where opposition to pro-Russian governments gathered at different points between 2004 and 2013. This is a central meeting place in Kiev.
Andriyivsky Uzviz or Andrew's DescentAt the top of this quaint, very rough, cobblestone street is St Andrew's Church (closed for restoration since 2011). Pavements are gradually being added to the Descent but, meanwhile, take a good pair of shoes. The street is lined with souvenir sellers, restaurants, galleries and museums. Touristy but retains its charm.

Golden Gate of KievThis is a 1982 reconstruction of the Golden Gate of Kiev, described by Mussorgski in "Pictures of an Exhibition". It is quite a nice spot to visit and learn about the town walls. Some nice buildings are also there and you can inspect the Porsche Cayennes, Lexuses, Audis, BMWs and Mercedes of Ukraine's nouveau riche who are very much into conspicuous consumption.

Mariyinsky Palace and Mariyinsky parkLocation of the Lovers' Bridge.

Kiev TV Tower - Televiziyna vezha

address: Vul. Dorozhytska, (вул. Дорогожицька,) 10

A 385m-high (1,263 ft) lattice steel tower built in 1973. It is not accessible for tourists. The operational platform is at 200m.
Kiev Pechersk Lavra complex
phone: +38 44 280-3071

address: Lavrska street, 9

One of the oldest and most important monasteries in Ukraine and in the territory of the former Soviet Union. Only the most important monasteries were designated as Lavras; there were only four, of which this Cave Monastery is the oldest. It was founded in 1077 by St Antoniy. The caves were dug out by priests who lived there as hermits. Nowadays, the caves are venerated by the faithful and tourists who visit the mummified monks, and pilgrims are still allowed access to the underground church there. There are two parts to the modern complex: the upper lavra, owned by the state and consisting of a number of museums (entry fee); and the lower lavra, owned by the Orthodox Church (Moscow Patriarch) and consisting of the caves (you'll need 1 грн to buy a candle to enter). Do not miss the display of micro-miniatures in the Upper Lavra. It sounds lame, but it is fascinating. You can enter the caves in the lower part if you dress correctly (women must cover their hair and wear skirts, no shorts. Expensive scarves are for sale there). Women can only just get away with pants in the winter. Start at the Lower Lavra, visiting the caves before the crowds descend for the day. There are two cave complexes, each housing the mummified remains of monks, as well as religious icons and other relics. Both caves are accessed through churches, with the entrance to the shorter caves at the end of a boardwalk. While it is free to enter the caves, you must purchase a taper candle in order to light your way. The caves are not recommended for the claustrophobic or overly tall. Once you're in there, it's hard, even impossible to turn around and go back out - you have to keep going.

Pechersk Lavra fortificationA system of walls, towers and other constructions built for the protection of the Cave Monastery. - The fortifications consist of Upper Lavra: - the Southwest Tower, or the tower of Ivan Kuschnik (Вежа Іоанна Кущника); - the South Tower (Південна (Годинникова) вежа), or the Horlogium, 1818; - the North Tower (Північна (Малярна) вежа), also called the Painting Tower; - the East Tower containing the church of Saint Onufry (Онуфріївська вежа), - Economic Gate and the Church of All Saints, - West Gate Holidays to Holy Trinity Church, South (lower) gate 1792-95, - North Gate, 19th century; - Eastern Gate, 19th century; - Wall with a gate at the Great Lavra Belltower , 18-early 19th century and a Retaining wall terraces with viewing platform. The Lower Lavra fortification parts are: - The defensive walls of the Near and Far Caves, XIX century; - Entrance gate , 1840s; - The lower gate at the entrance to the Near and Far caves, 1852-53; - Retaining Wall of D. de Boskhuets, 18th century. - Belfry Far Caves; - Western gate of the lodge, 1883.

address: Vul. Larska, (вул. Лаврська,) 15

The main bell tower of the ancient cave monastery. Built in 1731–1745. It was designed by the architect Johann Gottfried Schädel. Its total height, with the Christian cross, is 96.5 metres. A neoclassic construction with a total of four tiers, surmounted by a gilded dome. The diameter of the tower's lowest tier at its base is 28.8m, and the thickness of the first tier walls is 8m. The tower's foundations exceed 7m metres. The tower is decorated with many architectural columns: the second tier with 32 Dorian columns, the third with 16 Ionic columns, and the fourth with 8 Corinthian columns. On the fourth tier there is a chiming clock, made in 1903, which has a total weight of 4.5 tonne.

Refectory Church

address: Lavrs'ka ( Ivana Mazepy ) str., 21 build. 7

a refectory and an adjoining church of Saint Anthony and Theodosius. Built in 1893-1895. The sturdy dome of the church incorporates some aspects of ancient Byzantium. The interior decoration of the building was designed by Aleksey Shchusev. The marble icons are in the Neo-Russian style. The paintings in the refectory and the church, painted in the beginning of the 20th century. In 1973-1977, the Refectory interior was thoroughly renovated.

Church of the Saviour at Berestovo

address: Lavrs'ka ( Ivana Mazepy ) str., 21 build. 4

Berestovo was a suburban residence in 11th century. - Its vaulting may have been unusually complicated, probably echoing the trefoil roofing of the porches. The outside of the church formerly displayed intricate brick patterns: double and treble niches, the meander, and decorative crosses.

address: Lavrska str., 21, building 1

In 1108 being built as a Kievan Rus' style church, the Gate Church of the Trinity is now decorated in the Ukrainian Baroque style, having been reconstructed many times through its history. Inside: a three-storey wooden gilded iconostasis, (1735); a large sixteen-candle chandelier (1725); The church's frescoes were based on Biblical scenes, and the exteriour decor was based on Ukrainian folklore, including: "Faces of the Holy Martyr," "The Traders Cast Out of the Temple," and "The Council of Nicaea." - Interior frescoes: Allegorical and historical Biblical topics are given in a noncanonical way; some of them are made with Ukrainian national ornaments. Wood-carved chairs, are installed along the western wall. The chairs are covered with oil paintings.

Near Caves or the Caves of Saint Anthony

address: Lavrs'ka ( Ivana Mazepy ) str., 25, building 41

are historic caves and a network of tunnels with a total length of 383 m and depth of 5-20 m with the width reaching 1.5 m and the height 2.5 m. Here is buried the founder of the Cave Monastery of Saint Anthony. Of the three existing entrances to the Near Caves, the original was probably the western one in which you can enter from the Church of the Exaltation of the Holy Cross. A candle is required to enter the caves. Candles are available for purchase for 3 грн,

All Saints Church

address: Lavrska str., 21, Building No. 11

Founded in 1696–1698. Its style is Ukrainian baroque. The church facades are richly decorated with architectural elements. In 1905, local artists painted the interior walls of the church. The carved wooden iconostasis is multi-tiered and was made in the early 18th century.

address: Lavrska str., 25, build. 73

Relics of 49 saints, accompanied with plates with names and icons. The total length of underground corridors is 293 m. There are three underground cave churches: Annunciation, Nativity and Reverend Theodosius.

Dormition CathedralThe main temple of Kiev-Pechersk Lavra. Built in 1073–78. The cathedral consisted basically of one story built on a cruciform plan with a cupola supported by six columns. It had three naves, which on the outside terminated in many-faced apses. In the 17th century with more cupolas and decorative elements, in the Cossack baroque style were decorated. Inside was decorated with mosaics and frescoes.

Museum of Historical Treasures of Ukraine

address: Lavrska str., 21, build. 12

In the Kovnirivskyi building, which was a convent bakery and built in the 17th century. Reconstructed in 1744-1745. The main facade of buildings made in the same manner as the cell of the Old Cathedral. One of the leading museums of Ukraine and the world, the subject of the exhibition - historical and artistic monuments of precious metals and precious stones. The museum collection include 56,000 pieces of archeology and applied art. Here can you find the 'Martynivka Treasure' (Мартинівський скарб) is a hoard consisting of about 120 silver items of 400-900 probe found in Martynivka village (now Cherkasy Oblast) in 1909.

address: Lavrska str., 21, build. 9, 10

The museum contains a rich treasure book culture of the Ukrainian people (about 56 thousand units). The exhibition highlights the story of the book and of books from Kievan Rus to the present day.

phone: +380 44 280-1343

address: Lavrska str., 21, build. 29

The collection is more than 75,000 works of traditional folk and decorative arts from the 15th to the 20th centuries. It's housed in the former Metropolitan's residence.

Theatre and Cinematographic Arts Museum

phone: +380 44 280-1622

address: Lavrska str., 21, building 26

There is various documentary material that reveals the formation and development of Ukrainian drama and theatrical presentation. Here are Ukrainian folk musical instruments which afford the opportunity to deepen your knowledge of the history of Ukrainian culture, literature and ethnology. The museum has a branch - the house-museum of M.K. Zankovetska, where an exhibition reflects the life and career of the famous Ukrainian actress.

phone: +38 44 290-4617

address: Lavrska str., 24, building 19

More than 800,000 books, manuscripts and maps.
Other religious buildings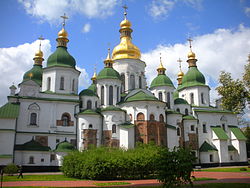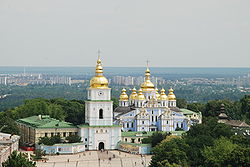 address: Pl. Sofiyivska, (Софіївська пл.)

The oldest remaining church in Kiev. Parts date from the 11th century. It is a UNESCO World Heritage site, and has world biggest ensemble of frescoes and mosaics dating from 11th century, including the Virgin Orans mosaic. Several green-robed ladies maintain order and will shout at you if you look like you are planning to take a photo. The gatehouse and other restorations were completed in the 17th century. Outside the gates, there is a statue commemorating hetman Bohdan Khmelnytskyi, who liberated Kiev in the 17th century... then gave the city to the Russian Empire.

St. Michael's Golden-Domed Monastery

address: Vul. Trokhsvyatytelska, (Трьохсвятительська,) 8

A working monastery that goes back to the 12th century. Destroyed during the Soviet era, with many of its art works hastily removed, some of which were transferred to the museums in Moscow and St Petersburg, some were moved to St Sophia Cathedral. Some mosaics housed in St Sophia subsequently fell into the hands of the Nazis but were returned... to Hermitage in St Petersburg. Rebuilt in 1997-98. Impressive gold domes best visited on a sunny day. Behind the complex is a pleasant park with views of the Dnieper and, to the left, the entrance to the funicular.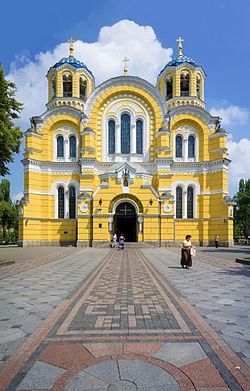 St Volodymyr's Cathedral

phone: +380 44 235-0362

address: Bulv. Tarasa Shevchenka, (Шевченка Тараса бульв.,) 20

Seven domed Ukrainian Orthodox brick cathedral in neo-Byzantine style, built in the 19th century. It barely escaped demolition by the Soviet authorities. Dome height (outer) 49 m (161 ft).

St Andrew's Church

phone: +380 44 278-1221

address: Andreevsky ds., (Андріївський узвіз, ) 23

Baroque church, constructed in 1747–1754. Length 31.7 m (104 ft). Width 20.4 m (67 ft). Height 50 m (160 ft). Both the external and internal decoration on the church was carried out at the same time. Cast iron floor slabs were delivered from Moscow. Also, forms were made for the church's windows, doors, walls, and for space under the cupola. The planned iconostasis, designed by the Italian architect Rastrelli, was also added. The wood for the iconostasis, altar canopy, pulpit, and tsar's place were carved out in Saint Petersburg in order to save time. The iconostasis' icons were carried out by Petersburg artists. For gilding, 1,028 slabs of gold were used in the interior.

Saint Cyril's Monastery

phone: +380 44 417-2268

address: Vul. Teligi Oleny, (Теліги Олени вул.,) 12B

A medieval monastery. Founded in 1140. Reconstructed by the Ukrainian architect Ivan Hryhorovych-Barskyi during 1750–1760. Saint Cyril's Church, including the medieval interior frescoes and the 1880s murals by the famous Russian painter Mikhail Vrubel, were fortunately preserved. The remaining constructions of the complex, the rest of the monastic walls, one corner tower (see picture), and two buildings constructed by Barskyi were also preserved. Of the monastery's cemetery, only two 18th-century graves remained.
Museums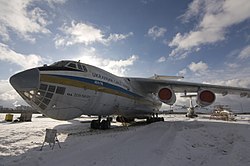 Blacksmithing and metalworker's museum

address: Andreevsky ds., 20B

Literary and Memorial Bulgakov Museum. House of Turbiny

phone: +380 44 4253188

address: Andriyivsky Descent 13.

The legendary Andriyivsky Descent was the street where the great writer lived with his family and where he 'lodged' the heroes of his immortal novel "The White Guard."

phone: +380 44 417-5422

address: Khoryv Lane, 1

A fascinating and moving museum. No signage in English. The cost of audio-tour in English or German - 50 грн.

'Cultural wealth of Ukraine' Ukrainian icon museum

phone: +380 44 278-8357

address: Desyatinnaya str., 12

The exhibition presents about 300 icons late 15th - early 20th century.

National Museum of History of Ukraine

phone: +380 44 278-4864, +380 44 278-65-45

address: Vladimirskaya str., 2

Museum represents different times from ancient till nowadays.

phone: +380 44 425-0398

address: Andreevsky ds., 2B

The collection of the One Street Museum is dedicated to the history of the Andriyivskyi uzviz (Andrew's Descent) and its famous residents. Tu-Su 12:00-18:00.

Museum of the Magdeburg law, Museum of Self-Management of Kyiv

phone: +380 44 463-6796

address: Pochtovaya sq., 2

A very interesting permanent exhibition about "On the history of government in Kiev", devoted to 500th anniversary of providing the city of Magdeburg law.

phone: +380 44 241-2583, +380 44 461-6485, +380 44 451-8314

address: Medovaya str., 1

Inside the old Zhulyany Airport with many impressive Soviet civil and military aircraft on display, including an An-2, Tu-104, Il-62, Il-76, an Il-86 and is constantly improving. The museum is opposite to the airport terminal, which is an industrial zone. To get there, you can either take Trolleybus #9 from the main train station - Kiev Passazhyrskyi (South exit)/Vokzalna metro stop or #22 from Shuliavska (Шулявська) metro station, both until Sevastopolska Square. From there, take the minibus 220 that will take you straight to the museum (last stop). Walking in the surrounding area after dark is not advisable as the area is poorly lit and stray dogs are present.

Bee-Farming Museum

address: Pokrovskaya str., 9/2

The museum contains materials on the history of beekeeping, photographs of prominent scientists beekeepers are part of apitherapy.

Open-Air Museum of Folk Architecture and Rural Life

phone: +380 44 526 5765

address: Krasnoznamennaya street, 1, Pyrohiv

Covering 160 ha, the area shows how people used to live in different parts of Ukraine. Six restored rural Ukrainian villages, with old huts, wooden mills and churches from all over Ukraine have been carefully restored and function as living museums. English-speaking (sort of) guides with expertise on the whole site are available and well worth-it. Ukrainians come on sunny days to relax in the grass.

phone: +380 44 440-13-22, +380 44 440-14-87

address: Dorohozhyts'ka street., 7

By the administration building has a museum room, telling stories about the cemetery and its famous "Dwellers".

Pushkin Museum

address: Kudryavskaya str., 9

The main part of the museum's collection are exhibits first half of the 19th century - a period called the "Pushkin". Among the most valuable items - books with author signatures of friends and contemporaries Pushkin political writings of famous public figures. The pride of the museum editions of the works of the poet, including some sections of the novel Eugene Onegin.

phone: +380 44 234-3688

address: 57 Volodymyr St

Former the meeting place of the Ukrainian Club, Rodyna, and the Ukrainian Scientific Society. The museum of Lenin which was here until 1982. The first floor of the building now houses the escalators leading to the Kiev Metro station, Zoloti Vorota.

Golden Gate of Kiev or Zoloti Vorota

phone: +380 44 278-6919

address: Str. Vladimir, (вул. Володимирська,) 40a

Built in the 11th century. Destroyed in the 17th century. The rebuilt Golden Gate is a crenellated tower fourteen meters in height. The entrance way is shielded on one side by a metal-covered porticullis of wood and on the other side by doors patterned.

Ivan Honchar Museum (National Centre of Folk Culture)

phone: +380 44 288-9268, +380 44 280-5210

address: Vul. Larska, (вул. Лаврська,) 19

The collection consists of over 15,000 items from the 16th to the early 20th centuries. Icons from the 16th century, 100 paintings by famous Ukrainian artists, over 2,500 textiles from the 18th and 19th centuries, pottery, toys, Easter eggs, wood carvings and Ukrainian folk music instruments.

Kiev Fortress also known as the Pechersk Fortress

address: 24a Hospitalna St

A 19th-century fortification building, that once belonged to the system of western Russian fortresses. Some of the buildings are restored and turned into a museum called the Kiev Fortress, while others are in use by various military and commercial installations. It is semi-underground.

The National Museum of the History of Ukraine in the Second World War

phone: +38 044 285-94-52

address: 24 Lavrska St.

A fairly large museum starting with World War II, going through Nazi occupation until Ukraine's independence. The museum is at the base of the massive Motherland statue. While the displays are mostly in Ukrainian. The museum has laminated cards in each room with varying languages including English, German and French. The museum also offers guided tours in several languages.
Motherland Statue and war memorials
Kiev was pretty much destroyed during the invasion in World War II. The memorial near the motherland statue is pretty gripping. Lots of examples of classic Soviet-era memorial statuary as well as some amazing exhibits of military hardware. The National Museum of the History of Ukraine in the Second World War located in the base of the statue is a must-see for visitors interested in the impact the German invasion had on the Soviet Union. Well worth the visit even if you don't speak or read any Russian or Ukrainian (several English language tours are provided daily). It's well curated and full of artifacts (including weapons, battle maps, hundreds of original photographs, and a moving installation at the end of the exhibit symbolizing the great losses suffered). There is also a small museum of the Afghan conflict nearby. Try to enter coming from the top part of the Pecherska Lavra. This way you get submerged with old soviet music and dark statues. Metro: Arsenalna.
Babyn Yar Monument

address: Dorozhytska st., (Дорогожицька вул.)

A ravine which was the site of massacres of Jews, Gypsies, and other civilians by the Nazis and their local puppets during World War II. Approximately 60,000 civilians were shot dead at this site during the war (over 34,000 Jews in the first two days alone). Now a memorial to Soviet citizens murdered by the Germans.

German Military graveyardAbout 10,000 German soldiers are buried here, after the battles around Kiev in 1941 and 1944.
Obolon Raion
A part of the city on far north. This territories far beyond of its historical neighborhood with the same name. Its current population is 290,000 inhabitants.- The Obolon district encompasses the territories of the former Minsk district and is still sometimes referred to by that name. It also includes the former town of Pushcha-Vodytsia that used to be part of the Podil Raion. The name Obolon comes from the Old-Ukrainian word оболонь → болонь → болоньє (obolon' → bolon' → bolon'ye), which roughly translates as "flood plain" or an area that is being engulfed by water. The district was built up in the 1970s as a microdistrict in Kiev on the Obolon sands to satisfy the growth of the city. Due to the composition of the soil at the time, the majority of the buildings were at most nine-stories tall, and few trees were planted when compared to other parts of the city. That and few other reasons originally made the district not prestigious. With the second construction period (2000–2005), the district has seen new, comfortable apartment buildings constructed closer to the Dnipro river and has become an attractive residential area. The new apartments are also more expensive, although still cheaper than in the center of Kiev. - The district was connected by
Metro2
in the 1980s, with a station 'Obolon' opened on November 5, 1980. Now here is 'Minska' and 'Heroiv Dnipra' metro stations, too.
Yachting clubThis place for kids and adults was opened in around 1990. Many of the Obolon lakes were cleaned up in order to make the area more attractive. The area closer to the Dnieper river is a popular relaxation place for Kievliany (residents of Kiev).

Beer factory ObolonThe area is also well known for the beer factory.

Revival (Probudzhennia) Church

address: Gaiday Zoi str., 2A

This is an evangelic Christians-Baptists church and a missionary center. It is opened in March 2001, with room for 500 seats.

Intercession Cathedral on the Obolon

phone: +380 44 411-2000

address: Prirechnaya str., 5A

Built in 1993. Temple complex occupies an area of ​​2.6 ha.

Mezhyhirya Residence

address: Водогін (ДВС), Obolonskyi district

Opulent residence of Ukraine's deposed Russophile president Viktor Yanukovych, opened for paid tours after he fled the country in 2014. An exhibition of art, religious icons, and decorative objects from Mezhyhirye was displayed by Kiev's National Art Museum of Ukraine that same year.

Minsk Square

address: Obolon

Named to Minsk since 1982. Near the square, is a monument to Archangel Michael, the patron saint of Kyiv.

The Moskovskyi BridgeThis built in 1976. It is a cable-stayed bridge, designed by the architect A.V. Dobrovolsky and an engineer by G.B.Fux, with the beam of the main span being held by a cluster of steel ropes which are fixed to a 115 m tall A-pylon. The bridge consists of two spans: one is 816 m long and 31.4 m wide span across the Dnieper and another which is 732 m long, 29.1 m wide and span across the Desyonka, what is a Dnieper tributary. It is a key structure on the northern end of the Kiev Smaller Beltway, connecting Petrivka to the densely-populated north-eastern residential neighborhoods. The bridge was built as a part of high-speed motorway.

Church of the Nativity

address: Obolonska Naberezhna St, 5

Built the popular architect of Ukraine, V. Isaac in 2006-2007. - The temple was built in the style of post-modern, cross-dome. The church has five domes, four of them are located over the crossbar of the cross. The Mid-Dome decorated with glass, so that give the impression of transparency. When you see it from the outside, it seems inside is very bright.

Chapel of the St. Catherine

phone: +380 44 5024981

address: Polupanova street, 10

This was a Greek Orthodox Private Chapel. Founded in 1738, when the decree of the Holy Synod was allowed to build a temple. The church was proposed to conduct services for the local Greek community. In 1929, during the Stalinist persecution, a church dedicated to St. Catherine was destroyed. In 2006 the local community was able to arrange a chapel in the newly acquired premises of the Centre of Theological Studies.

Church of the Intercession on the Pryorka

phone: +380 44 430 0590

address: Mostitskaya str., 2

A stone church built in 1902-1906 this was replaced the former wooden 'Dimitriyevskoho' house, what is built in 18 century. The new iconostasis, preserved until today, was built in 1944 and decorated by the famous Ukrainian artist Ivan Izhakevichem. In 1953 the house was made major renovations.

Church of Peter and Paul on the Kurenivka

address: Frunze sq.

The first wooden Church of Saints Peter and Paul Kurenivka known since 1759 (according to other data - from 1735). Since 1944 the church building used plant, club, galvanic shop and factory. In 1986, the temple was destroyed completely. The new church opened in 2003.

Krishna's Lucidity 'Big' temple

phone: +380 44 4347028

address: Zorianyi lane, 16.

Church of St. Cyril and St. Athanasius the Great, Archbp. of Alexandria and Athanasius

address: Dorogozhychi, Telihy Oleny str. (Олени Теліги), 12B

This was established in the 12th century. Dorogozhychi quarter played an important role in the historical destiny of Kyiv. There the fate was solved for many princes pretending to the Kyivan throne on the one hand, and fate of Kyiv itself, on the other hand. Numerous invaders carried out from here their multiple attacks on Kyiv, and Kyivan princes conducted bloody battles with them. Such a strategic importance of this location became one of the reasons for foundation of a monumental church-fortress. In 1139 Vsevolod Olhovych, Prince of Chernigiv approached Dorogozhychi, an important strategic point, on the Kyiv's north-western outskirts, gained possession of the area and simultaneously obtained a convenient bridgehead at the approaches to Kyiv. In 1140–1146 Vsevolod Olhovych erects St. Cyril's Church at Dorogozhychi. Construction of a church-fortress is a logical step of Vsevolod as a prince-worrier, and prince-strategist, for the sake of fortifying outskirts of the "capital city" so desired by many. St. Cyril's monastery is an example of a unique functional combination, because it is a sacred center, patrimonial palace church, and at the same time it is a monumental church-fortress. The church was named after Cyril, the holy hierarch Cyril of Alexandria — Christian patron of the church's founder, prince Vsevolod Olhovych. - The most precious treasure of the St. Cyril's Church is its unique mural painting. - In the 12th century walls of the St. Cyril's Church were painted in fresco technique according to the Christian iconographic canons of that time. In the 17th century the fresco painting of the Church was partially renewed by means of tempera. In the 1800s, during repair of the Church its walls instead of painting were just plastered and whitewashed. - In the 1880s restoration works were carried out in the Church under the guidance of the professor of St. Petersburg University, A. Prakhov. At that time from under centuries-old layers of plaster and whitewash a unique Old Russian mural painting was discovered. However, soon after, in order to provide the mural painting for "grandeur" the frescoes were refreshed with oil paints. In the 1970s a large-scale restoration works on frescoes' discovery from under layer of oil paint of the 19th century were carried out. - Fresco painting: Monumental figures of twelve Apostles are located in window piers of the dome's drum. Four Evangelists are portrayed on sails (architectural spherical triangles serving for transition from the drum's cycle to the under-dome square). The representation of the EvangelisMark on the south-estern sail has preserved the best of all.- Central arches supporting the dome's drum are decorated with images of theSeban Martyrs placedewithin medallions literally interconnected by means of loops and hoops. These representations form as if "alive holy chain" protecting the celestial sphere. In the central apse there is a figure of the Holy Mother, Orans with her hands raised in prayer. Oil painting of the 19th century represents the major part of the composition; of the ancient fresco representation only an edge of the Holy Mother's blue chiton and a podium on which she is standing have survived. Beneath the Orans the Eucharist fresco composition is located featuring the scene of the Apostles' holy communion, in which the Christ is depicted twice: at the left He serves the body of Christ (bread) to the group of Apostles headed by the St. Peter, and at the right He serves the blood of Christ (cup of wine) to the group of Apostles headed by St. Paul. Similar plot depicting two figures of Christ is already known in miniature of Rossan Code in Asia Minor dated with the 6th century. According to the canon which can be recognized already in the Church of San-Vitale in Ravenna, in the St. Cyril's Church the center of the composition represents a double dome on pillars over the throne onwhich a cross, a paten with seven round flat breads, a cup of wine and an asterisk are placed. - Belfry: Of the monastic buildings Ivan Hryhorovych-Barskyi constructed within the monastery, his most important construction was a free standing belfry, built in 1760. The belfry combined the idea of a tall campanile with a gate on the ground level and a chapel on the belfry's second tier. The two lower levels of the belfry had some elements of a Ukrainian tripartite church, consisting with the belltower placed over the central part of the nave. This architectural combination in a belfry with two apse-like lower elements on each side. The original roof above the belfry's chapel was a stepped-hipped roof, which was popular at the time. After the fire of 1849, the roof's over the chapel and the cupola were modified from the original. After the Ukrainian SSR's decision on the demolition of the belfry in 1936, the belfry was destroyed a year later, to be used as bricks in construction projects.
Podil Raion
This is a historic neighbourhood and an administrative raion (district) in Kiev. It is one of the oldest neighborhoods of Kiev, the birthplace of the city's trade, commerce and industry. It still contains many architectural and historical landmarks, and new archaeological sites are still being revealed. Numerous attractions of Podil particularly include: Frolivskyi and Pokrovskyi Convents, National University of Kyiv-Mohyla Academy, House of Ivan Mazepa, House of Peter the Great, Fountain of Samson, Zamkova Hora hill, Andriyivskyy Descent — the main link of Podil to the city's administrative Uppertown, Borychiv Descent, Kiev River Port, Kiev funicular, Poshtova Square, and the Kontraktova Square. Modern Podilskyi Raion, despite its tourism and culture importance, remains one of Kiev's main business, transportation and industrial districts.
Temple in honour the icon of the Mother of God Vsetsarytsia-Pantanassa

address: Rizhskaya str.,1

Tarasa Shevchenka Metro stationThis is a station on Kiev Metro's Kurenivsko-Chervonoarmiyska Line. The station was opened on December 19, 1980 in the northern part of the historic Podil neighbourhood and is named after the famous Ukrainian poet, writer, and painter, Taras Shevchenko. It was designed by T.A. Tselikovska, A.S. Krushynskyi, and A. Pratsiuk. The station is located shallow underground and consists of a central hall with rectangular marble pillars. The walls along the tracks have been finished with dark red marble and ceramic tiles with a plant motif. The lighting comes from large round lamps hanging from the ceiling. At the end of the hall is a white stone bust of Taras Shevchenko, surrounded through the same plant motif that is located on the station's walls. The station is accessible by passenger tunnels on the Mezhyhirska and the Olenivska Streets

Frolivsky Convent

phone: +380 44 4250181

address: Frolovskaya ulitsa, 8

Originated in the 16th century as the wooden church of Sts. Florus and Laurus. Its buildings occupy the slopes of the Zamkova Hora. - The main church, or katholikon, is a notable example of Ukrainian Baroque architecture. Its first stone was laid in 1722. Ten years later, the three-domed building was dedicated to the feast of the Ascension of Christ. Its Neoclassical bell-tower is of later construction. The wooden buildings of the monastery were entirely destroyed by fire in 1811. Only the katholikon and a 17th-century refectory were left standing amid the ashes. It was Andrey Melensky, a Neoclassical architect from Kiev, who was in charge of the convent's reconstruction. The convent's notable residents included Princess Natalia Dolgorukova, one of the first Russian women writers. It was closed in 1929 but reopened after the Germans entered the city in 1941.

National University of Kyiv-Mohyla AcademyMotto in English: "Time is running, Academy is eternal". The library of the old Kyiv Mohyla Academy contained a notable collection of the books. However, the archive was plundered in 1920s when the academy was closed. - The Halshka Hulevychivna house belonging to the university is the oldest civil building in Kyiv.

House of Ivan Mazepa

House of Peter the Great

Fountain of Samson

Zamkova Hora hill

Gostynnyi Dvir
Further afield
Do
PodilStroll around. Start at St Michael's Cathedral in the Upper Town. Catch the funicular behind it down to Poshtova Ploscha, and wander around the grid-like streets of Podil. The area was the merchant's quarter, and was completely rebuilt in the 19th century after fires destroyed the area. It was mainly untouched during WWII and is emerging as a hip restaurant district and is rapidly being gentrified. Finish your stroll by walking up Andriyivsky Uzviz, which will get you back to St Michael's Cathedral.

On the weekend, go and people watch on KreshchatykStart at Lva Tolstoho Square and head underground. Walk through the Metrograd shopping center, always sticking to your left. Head above-ground at Taras Shevchenko Boulevard (бульвар Тараса Шевченка), from where the council shuts down Kreshchatyk on the weekends. Walking up the street to Maidan, you will be treated to the sight of numerous street performers and animal handlers, or you can simply enjoy seeing families out and about for a weekend stroll.

Go to church even if you'd never do so at home: Orthodox services are strangely moving even to unbelievers. They are also mighty long and there are few if any seats in church, but it's perfectly acceptable to come and go as you please, as locals do. Women must cover their heads before entering the church. Pick any church you please, but St Volodomyr's (on Taras Shevchenko Blvd, listed above) is a good choice.
Parks & Gardens
HidroparkIsland in the Dnieper River. Kiev is endowed with natural city beaches that line Dnieper. Many a summer day can be spent in the parks and on the beaches of the islands, where you can buy shashlyk from stalls, play beach volleyball, swim in the river or in the pools on the island, or just soak up the sun.

phone: +380 44 227 8247

address: Tyraspilska str.,(вул. Тираспольська,) 43

Different kinds of trees and shrubs on 6.5 hectares. It is a park-monument of landscape art of national importance - it is, above all, diverse flora (900 species). And an extensive opportunity for recreation and harmonious unity with nature.

phone: +380 44 2744769

address: Prosp. Peremogi, (просп. Перемоги,)32

Situated on about 40 hectares. The zoo has 2,600 animals from 328 species. 130 different kinds of trees and bushes decorate the zoo's lands.

Mamaeva Sloboda open-air museum

address: Dontsia Mykhaila str., 2

A theme park on the 9.2 hectares site and represent a full replica of a historical settlement depicting Ukrainian nature, architecture and the way of life. The architectural ensemble which consists of 98 units.

A.V. Fomin Botanical Garden or Botanical gardens of the Kyiv university of St. Volodymyr

phone: +380 44 2393190

address: Bulv. Tarasa Shevchenka,(Шевченка Тараса бульв.)

22.5 hectares, with 8,000 plant species. Garden is famous for its exotic plants. Building of greenhouse, which was built for the largest and the oldest palm trees in Northern Eurasia, long time had been considered one of the highest in the world. In 1935, the garden was named after the academician A.V. Fomin, who directed the garden for years.

address: Tymiriazivska str., 1

The perfect place for a stroll in any season. There are unique floristic complexes on 130 hectares: 'Forests of the plain part of Ukraine1, 'Ukrainian Carpathians', 'Steppes of Ukraine', 'Crimea', 'Caucasus', 'Central Asia', the 'Altai and Western Siberia', 'Far East'.
Other
Watch football ie soccer at FC Dynamo Kyiv, who play in the Premier League, the top tier of Ukrainian football. Their home ground is Olimpiyskiy National Sports Complex, capacity 70,000, one km south of city centre.

Tank DrivingSeveral tour operators that offer Chernobyl day tours, offer other tours as well. Many tour agencies offer shooting tours involving shooting guns such as the AK47. A few tour agencies offer tours, in which tourists get to drive a tank. As 2017, these tours appear to be mostly private tours, which cost in the hundreds of dollars.

Urbex for urbex enthusiasts, Kiev is a goldmine. A quick google search will turn up myriad abandoned spots and several groups willing to take visitors on tours of unusual spots around the city.
Festivals
Visit different eco-cultural, ecological, ethnic, rock and other festivals both inside the city and near its suburbs.
Learn
There are a number of private schools where you can learn Ukrainian or Russian, either part-time or full-time . There are also experienced teachers in the city - check out resources such as Kyiv In Your Pocket, The
Kyiv Post
, and What's On Weekly for details of schools and teachers.
Work
Foreigners can sometimes find work teaching their native language. Pay is usually decent enough to live on in Kiev if you get enough pupils and live by local standards.
As is the nature in a global economy, professionals with skills in demand, e.g. accountants and IT professionals, can be employed with global firms in Kiev, without knowledge of Russian or Ukrainian languages.
Getting a work permit (visa) is a necessity for foreigners if they are going to be employed by any legal entity (exceptions apply only for international institutions and representative offices of foreign companies). The work permit is more of a hiring permit. The potential employer has to apply with the labour administration for hiring an non-resident employee. With the application a complete cv, as well as documents showing an accredited education, have to be submitted.

Buy
For more information on currency see Ukraine#Money
Banks and exchanges booths are easy to find.
Rates at the airport are not as good as in the city centre. Not all hotels will change money and if you arrive in the evening or on a Sunday you could find yourself with no money for dinner if you don't change at least some at the airport. Most banks operate on Saturdays as well as Mondays to Fridays.
ATMs are everywhere and generally work with international credit and debit cards.
Like in most places in Ukraine, having plenty of small change will prevent hassle from shop staff who perpetually lack small money.
Markets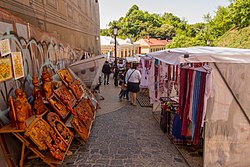 Market at Andrew's Descent

address: Andrew's Descent, Andriyivskyi Uzviz

for a nice collection of traditional things, old communist goods (real goods as well as some that are fake and mass-produced), matrioshka dolls, etc.

phone: +380 44 4176571, +380 44 4173426

address: Vul. Verkhny Val, (Верхній Вал вул.,) 16

Covered food market. Already in the 15th century was this market an important shopping centre. There met twice yearly fair. Then remained one of the major shopping centres, because proximity to the Dnieper River and harbour.

Bessarabskyi market

address: Bessarabskaya sq,(Бессарабська пл.,) 2

Covered food market on base level a Billa supermarket. Offers a wide variety of grocery products. The building is a protected monument. Constructed in 1910-1912.
Shopping Malls
Samson Shopping Centre

phone: +380 44 4619711

address: Konstantinovskaya str., 2A

A two-storey shopping center in one of the oldest districts of Kiev - Podol. There a store with Belarusian cosmetics , many shops with jewelry, different shops with clothes. Among the famous brands that you can find in Samson presents : DIM, Atlantic, as well as the Ukrainian women's clothing brand Krisstel. There is a fast food restaurant chain's member: Home cooking (Домашня кухня).

Globus Underground Shopping Centre

phone: +380 44 2349492

address: Nezalezhnosti maidan, 4

Billa supermarket. Dozens of cafes, restaurants, fast food and world famous boutiques. Mezzanine: seating area, a restaurant, café. Intermediate: fashion men's and women's, shoes, souvenirs, coffee bar, etc., focus on the more mature buyer. Lower level: youth fashion, food court, etc. Pharmacy Good day, Street Gifts, instant photo, press, currency exchange, ATM.

Kvadrat

phone: +380 44 2000457, +380 44 2349492

address: Kreshchatik str., 32
Groceries
Most bottled waters are sparkling. To purchase regular bottled water, ask for literally "water without gas" (VoDA bez gaza). A 500 mL bottle should cost 3-6 грн, occasionally they will inflate the price to 10 грн if you look like a rich tourist.
Do not forget to buy a few big jugs of bottled water such as Staryi Myrhorod (Старий Миргород) or Truskavetska (Трускавецька). Kyivskij tort (київський торт) is another thing you should eat in Kiev if you love cakes. Dark rye bread, Ryazhenka (Ряженка, Ukrainian style yogurt), Kvas (Квас, fermented drink made of bread) could also be interesting things to taste.
Chocolates, cakes, lollies, crisps and biscuits/cookies are widely available at low cost and very popular with Ukrainians - after years of being deprived western brands, snack foods are becoming big business.
Plastic bags are available but are not free, and some stores do not take credit cards. Bag your own groceries. If you're paying in cash, make sure the cashier gives you correct change back as some are careless or dishonest.
Banks
Eat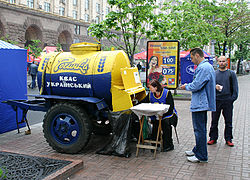 In general, it is very cheap to dine in Kiev by Western European or US standards. So long as you stay away from the places that totally pander to tourists or to the Porsche Cayenne-driving "elite", the food is great and cheap. Try the Borscht and the Mlyntzi and then try absolutely everything else. Baked goods are cheap and great too. Even the ice-cream on the street is great. Try, for example, the one to the right from Khreshchatyk metro exit - blue kiosk with varying length of queues.
When you see vendors selling some liquid from big yellow/blue tanks on the street, you can be sure that it is "Kvas," which is a brewed bread drink. Some people like it and others hate it. It tastes a bit like malt, and the alcohol content is so low (0.05-1.44%) that it is considered acceptable for consumption by children. Try "Odyn Malenkyi" (one small) drink.
You should not drink the tap water (for reasons both chemical and microbial). It is advisable to buy bottles in the supermarkets; they usually have English section on the label for "ingredients". You can always order "Bonaqua" (a brand of sparkling mineral water), but beer is just about as cheap.
Budget
Fast-food chains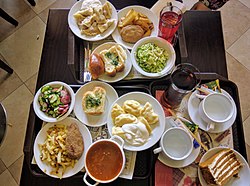 phone: +380 44 2785577

address: Khreschatyk str., 15

More locations are through the second arch to the right of the Khreshatik Metro station ; and another on the corner of Sahaidachnoho Street, opposite Bohorodytsi Pyrohoschi (a square with a church on it). There is another one at Kontraktova Square, close to Kontraktova metro station, at the end of a downhill walk from the Andrivskyj Uzviz. "Puzo" is Ukrainian for "belly," and a khata is a traditional Ukrainian hut or shack. If you're from the States this place is like Picadilli, or any other pay-per-plate cafeteria. Popular with locals. Food is good, but almost entirely traditional Ukrainian. They also offer kvas and good Ukrainian beer. Two people can eat like absolute pigs here for less than US$12. You'll be full for the rest of the day, guaranteed. On a more practical side, soups cost below 10 грн, mains are 15–30 грн, and beer is only 100 грн for half a liter.

phone: +380 44 2857941

address: str. Arsenal, 9/11

serves decent cafeteria-style meals. Look for the signs with two geese on yellow background. Sometimes there's a vintage car painted with their logo out front. Fast, decent, easy, all you have to do is point. No language skills needed.

phone: +380 44 235 6681,+380 44 278 3028

address: Reytarska 25 (Рейтарська)

Kiev's first North American style pizza, probably the best in the city. 25 types of pizza, pan pizza and thin crust, pastas, lasagna, green salads, starting from approx. More units: bulvar Shevchenko 2 (Шевеченко) - near Khreschatyk (Хрещатик), and Balzak 2a (Global Shopping Centre) .

Viola's Bierstube

phone: +380 44 2353751

address: T.Shevchenka bul'v. 1A

cheap pub with a great variety of sausages and different meat meals. Also beer here is always good.
Mid-range
Corsair

address: Vul. Sahaydachnoho (Сагайдачного)

Serves Mediterranean-inspired food.

Ikon restaurant & bar

phone: +380 67 5077020

On Basseinaya str. 5a (Бассейная 5а) About US$40/person complete. Serves fusion cuisine, unique cocktails. Open Su-W 12:00-13:00, Th-Sa 12:00-18:00.

phone: +380 96 0066867

address: Nizhniy Val 19 (Podol)

A Lebanese-Syrian place with excellent kitchen and a stylish, but still cosy ambience. Vegetarians and meat-lovers find fantastic food, good music and very friendly staff. A real enrichment for Kiev! Reservations (in English, Russian, Ukrainian) are advisable

Karavan

address: Klovskiy Spusk 10

Serves Uzbek-Tatar food.

Kureni

address: 4, Parkova Alley

Wonderful national restaurant with very tasty dishes. Dinner for five persons, including different appetizers, soups, main dishes and gorilka is around €135. It is situated on the bank of the Dnepr river and in summer it is very nice to get dinner in the garden, while in winter inside the main building you can enjoy view through large windows and fire from the fireplace. All major credit cards accepted.

Lola Pizza

address: Lva Tolstoho (Льва Толстого)

The cost of a large pizza is about 100 грн, and it's a very generous size. You can eat in the café area or take-away.

Fayna Familiya

address: Druzhby Narodiv Blvd 25a (Бульвар Дружбы Народов 25а), Kominternu St 5

Good Italian restaurant with delicious food, and good prices (average price for one person is about 100-200 грн. And you can have English breakfast there from early morning until 11:00.

O'Panas

phone: +380 44 235-2132

address: Shevchenko Park, 10 Tereshchenkivska

Traditional wooden restaurant, popular to tourists. Really good mlyntsi. try the mushroom ones. (US$20/person). If you just want to try the mlyntsi, you can walk-up to a stand on the side of the restaurant and get them to go.

ResTop

phone: +380 44 2780636

address: ул. Малая Житомирская, 3/4: Zhitomirskaya 3/4

Offers a sushi menu and European dishes in a friendly atmosphere. Closed for renovation.

Tsimes

address: 10/5 Sahaydachnoho

Ashkenazi Jewish food.

Vernissage

phone: +380 44 4252403

address: Andrew's Descent 30

One of a chain of four restaurants in Kiev with the same name, this has a Bohemian feel to it that goes well with the "Montmartre" reputation of Andrew's Descent. Outdoor eating in summer but the small indoor restaurant is nicely decorated and the toilet tucked away in a difficult corner is not to be missed.
It's also worth checking out pubs and restaurants that offer business lunches during weekday lunch. These are set menus that usually cost around 40 грн, and include soup, salad, meat dish and a drink.
phone: +38 096 753-35-55

address: Suvorova Str. 4/6

Good Bar Kiev: restaurant, night club, karaoke bar in Pechersk. Karaoke restaurant in the center of Kiev.

phone: +380 96 967 8888

address: Днепровский спуск, 1

A modern restaurant with mixed European and Asian cuisine, famous for its exceptional selection of cakes and pies.
Splurge
phone: +380 44 2707676

address: Kreshatik 14; ул. Хрещатик, 14

The restaurant has a longest bar in town. Restaurant and Lounge zone. Pan-Asian cuisine: enjoy Thai, Japanese, Chinese, Indian dishes in a exclusive interior.

ConcordOn the roof of the Donbass Centre at Lva Tolstogo Square

Da Vinci Fish Club

address: Volodyrmyrska Street (Володимирськa)

Seafood-orientated restaurant with an Italian influence. Very delicious food a place to see and be seen. Cost around US$60 per person, drinks extra. Metro: Zoloti Vorota

Mimino

address: Spaska (Спаська)

Based on the Soviet film of the same name about a Georgian pilot. The waiters are attired in the 1970s influenced flight attendant uniforms. Very nice Georgian food, mainly lots of meat. Good Georgian wine available also. Cost around US$40 per person, drinks extra. Metro: Kontraktova Ploscha.

Restaurant Patisserie Surprise

phone: +380 44 2357234

address: ул. Пирогова, 3: Pyrohova 3

The restaurant has a bar, tea salon, summer terrace, television, etc. Enjoy freshly made pastries, ice cream and sorbets. French and European cuisine.

Touch cafeMostly a restaurant but also turns into a nightclub.

Two HaresAt the top of Andriyivski Uzviz. 19th-century themed place, good food. Have the rabbit pie (about 90 грн), which is served in a rabbit made of pastry.

Wolkonsky café, bakery and patissieryGood croissants and perfect place to have meal.

Lun Van Chinese restaurant

Schnitzel Haus

address: vul Saksahanskoho 51

Tapas Tapas Bar

address: vul Tarasivska 10a
National
Ukrainian: There are many restaurants that claim to serve authentic Ukrainian food.
Shynok

address: 28v Lesi Ukrainki

Very traditional food and furniture. 11:00-24:00.

Pervak

address: vul Rohnidenska 2

Set lunch 35-42 грн.
Italian: Momento on Zlatoustivska (near the Circus), Napule on Mechnikova (near Metro station "Klovska")
Georgian: Mimino on Spaska (Podil)
Vietnamese: there are several restaurants, owned by a person from Vietnam (the cuisine is a comprise of "hits", rather than complete luncheon sets; considered above-average within local Vietnamese community; extremely expensive)
Chinese: There is a good one near Metro Universitet. It's called "Jiu Long", which means "Nine Dragons" (there is a fast food store upfront, but if you go through the arch, you will see an entire Chinese-style building, that's where the real restaurant is; quality is good and prices are lower than some other similarly fancy restaurants). If you don't care about price, go to "Lun Van" near Metro Teatralna. Other above-average venues (but no one who's experienced anything like the real thing will find satisfactory Chinese food in Kiev) are Mandarin on a floating entertainment complex near the river port in Podil, and Vostok which is across the road from Mandarin.
Japanese: There's one called Hanoi which serves Japanese and Vietnamese food. It is near Metro Arsenalna. The quality is quite high, although the prices are too. Further, you will find various sushi-bar-chains in Kyiv (namely Sushi-Ya, Murakami and Yakitoria)
Nobu

address: 12 Shota Rustaveli St

Good Japanese restaurant, but don't be fooled by the name it's not owned by famous chef Nobu Matsuhisa.
SumosanIn The Premier Palace hotel. Sister restaurant to Sumosan in London. Decent sushi.
Kosher
King David

phone: +380 44 2357436

address: Esplanadna 24

Glatt Kosher, many traditional Eastern European dishes. Many Vegetarian dishes.
Drink
There are several nice places in Kiev to get a drink. From small cafés that are only frequented by locals (they look dirty at first sight) to expensive places. Locals often buy drinks (beer) at a stall in the street and drink it in a park, leaving their bottles for the homeless to collect and cash in. However, since 2011, drinking beer in the street is prohibited and whilst you will see locals drinking in the street, you will make yourself an easy target for the police to stop and try for a bribe if you do. Locals often buy some chips or other salted things to go with their drinks.
The prices are quite reasonable by European standards. You will easily find decent Ukrainian beer for 20–30 грн and get 5cL of vodka or similar alcohol for about 20 грн.
Coffee houses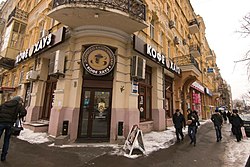 If you are not keen about alcohol, try one of the abundant
coffee houses
. No matter whether their names are well-known and international (Starbucks, Costa Coffee, Russian-based Coffee House and Shokoladnitsa) or weird and local (Coffee Land, Coffee Life, and other similar variations), they are always neat places with similar menu featuring all imaginable versions of coffee, a good choice of tea, fancy milk shakes and smoothies, and a selection of cakes. Their main advantage is free WiFi, while on the downside are the prices that are rather high on Kiev standards. Coffee and piece of cake start from 20 грн each.
When you urgently need a shot of espresso, you can also try coffee sold on the street. Basically, every second kiosk will offer some
kava
(Ukrainian word for coffee), but its quality is at best iffy. A safe choice would be
special cars equipped with coffee machines
. These cars can be found in most public places and next to entrances to the metro stations. They offer decent take-away coffee for 8-10 грн.
If you prefer places that do not look the same in each town and are not owned by big companies you should try the café
"Living-Room"
in the vul. Spas'ka, 6, near metro Kontraktova Ploshcha. The small but cosy place is organized by some enthusiasts and musicians. Two pianos and some other instruments can be used by the staff or guests! While most cafés would close at 22:00 this one is open as long as the staff wants to work. Besides excellent coffee they offer a wide range of very tasty teas, original cakes (e.g. beetroot-chocolate cake!), Beer and so on (no vodka). The kitchen will help you out for the small hunger.
Bars
Like a Local's Wine Bar

phone: +380 93 682 2626

address: Sichovykh Striltsiv St, 26

The place specialises on Ukrainian wine and cichetti-style Ukraine-sourced snacks to which the menu mistakenly refers as tapas; also wine-paired pies. Ask staff for other meal options available, as well as for wine guidance. A small, lively place with great music and friendly staff.
Pubs
Bar Fidel

address: Hrushevskoho 4B

Well worth checking out. DJ plays late on a Friday night and there is some serious moshing and crowd surfing in what must be Kiev's lowest bar/club. Great fun, open till 05:00.

Blyndazh(Блиндаж, means "entrenchment") at the basement of 15 Mala Zhytomyrska (200 m off Maidan sq.) Military-themed bar (it has changed its signboard to Blind Age with a cartoon mole with shades on it). Small, cheap and popular, mostly student types.

Orech

address: vul Velyka Vasylkivska 126

Small, good selection of local beers, used to serve unlimited free walnuts if you drink beer, but the walnut servings are now limited

TrolleybusA decent pub on Proreznaya St. Their design may look strange until you take a ride on an old USSR-type trolley-bus and fully appreciate the charm of this transport. The pub offers some fancy Ukrainian beer and a selection of home-made vodka-based spirits as well as the full row of typical snacks (dried salted bread, salted fish, calamaris, etc.)

Viola's Bierstube

address: bulevard Shevchenka 1a

Well hidden behind a dark door in a small alley.
Irish
There are several Irish pubs, none authentic, but OK if you're in need of a Guinness and expat company. One is located near Golden Gate (
Zoloti Vorota
) on Volodomyrska (called, eponymously,
The Golden Gate Pub
). Another (and the first in Kiev) is
O'Briens
on Mykailivska (one of the streets running west off Maidan sq., the one to the right, with a branch of OTP Bank on the corner). Both are expensive by Kiev standards. A new one has opened in Podil, on the corner of Gostyny Dvor, near the Dutch embassy (can't miss it as it's close to the bottom of Andryevsky) called the
Belfast Pub
. Other than these centrally located ones, others lie scattered around Kiev, they do not cater to the ex-pat crowd and have better prices than you expect to find in any 'western' country. Keep your eyes open. Also try Dockers Pub.
Belgian
There are two Belgian beer cafés.
Le Cosmopolite Belgian beer café

address: Volodymyrska St

Service is in perfect English usually and they do serve Belgian beer and traditional Belgian food (expensive).

Belle-Vue Café

address: Vul. Saksahanskoho 7

Service is in perfect English usually and they do serve Belgian beer and traditional Belgian food (expensive).
Clubs
Kiev has a nice club scene. Ranging from very cheap to overly-expensive, you can find what you want.
D-LuxUpscale, where a lot of people go to look beautiful, popular on Fridays and Saturdays. Grand, stone steps lead up to the entrance. A well-reviewed restaurant is on the first level. A swanky bar, somewhat in the style of a small Buddha Bar, is on the second level. The disco is on the third and fourth levels, the main dance floor being on the former and extra bars and balconies look down from the latter.

Faberge Club

address: Rybalska 22

Also an upscale club, similar to Chaikovsky Deluxe.

Club ForsageOne of the most known clubs has 3 floors with different music genres, is supposed to have strict face control but you can find some underage students inside, they only look at shoes and make sure its not sport shoes.

PatipaThis is one of Kiev's dinosaurs, but still one of the most trendy and best visited clubs in Kiev.

address: Moskovska 22

This is one of the more traveler and expat friendly clubs (it belongs to a group of Scottish expats).

Sorry BabushkaThe interior space of the club is a three-level complex, where each floor has its own concept of music, design, light and sound.

StolytsiaAn upscale lively place located close to the Water Museum. Expensive and pretentious, but beware of the face control, e.g. no sport shoes allowed.

Xlib-club

address: Frunze 12

Brings what is called cutting-edge music to Kiev. The club is neither expensive nor pretentious and exceedingly crowded on Friday and Saturday nights. It's in Podil one of the romantic districts near the Dnieper river.
A few popular venues are at the Mandarin Plaza shopping mall (Arena Entertainment complex), rumored to be owned by the Klitschko brothers. The clubs include Arena, Sky Bar, Barsky and Grotesque. They're right next to Bessarabsky market; most of the clubs are accessible from the court.
Sleep
Budget
phone: +380 93 7587468

address: 25 Gogolivska, Apt. 11

The hostel staff speaks English, Russian, Ukrainian, Polish, Spanish and Portuguese. Fully equipped + discounts for tours and different activities. Age-limit: 40, no families & no long-terms.

phone: +380 97 3360303

address: 31 Saksaganskogo str., 2nd floor, apt. 3

Hostel within walking distance to the main street Kreschatik and railway station. Uniquely designed room. Professional & friendly staff.

phone: +380 98 4891934

address: Velyka Vasylkivska St, 43, Apt. 30

It's in the city centre with English, German, Russian, and Ukrainian staff. Free Wi-Fi, coffee, tea, linen, maps, and free pub crawls. Guests of the Mini Hostel Kiev get discounts for to stay in the Mini Hostel Lviv and the Mini Hostel Odessa.

phone: +380 44 2291266

address: Tereschenkivska Street 5A

A hostel in a freestanding building in the center with a huge yard. Privates and 4-12 bed dorms, including female only dorms; free Wi-Fi, linen, tea and coffee. A 24-hr reception, free lockers. Big, soundproof social area with variety of board games, movies and books, well-equipped kitchen. Different activities every day of the week: movie nights, guided tours, pub crawling. Can accommodate groups and provide lodging for all sorts of events.

TIU Kreschatik

phone: +380 66 9323676

address: 8b Kreschatik Apt. 11

Fully equipped kitchen, free Wi-Fi access, friendly English speaking staff, common rooms with big-screen TVs and DVD libraries, private rooms, frequent pub crawls, security lockers and digital coded front door locks.

phone: +380 98 2636506

address: 10, Bogdana Khmelnitskogo, Floor 2. Apt. 50 (access via second courtyard)

Very friendly, one communal dorm, two private twin rooms. English speaking staff, Wi-Fi and communal kitchen.

phone: +380 93 6423006

address: Apt. 2, 2 Georgievsky Ln

Located in the very centre in a quiet green area, with a view on Sophia Cathedral.

phone: +380 44 4033263

address: 2b Geroev Kosmosa St

phone: +380 44 5611112

address: 1, Entuziastiv St

Economy hotel with great service. Located on the Rusanivka island.

phone: +380 63 4349666

address: 9, Kostelnaya st., apt. 5

24-hr reception, 4-6-8 dorms, free Wi-Fi, shared laptop, clean bed linen, towel, free tea/coffee, lockers, big social area, big well-equipped kitchen. Helpful and outgoing staff who speak English, German, Russian, Ukrainian fluently. This is the hostel with a low price and great service.

phone: +380445876893

address: Pravdi 31f

Private network has 9 different hotels in Kiev in different parts of the city. Excellent prices and comfortable rooms.
Mid-range
Splurge
phone: +380 44 3228888

address: 1 Naberezhno-Khreshchatytska St

A five-star luxury hotel in the heart of the historic Podil district. Complete with 258 elegant guest rooms with spectacular views of the Dnipro River.

address: Trekhsvyatitelskaya Street 9

Centrally located boutique hotel with 23 rooms.

address: Hospitalna Street 4

One of the oldest hotels in the city. Aging has contributing to some deteriorating quality in the hotel, but still a 'classic'.

phone: +380 44 5811234

address: 5, A. Tarasova St

Opened in June 2007, a five-star luxury hotel offering great views and featuring a 25m indoor swimming pool, spa and fitness centre.

phone: +380 44 2191919

First InterContinental in Ukraine. The 11-storey hotel is designed by celebrated Ukrainian architect Sergey Babushkin. Its angular marble-and-glass façade is a blend of classical and contemporary features, highlighted by a three-metre statue of the Greek Goddess Nike (mythology) by Ukrainian sculptor Michael Reva. InterContinental Kiev has 272 deluxe rooms, five Ambassador Suites, Royal Suite and Presidential Suite, both overlooking St Michael's Square.

address: B. Khmelnystkoho St

The Opera Hotel is 5-star and member of the leading hotels of the world. Opened in 2006 and owned by Rinat Akhmetov, Ukraine's wealthiest billionaire.

The Premier Palace HotelA nice 5-star hotel in a historic building.
Stay safe
The usual "don't be stupid" advice seems to be adequate. Kiev is a generally open and friendly city and stays lively until at least 23:00 in most districts.
Avoid drinking the water from the tap — bottled water is cheap and available everywhere (Morshinska/Моршинська, Mirgorodska/Міргородська is good).
Robberies and
scams
on tourists are fairly common in Kiev. The best approach is to be extremely selfish and ignore anyone who approaches you. Avoid eye contact with suspicious looking people. If you do get caught up in a scam (such as the infamous wallet scam or the "Look, I've just found money" scam or even if you are stopped by someone claiming to be a policeman), simply ignore the person and walk away, indicate that you want to call your embassy or go to the next police station to get the problem sorted. That will usually shake the person off.
If you are leaving your baggage in the station, it is better to leave it with the guys in person rather than use a locker. Stories have been heard of people 'assisting' with the locker and overseeing the code, then walking off with the bag afterwards.
On the metro,
always
keep your belongings securely zipped as close to your skin as possible. Pickpockets are highly organised and often in gangs that know what they are doing.
There are occasional (rare) reports of visitors being shaken down by corrupt officials, often customs officials. Naturally, the best protection is to make sure that you stay on the correct side of the law and, if there is any question, to keep your cool and not become argumentative. It seems that the cost of an error is surrendering the object in question and paying a "fine." The officials are skilled at ensuring that people who argue miss their flights. Making, or giving the impression of making a phone call to your country's embassy has been known to clear up "problems" quicker than actually paying the "fine" --- or pretend to have a very late flight.
Walking around in the tourist areas (e.g. Maydan) at night there have been instances of groups of police stopping tourists and going through an overly theatrical display of asking to see passport and other documents, and sometimes even search for drugs or other prohibited items. To deal with this, firstly always carry your passport, not doing so will give them an easy excuse to extract a bribe. Secondly, making it clear that you speak absolutely no Russian may help. Lastly, don't given them any excuses whatsoever to threaten you with arrest—just because the locals drink in the street doesn't mean you should. Don't cross the road except at authorised points. Try and follow the rules.
Some thieves like to abuse new tourists, for example, by playing plainclothes cop. They are rarely aggressive. They will go to you only if you're walking alone and don't look too familiar with the town. A bit of resisting usually shakes them off (but not too much since you never know).
There is still some corruption in Ukraine; some services might openly ask you to bribe them to process your request, and denying it might make them refuse to help you.
The people are very tolerant and it is only reasonable to assume that they expect the same in return.
Connect
Post Offices
phone: +380 44 2345064, +380 44 2440052, +380 44 2457033

address: Vokzalnaya sq., 1

The central railway station, on the 1-st floor.
Telephone
Mobile (cell) phones
: GSM (900/1800) and 3G (CDMA, UMTS) is used in Ukraine. This system is compatible with mobile phone networks used everywhere apart from parts of the Americas and US dominated parts of Asia.
If you have an unlocked phone, you can get an
Kyivstar
,
MTS
, lifecell , or Vodafone SIM card for a few dollars at street vendors which will give you a local number and free incoming calls. Note that some of those cards don't have money on their account so you may want to buy a payment card when you buy a sim card. If you don't have an unlocked phone already, new ones can be had for US$30-40 and a touch cheaper if you buy a pay-as-you-go sim card at the same time. Incoming calls are free in Ukraine so in extremis you can just SMS/text a request for a return call for a small charge.
If you want to use 3G connection, you can get
OGO!
(ex-Utel) for UMTS and
PeopleNet
,
CDMAUA
or
Intertelecom
for CDMA, for mid 2011 last three operators don't have English version of site. For English-speaking visitors, Vodafone and lifecell are both options for a 3G network with English instructions. From experience, lifecell SIM cards come with a plan pre-activated, meaning just inserting the SIM will get you data and a phone number with no interaction required.
If you are roaming in Kiev, SMS messages do work well. They are confirmed to work for most foreign networks. Do note that the size of the country and the relative low population densities of rural areas means that sometimes there might be 'black-spots' where mobiles will not work. But of course these are away from the main cities/urban areas (and most of the main arterial road and rail routes also have reasonably consistent call signals).
If you are trying to call the US from your GSM phone, you may find that the access numbers for your calling card are blocked. Plan ahead and sign up with a callback service (such as
UWT
lead-time required) before you start your travels and you can provoke them to call you (at much better rates) when you need to make a call.
Internet
The easiest way to maintain Internet connectivity if you use your own laptop is to buy a 7-day unlimited Lucky Internet callback card. They are about 36 грн at the street kiosks. When you dial in, you will be initially firewalled off from everything until you activate by visiting their website
You may also buy wireless internet access for your laptop for about 10 грн per day. for details or just google "wireless internet in Ukraine".
Internet cafés have a good service. They usually have different types of computers with varying prices.
Near the metro station on ul Khmelnytskoho (on the left side at a corner) there is one that is very good, open 24 hr non stop. The cheapest computers cover your basic needs, the most expensive ones are usually for hardcore gamers.
Also most foreigner-friendly cafés (see "Drink" section above) and a lot of fast food restaurants (including McDonald's) offer free Wi-Fi. Some require password to use their access point, ask waiter to get it.
Cope
Kiev was part of the former USSR. Some things work well and other things may be broken. There is no point in stressing about this. Arrive with that realization and be prepared to roll with a few surprises.

Embassies
Go next