Krasnoyarsk
Krasnoyarsk
(
Russian
: Красноя́рск
kruhz-nah-YAHRSK
) is a city in
Krasnoyarsk Krai
,
Russia
.
Understand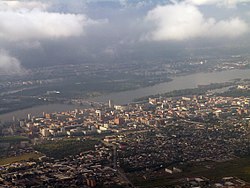 Krasnoyarsk has a population of over 1 million people. It is known for its beautiful nature nearby. However, the city sits in a mountainous basin and, when the wind isn't blowing, dangerous benzopyrene emissions from its aluminum smelter and power station result in black smog over the city.
The Kacha River flows through the city before joining the Yenisey at the
Strelka
- the historical center of the city. The Krasnoyarsk hydroelectric dam, 20 km upstream, significantly influences the local climate; normally the river would freeze over in the bitterly-cold Siberian winter, but because the dam releases unfrozen water year-round, the river never freezes in the to stretch of river immediately downstream.
The city was founded in 1628 as a fort on the confluence of the two rivers. It was originally called Krasny Yar, meaning "Red Steep Bank".
Many political exiles, including 8 Decembrists, were banished to Krasnoyarsk. The city was also an administrative center for the gulags.
Krasnoyarsk grew significantly during World War II, since industrial facilities were moved eastward to escape the war. After the fall of the Soviet Union, ownership of these facilities was transferred to oligarchs, and unemployment rose significantly.
The economy of the city is dependent upon its aluminum production facilities.
The famous 2005 Russian war film
The 9th Company
, directed by Fedor Bondarchuk and set during the Soviet War in Afghanistan, reputedly a favorite of president Vladimir Putin, has its story beginning at Krasnoyarsk.
Get in
By plane
Krasnoyarsk International Airport

phone: +7 391 228-61-99

The airport serves approximately 2 million passengers per year. There are regular flights to many major Russian cities including Moscow, Saint Petersburg, Vladivostok, Irkutsk, Manzhouli, Samara, Novosibirsk, Ulan-Ude, and Yekaterinburg as well as international flights to Dushanbe, Bangkok, Baku, Tashkent, Beijing, Bishkek, and Osh.
Buses
operate between the airport and the city centre. The journey takes approximately 1 hour to the train station or 1.5 hours to the intercity bus station. Alternatively, taxis should cost if negotiated in advance and the journey to the city centre by taxi takes approximately 40 minutes.
Cheremshanka (Черемшанка) Airport
phone: +7 391 252-65-57
, is 23km northwest of the city centre. The airport is small and only 2 carriers operate flights to/from this airport:
Krasavia
, with flights to/from
Abakan
,
Barnaul
,
Bratsk
,
Gorno-Altaysk
,
Kodinsk
,
Kyzyl
,
Motygino
,
Novokuznetsk
,
Podkamennaya Tunguska River
and Turukhan Avia Airlines, with flights to/from
Surgut
,
Svetlogorsk
,
Tomsk
, and
Turukhansk
.
By train
All Trans-Siberian trains stop at Krasnoyarsk.
Train timetables and fares can be found on the
RZD website
; enter "KRASNOIARSK, KRASNOYARSKAYA, " as the station for Krasnoyarsk. There are several daily trains to
Moscow
(61 hours, ),
Irkutsk
(18 hours, ),
Omsk
(20 hours, ),
Novosibirsk
(12 hours, ),
Ulan-Ude
(12 hours, ),
Yekaterinburg
(34 hours, ),
Perm
(41 hours, ), and
Vladivostok
(86 hours, ).
The main station is , located west of city center. There are left luggage services at the train station, but beware of long "breaks" taken by the operator. The service costs per item per day. There are plenty of buses making the 10 minute ride between the train station and the city centre. The journey costs . A taxi should cost if negotiated in advance.
By bus
Kransoyarsk Avtovokzal
is the inter city bus station. Buses operate to/from nearby cities, including those in the
Khakassia
region. Buses to most nearby cities cost under . You may even go as far as
Kyzyl
in the Tuvanese Republic.
By car
The road connecting
Vladivostok
and
Moscow
, semi-officially called
Moskovskyy Trakt
(Московский тракт, Russian for the
Moscow Way
), passes through Krasnoyarsk. However, decent accommodation and eating establishments are hard to find along this road.
Get around

Google maps can be used to plan trips around the city.

By public transport
There are many public buses and marshrutkas, costing per trip. You may use the 2GIS app in order to know wich bus to take, or simply ask a local. In large buses, the conductor walks among the passengers and asks for money from the new passengers. In a marshrutka/minibus, the conductor sits near the driver and gets paid before passengers exit (because of this the hind door is rarely opened). In a large bus, the conductor walks around with a roll of tickets in a hand, a belt purse and demands payment. Have rubles ready.

By taxi
Taxis are plentiful but drivers rarely speak English. Negotiate prices in advance.

See
Views of the Yenisey River and the nearby Sayan Mountains covered by taiga forest are quite picturesque.

Krasnoyarsk Dam124 meters tall, 40km southwest of Krasnoyarsk includes a power station and an aluminum smelting plant that benefits from the cheap electricity. The waterfall created by the dam is worth seeing. Reachable by taxi, elektrichka train or bus 106 to Divnogorsk ((Дивногорск means "The Town of Wondrous Mountains") or, in the summer, by jet boat or hydrofoil. Alternatively, Sibtour offers a highly-recommended excursion to the dam.
Museums
Muzey-Usad'ba Surikova

address: Lenina Str. 98

and

Surikov Art Museum

address: 20, Parizhskoy Commyny Street

are the museums of the one of the greatest Russian painters who was born and lived in Krasnoyarsk until he moved to Moscow to become a member of the National Academy of Arts. The first is a two-story wooden house built in 1830 by the painter's father, Vasiliy Surikov was born and lived for many years in that house, the second is a later-built one-story house holding many of his works.

Krasnoyarsk Regional Museum

address: Dubrovinskogo Str. 84

A recently restored monumental building in an ancient Egyptian style. It holds a lot of good exhibitions on the history of the Krasnoyarsk Krai as well as many archeological artifacts. It also has a souvenir shop.

Culture and History CenterConstantly presents various local and international exhibitions and events, all open to the public and sometimes free: fine art and photography by modern artists, art-house and independent movie festivals, museum nights with performances by young local artists, wax figure exhibitions, moving exhibitions from other cities, etc. The very building of the center itself is an incredibly interesting place to visit due to its original and atmospheric inside architecture.
Religious Buildings
Karaulnaya Gora

address: Karaulnaya street

A large hill with the Paraskeva Pyatnitsa Chapel (Часовня Параскевы Пятницы) on its top is a symbol of the city depicted on the 10-ruble banknote.
Monuments
Andrey Dubensky Monument

address: located at the top of the Krasnyy Yar hill, near Partizana Zheleznyaka Str. 1

is a monument to the Cossack leader Andrey Dubensky who has founded the stockaded fort of Krasnyy Yar in 1628 by the order of Michael I. The monument was erected in 2003 to honour the 375th anniversary of the city.
Flower monuments are located all over the city. Large figures (2–5m) made of flowers can be seen only in summer. The first figure is a Bear, it stands near the mayoralty building known for its modernist Big Ben-like clock, a family of Giraffes on the Lenina str. behind the Regional Government building knows as the Grey House (Серый дом), a Rooster near the Theater of Musical Comedy (Театр Музыкальной Комедии), a family of Elephants on the Kopylova (Копылова) str.
Do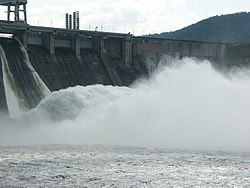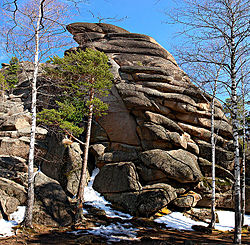 There are many hiking opportunities in the nearby forests, many of which offer nice viewpoints. It is recommended to have a guide for such an excursion as the trails are not well laid-out and there are plenty of dangers, including animals.
phone: +7 391 261-51-61

Stolby covers 470km² in area, with many extraordinarily-shaped volcanic rock formations up to 100m high.

Roev Ruchey ZooRussian for Royev's Brook. Large animal collection, where animals live in a good environment. The most famous inhabitant is a polar bear called Sedov.
Festivals and events
The City Day is celebrated every year in June, it is a spectacular show with a street carnival of different topics each year and evening fireworks.
Lawnmower Racing Festival occurs in July and features races on lawnmowers, motorcycles, ATVs, jet skis, gliders, hang gliders, and helicopters. Also includes music concerts.

APFestTheatre, ballet, concerts, street art, and other unique events.

address: Opera and Ballet Theater (Perensona Str. 2)

A collection of advertisement trailers by Jean Marie Boursicot is presented to the local elite starting at midnight.
Krasnoyarsk Jazz-bike festival, 5 to 8 August . The first two days of this Program is jazz. Third day Program includes a lot of contests and music groups. Prepared interesting prizes. Special guest DJ "Elephant". Competitive program 7 August starting at 11PM Walking rechargeable, Arm-wrestling, fight on Balance beam, Enduro, Swim on Rubber Women. Music program on August 7, launching in 19: 00. columns of bikers will Collect at the sports complex on the island of 16.00 on 6 August.
Learn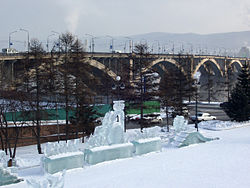 After
Novosibirsk
and
Tomsk
, Krasnoyarsk is the most prominent scientific and educational center of Siberia with more than 30 higher education facilities, many of which are the branches of the Russian Academy of Science, and about 200 high schools. The most notable higher education institutes are:
Siberian Federal University (Russian abbreviation is SibFU), founded on November 4, 2006. The institution integrated four large higher education institutions (Krasnoyarsk State University, Krasnoyarsk State Academy of Architecture and Civil Construction, Krasnoyarsk State Technical University, State University of Non-Ferrous Metals and Gold)
Krasnoyarsk State University of Education (Russian abbreviation is KGPU), founded in 1932
Siberian State Technological University (Russian abbreviation is SibGTU), the oldest in the city, founded in 1930 as the Siberian Institute of the Forest
Siberian State Aerospace University (Russian abbreviation is SibGAU), founded in 1960
Krasnoyarsk State Medical Academy (Russian abbreviation is KrasGMA), founded in 1942
Similarly to
Novosibirsk
and
Tomsk
, Krasnoyarsk has a special city district called Akademgorodok (Academic Town in Russian) where many of the institutes are located. There, in the Institute of Biophysics, the experiment on ecological isolation of human beings called "Bios", similar to the US experiment Biosphere 2, has been successfully held in 1973-1985.
Work

Like any industrial center, Krasnoyarsk has a large number of employment opportunities. However, salaries are low (up to 500 USD/month is 'good', 1000+USD/month is 'very good'; higher salaries are available for top-managers or business owners only). Salaries net of taxes.

Buy
If you want to buy Siberian souvenirs or paintings of the Krasnoyarsk artists you can visit the
Diana
(Диана) art salon at Mira St. (ул. Мира) 51. You may try to speak English with merchants here. Another place to look for paintings of the local artists is the
Khingan
(Хинган) galleries at Mira St. (ул. Мира) 3, Vzlyotnaya St. (ул. Взлётная) 2 and Totmina St. (ул. Тотмина) 6. Siberian souvenirs are also sold in the
Sibir-Etno
(Сибирь-этно) galleries, the first of them is in the Krasnoyarsk railway station, the second is at Aviatorov St. (ул. Авиаторов) 19.
The one unique thing you're advised to buy is
cedar nuts
, because the
Siberia
region is the only region where the authentic variety of this delicacy can be purchased. Throughout the rest of the world cedar nuts are extremely expensive.
Other goods are the same as all over Russia. Chinese clothes could be slightly cheaper on the
Chinese market
.
Entertainment centers / shopping malls
Krasnoyarsk has a lot of huge trade-and-entertainment centers, similar to shopping malls, where you can find cinema theaters, restaurants, cafeterias and numerous large and small shops. The major centers are: Torgovyy Kvartal (Торговый Квартал, Russian for Trade Block) at Televizornaya Str. 1, Planeta (Планета, Russian for Planet) at Dyevyatogo Maya Str. 77 and Luch (Луч, Russian for Ray) at Karla Marksa Str. 149. Other large trading centers are Kvant (Квант, Russian for Quant) at Krasnoy Armii Str. 10, Yevraziya (Евразия, Russian for Eurasia) at Karla Marksa Str. 95-1 and Krasnoyarye (Красноярье, Russian for Places of Krasnoyarsk) at Krasnoyarskiy Rabochiy Str. 120.
Eat
There are plenty of restaurants in Krasnoyarsk. While there is no McDonalds, there are locations of KFC. There are many excellent Chinese restaurants on Mira street near the Theater of Musical Comedy.
Budget
address: Several locations

Chain of canteen-style cafeterias.
Mid-range
Splurge
Drink
Cafes
phone: +7 391 286 86 09

address: Sibirskaya, 92/4

A really cool tea house in a large yurt!
Bars
phone: +7 391 227 75 06

address: Mira #45
Nightclubs
There are many nightclubs all over Krasnoyarsk, but it's better to avoid those located in suburbs (the clientele can be unpleasant), or very expensive luxury clubs and restaurants (frequented by local criminals). Most cinemas have nightclubs as well. Beware of drug traffickers, which are present in most nightclubs; however, they usually don't disturb others unless approached.
Sleep
Note that some hotels do not have English-speaking staff and may be in bad condition. It is advisable to read reviews online and book in advance. It is also better to book accommodation in the city centre since certain outlying areas can be a bit dodgy.
Most hotels and hostels offer free WiFi and many have computer terminals. Almost all accept credit cards. Hotels and hostels will usually provide a visa invitation and registration for an additional fee.
Budget
Hostels
Mid-range
Splurge
Krasnoyarsk Hotel (гостиница Красноярск)

phone: +7 391 2273769

address: 94 Uritskogo street (ул. Урицкого 94)

phone: +7 391 227-19-16

address: 15 Mira street (ул. Мира 15)

phone: +7 391 231-25-31

address: Bazayskaya ul., 234-А

A beautiful getaway! Includes 2 restaurants, spa, pool, sauna, fitness center, volleyball and basketball courts.
Connect
Phone
The international code for Russia is +7, the code for Krasnoyarsk is 391.
For information on purchasing a SIM card in Russia, see
Russia#Contact
.
Note that SIM cards purchased elsewhere, such as in
Moscow
or
Saint Petersburg
, may be subject to roaming charges.
Internet
Free WiFi is available in most hotels, shopping malls, university buildings, cinemas, restaurants and cafes, and some public areas and parks. There are also plenty of WiFi hotspots for which you must pay. You can also buy a mobile GPRS card to enable data transfer via the cellular networks. For more information, see
Russia#Contact
.
Сonsulates
Honorary Consulate of the Republic of Slovakia

phone: +7 (391) 256 00 07, +7 (391) 256 00 06

address: 124 Б, Uritskogo St.,
Stay safe
Though generally safe for the experienced traveler, Krasnoyarsk can be a tricky destination for someone not familiar with the region and culture. The downtown areas are pretty much safe all night, but in the suburbs it's highly recommended not to walk alone after dark. If you are 15–30 years old, the neighborhood of student dormitories (living blocks without balconies, usually 9-story), the inside of living districts and street cafes can be dangerous for you even at the day time due to the chances to meet drunk bullies who can be easily provoked, for example, by your unusual or not athletic look. Other places of higher risk are large market places and the railway station: be sure to keep your cash out of view and out of pickpockets' reach.
Avoid asking the police for help unless it is really necessary. If possible, communicate with the hotel staff and security first, because communication with local policemen may be unpleasant due to both the language barrier and their usual rudeness, or even dangerous, especially for non-European-looking foreigners (although police in Krasnoyarsk is far from being as dangerous as in
Moscow
and
Saint Petersburg
). Sadly, this is a national problem in Russia: there is not much difference between police and criminals.
Go next
The easiest way to travel from the city is to fly to Moscow first, and then to wherever necessary. However, there are some flights from the local airport Emelianovo to China and the nearest ex-USSR countries, or through
Novosibirsk
and
Irkutsk
which can be easily reached by train.
The neighboring region of
Khakassia
with its major city
Abakan
is 400 km South, reachable by car (M-54 road) and everyday train from the railway station.
The next stops of note on the
Trans-Siberian Railway
are
Achinsk
to the west towards
Novosibirsk
and
Kansk
to the east towards
Irkutsk
During the summer there are 1-2 week cruises to the Northern part of the Krasnoyarsk Krai to the mouth of the Yenisey. Everyday connections exist only for the city of Divnogorsk, located 40 km west, near the Krasnoyarsk Hydroelectric Power Station.