LGBT travel
LGBT (lesbian, gay, bisexual, transgender, and other) people
often have special concerns or interests when travelling. This page lists three things: events and activities of special interest to, or targeted towards, LGBT travellers; destinations where being out as LGBT is acceptable; and destinations where it might be dangerous to travel if one's transgender status or nonheterosexual orientation is known.
Understand

On Wikivoyage, "LGBT" is used as a consistent, all-inclusive term. Some individuals and groups add other letters to explicitly include other groups ("Q" for "queer" and "questioning", "I" for "intersex", "A" for "asexual", etc.), but this quickly becomes unwieldy. "Gay" is often understood to refer to homosexual men, but it is sometimes used as an umbrella term, such as in "gay pride parades" or "gay culture", to include all parts of the LGBT community.
Many major Western cities have vibrant, world-famous gay districts that are major tourist attractions, and often worth visiting even if you are not gay.

See
Stonewall National Monument and Stonewall Inn

The Stonewall Inn was the site of the Stonewall riots in 1969, a landmark moment in LGBT history.

The Turing Mosaic

A mosaic celebrating World War II codebreaker Alan Turing, and the only memorial thus far to acknowledge his life as a gay man. During Turing's life, homosexuality was illegal in Britain, for which he was convicted. In 2013 the government issued a posthumous pardon and apology, almost 60 years after his death by suicide.
Do
Cities of all sizes hold
gay pride parades
(or simply
pride parades
), festivals, and events. Many of these are held in June to commemorate the Stonewall riots of June 28, 1969, one of the main events that led to the fight for LGBT rights in the U.S. There is an
up to date calendar of gay pride events all over the world
.
Africa
Johannesburg held the first Pride events on the African continent on 13 October 1990; Cape Town has also held Pride events sporadically since 1993. South Africa's post-apartheid 1996 Constitution provides for equality and freedom from discrimination on the grounds of sexual orientation, the only country on the continent to do so, but the original sense of Pride as political protest has not been lost. (Africa, Arabia and the Caribbean are among the worst regions on Earth for criminalising LGBT minorities. South Africa, while not free of de facto discrimination, officially seeks to make a clean break with its apartheid-era past.)
Asia
The Manila Pride March held annually every Dec in Manila.
Australia
The Gay and Lesbian Mardi Gras held annually (Feb/Mar) in Sydney. (The Sydney Mardi Gras does not necessarily take place on Shrove Tuesday or the days leading up to it, as traditional Mardi Gras do.)
Europe
Paris Gay Pride held every summer in the French capital with over 700,000 participants in 2007.
Helsinki Pride, held annually in Helsinki, Finland at the whole last week of June. Helsinki Pride continues the tradition established by Finnish LGBT organization Seta's "Freedom Day" started at 1975. Finnish, Swedish and English speaking.
Swedish Gay Camp A camp for gay and bisexual men held every summer in Sweden, open to international participants. Swedish and English speaking.
Amsterdam Gay Pride Canal Parade held annually at the first Saturday of August in Amsterdam. The 2009 parade gathered 560,000 people.
Pride in Brighton and Hove Winter Pride in March and a Summer Festival Week at the end of July: probably the UK's best and most entertaining Pride festival
Madrid Pride Week Europe's largest pride celebration attracting more than 1.5 million people. First Week of July.
North America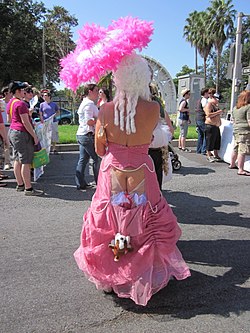 South America
Buy
In the largest cities, there is often one neighbourhood which was traditionally a "gay ghetto" or "gay village" with many small, independent businesses operated by LGBT proprietors or serving a primarily LGBT clientèle. Some (such as
Castro Street
in San Francisco) were nationally famous in their heyday.
In many cities, there was an alternative local weekly or monthly newspaper which served as a printed index of all of the other LGBT offerings in the "ghetto", "village" or community. There were specialised book stores with books and media from gay authors; there were women's book stores which specialised in feminist texts from small, independent niche publishing houses which espoused the cause of women and sexual minorities. There was gay apparel, there was gay pornography, there were all manner of unusual items which might not have been readily available anywhere else. There were places to eat which were owned by LGBT proprietors, gay bars (which were the primary meeting places of yesteryear when there were few other LGBT options) and
bed and breakfasts
which were owned and operated by LGBT couples or were welcoming to LGBT voyagers.
The big-city LGBT commercial district was most known for its nightlife – the endless bars, the hilarious drag shows – but was also the home of many non-commercial community organisations ranging from LGBT discussion groups to gay sports teams, swim clubs, choirs or other activities which brought members of the community together under one or more common interests.
In the twenty-first century, a bit of this gay local colour is beginning to fade. As the level of discrimination declines, the need to concentrate the community in one big-city neighbourhood is gradually vanishing. Neighbourhoods which were once LGBT enclaves are being gentrified; the original residents who made the community what it was are being increasingly priced out of the market and into nondescript, mainstream suburbs. Pride parades which were once small but daring expressions of political dissent have become huge, commercialised events; they're larger than ever, but the original message has been lost in a demographic marketing gold rush in which big corporate sponsors brand and monetise the parades to sell more beer or other consumer commodities. The small alternative local newspapers, periodicals and alternative book stores are declining just as dramatically and rapidly as all other print media; many publications have abandoned their print editions to go Internet-only. People who used to meet at LGBT bars (or at the gay saunas and bathhouses which were infamous as hotbeds of sexual activity) are now increasingly instead meeting on-line.
Nonetheless, an LGBT neighbourhood or "village" still exists quite openly in most large metropolitan areas with colourful independent local businesses and community organisations which are out, loud and proud. It's worth checking local listings before you go to see what's on offer.
LGBT laws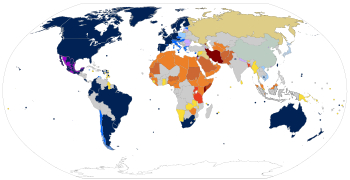 In some parts of the world LGBT visitors are welcome, but this is not true of most African, Caribbean and Middle Eastern countries where it would be a bad idea, and in some cases dangerous, to express who you are completely. In some countries (particularly where LGBT expression or activity is legally restricted), police do little or nothing to investigate brutal anti-gay violence. Sometimes, they are
part of the problem
.
Most East Asian countries do not have any laws against homosexuality, though with the notable exception of
Taiwan
, there are also no anti-discrimination laws on the basis of sexual orientation. Acceptance of homosexuality tends not to be as good as in Western countries, and homosexual relationships are generally not given legal recognition. Nevertheless, given that the violent crime rate in East Asia is generally low, you are unlikely to get anything more than stares and whispers, and unprovoked anti-homosexual violence is almost unheard of.
Even where homosexuality is legal, there is no guarantee of ready acceptance from locals. Even in the United States and Western Europe where, for the most part, homosexuality is legal, gay-bashing sometimes occurs, though general intolerance of anti-gay acts is – slowly – increasing.
ILGA
(International Lesbian, Gay, Bisexual, Trans and Intersex Association) has more specific information and news about LGBT rights around the world. Global Affairs Canada has an in-depth information page for
Lesbian, gay, bisexual, transgender, queer and two-spirit Canadians abroad
.
Air travel and borders
Identity documents can be awkward for transgender voyagers, as some national
customs
or
immigration
checkpoints blindly assume the traveller's birth sex, gender presentation and stated gender on
passports
or travel documents will all conveniently match. Voyagers planning
sex reassignment surgery
abroad must ensure they're carrying valid documents for the return trip. The willingness of governments to issue passports with gender not stated (X) or documents updated to match a desired name and gender varies. Willingness of foreign governments to honour these documents is just as widely variable.
Searches at security checkpoints have also become far more intrusive in the post-September 11, 2001 era. Pre-operative transgender people should not expect to pass through the scanners with their privacy and dignity intact.
There is also the possibility that specific literature, pornography, adult novelty toys or other items will be blocked by
customs
when entering countries whose governments discriminate against LGBT persons.
Hotels and accommodation
Laws prohibiting private businesses from discriminating against gay (and, less often, transgender) patrons exist in a few of the jurisdictions where same-sex activity is lawful. Couples have successfully sued innkeepers who refused to let one bed/double occupancy rooms in the
United Kingdom
. Similar protections exist in much of
western Europe
.
The
US
varies by state and region; strong protections exist in liberal states such as
Hawaii
, while voyagers to 14 mostly Southern American states which criminalized homosexuality before a 2003 Supreme Court ruling overturned these laws may encounter residual homophobia or find no law to discourage discrimination by privately-owned businesses.
Conversely, a few destinations may have
hotels
which market specifically to the gay community or
bed and breakfast
hosts who are same-sex couples themselves.
Public toilets
The legality of using public toilets of one's gender choice differs greatly from jurisdiction to jurisdiction. For instance, in more liberal states of the United States such as California and New York, transgender persons are free to use public toilets of their choice by simply declaring their gender identity, and some places even have gender-neutral toilets for gender non-conforming people. In some other areas like Singapore and Thailand, transgender people may only use public toilets of their choice after undergoing sex reassignment surgery. Some areas, including most Middle Eastern Muslim countries, do not permit transgender people to change their legal gender at all, and thus require all individuals to use public toilets of their biological sex.
Same-sex marriage
Legally-binding same-sex marriages, first solemnised in
Amsterdam
in 2001, are now performed in many countries around the world including
Argentina
,
Australia
,
Austria
,
Belgium
,
Brazil
,
Canada
,
Colombia
,
Denmark
,
Ecuador
,
Finland
,
France
,
Germany
,
Iceland
, the
Irish republic
,
Luxembourg
,
Malta
,
New Zealand
,
Norway
,
Portugal
,
South Africa
,
Spain
,
Sweden
,
Taiwan
, the
United States
and
Uruguay
as well as
Mexico
(
CA
,
CH
,
CDMX
,
QR
), the
Netherlands
(except
Aruba
,
Curaçao
,
Sint Maarten
) and the
United Kingdom
(except
Northern Ireland
). British citizens may have access to marriage in a limited number of
British consulates abroad
in nations which neither object nor offer same-sex marriage locally. Other countries perform or recognize unions similar to marriage between two same-sex persons, the name and form of which varies considerably around the world.
Very few countries in the modern era grant captains of ships flying their flag in international waters the right to officiate marriage. Weddings aboard ships at sea were briefly offered by the
Bermuda
-flagged Carnival line (Cunard, Princess and P&O) vessels; as of 2018, their legal status has been oscillating as the Bermudan government continues to legislate against same-sex marriage and court decisions strike down those laws.
The willingness of individual
churches and temples
to solemnise same-sex marriage varies. The
Metropolitan Community Church
was founded to reach out to the LGBT community, the
Unitarian/Universalist
churches and the
Society of Friends (Quakers)
are usually supportive and a few other groups (such as an
Affirming United
group within the
United Church of Canada
) embrace equality. Some of these groups have marched in local Pride events. Another option is a non-religious wedding, such as a civil wedding (at a city hall or court house) or a secular humanist officiant who may conduct a wedding in the venue of your choice.
As laws vary, marriages (and less-than-marriage civil partnerships) from foreign jurisdictions may not be recognized as valid in your home country, and indeed, a married same-sex couple may not be recognized as such in some countries. Residence or citizenship requirements for marriage (and divorce) also vary between nations. If your own country believes your relationship does not legally exist and the country in which you married only hears divorce cases for its own people, a divorce might not be an option.
Any of this information may change rapidly due to referenda, changes in local laws or court cases making their way through multiple appeals. In some jurisdictions, same-sex couples have gained, lost, then regained the right to marry – sometimes causing a rush to registry offices as the situation may change on each appeal hearing, ending at a national supreme court.
If your plans are elaborate or may be difficult to change, be sure to consult the relevant authorities well before your wedding date.
Queer-friendly destinations
The following cities are considered gay-friendly destinations. Many host public gay events, have gay venues, and/or have active LGBT organizations. They're also considered to be hassle-free for gay travelers who are not seeking out specifically queer events/activities:
North America
North America is a mixed bag when it comes to LGBT rights. While Canada and the more liberal parts of the Untied States are among the most LGBT-friendly destinations in the world, many of the Caribbean island nations can be hotbeds of homophobia.
Canada
Few countries are more tolerant and gay-friendly than Canada, both in legislation and attitude, including legal same-sex marriage. That said, not everyone has followed suit, particularly in rural and remote areas.
Mexico
A largely Catholic country,
Mexico
is getting more gay-friendly all the time. Medium-sized and big cities as well as coastal resorts have gay bars and sometimes gay discos.
Mexico City – This huge city offers a vast array of gay bars and clubs, from stylish and slick to unassuming and friendly, in the elegant Zona Rosa and elsewhere. Also the first city in Latin America to legalize same-sex marriage.
Acapulco – Apart from the natural beauty of the Quebrada divers, this party place has hectic night clubs, strip joints and friendly bars. Most of your fellow travellers are Mexican.
Puerto Vallarta – Commonly considered the most gay-friendly destination in Mexico. The area known as the South Side or Zona Romántica in the southern part of the old city is the epicentre of gay nightlife and the popular gay beach, which consists largely of the Blue and Green chair restaurant/bar areas with their many palapas along Playa Los Muertos beach.
United States
By and large the USA is tolerant-to-accepting of LGBT travellers, especially in the larger cities, college towns, the Northeast, the West Coast and Hawaii. However, due to strong evangelical influences in some areas, as a whole, the USA is not as gay-friendly as Western Europe, Australia, New Zealand or Canada. Acceptance of homosexuality varies greatly from region to region, and in areas where tourists are most likely to visit, acceptance is at least as good as in Western Europe. On the other hand, locals may not be as accepting of homosexuality in some more rural inland areas away from the tourist trail, where the majority of people continue to be deeply religious. Legally speaking, homosexual relationships are equivalent to heterosexual relationships, and same-sex marriage has been legal nationwide since June 26, 2015 as a result of a Supreme Court decision. Major destinations include:
West
Northeast
Midwest
South
Caribbean
San Juan – the 500-year-old island capital of Puerto Rico and "Gay Capital of the Caribbean". San Juan is a definitively Latin American city and Spanish is predominant throughout the island. Puerto Rico is a U.S. territory with border-free access from the mainland and direct air links to Canada and Europe. With gay guest houses, restaurants, beaches and nightlife in the Condado and Santurce areas, San Juan offers the Caribbean's best gay scene.
Central America
San José (Costa Rica) This is the country's capital and where most of the population in Costa Rica lives. This place is filled with bars and discos for gay people.
Manuel Antonio, Costa Rica's favourite gay vacation spot for locals and tourists. One of the nicest beaches on the Pacific Ocean, declared National Park for its amazing beauty. Many gay-owned, friendly hotels and commerce. Great nightlife.
South America
Argentina
Buenos Aires – The Argentine capital is one of the most popular gay travel destinations in South America. The city passed same-sex civil union legislation in 2002 and the country legalized same-sex marriage in 2010.
Brazil
Rio de Janeiro – Latin America's main gay destination, it was chosen as the sexiest gay destination in 2010 by TripOut Gay Travel Awards. In 2009 it was elected as the best lesbigay global destination. There is a famous gay beach. Acceptance of gay behaviour dates back to the 18th century. During colonial times the first gay ball of the Americas took place in Rio in 1757. Despite all this, many people in Rio are not tolerant of all aspects of LGBT behaviour outside the traditional venues of Ipanema and parts of Copacabana; same-sex displays of affection are likely to attract mocking whistles.
São Paulo – Home to the largest LGBT pride festival in the world, with some 3 million participants annually.
Chile
Santiago – Santiago is by far Chile's least conservative city, the only one where the 'Gay parade' and similar events are held. But beware that gay people in Chile should keep a low profile: Same-sex couples kissing in the street or holding hands (especially men) are going to attract stares, and, though homophobic physical attacks are somewhat unusual, there has been some unprovoked violence against gay couples.
Uruguay
Overall, the country is accepting of LGBT people. Harassment is rare and same-sex marriage was legalized in 2013.
Montevideo – The Uruguayan capital had a sexual diversity monument installed in 2005.
Middle East
Tel Aviv Israel's gay capital. Extremely lively and liberal city, with dozens of gay venues, parties and activities. Many locals are completely blasé regarding sexual diversity.
Istanbul had a considerable gay life and tons of gay bars and clubs mainly around Taksim and Beyoglu districts. A big gay & lesbian parade (Pride Istanbul) ran from 2007 to 2014. The situation has deteriorated as a result of widespread crackdowns on free speech, journalism and dissent after a failed 2016 coup attempt. Public protest has been silenced; the Ankara governor's office imposed a ban on all LGBTI cultural events in 2017. Open threats of violence from ultra-nationalist groups also pose a risk.
Europe
Likely the most relaxed about gay and lesbian travel and people should have little problems. Germany, Norway, Sweden, Netherlands, Denmark, Finland, Belgium, Britain, France, Spain and Portugal are likely the most accepting. Tolerance declines markedly as one goes further east. In
Russia
the spurious and ill-defined act of "advocating homosexuality among minors" has been forbidden since 2013; this may include expressing your orientation in the presence of minors.
Ibiza
,
Gran Canaria
,
Sitges
(all in
Spain
) and
Mykonos
(
Greece
) are the hottest gay holiday destinations that Europe has to offer.
Like elsewhere LGBT acceptance has risen quickly. A former chairman of an LGBT rights association has been president, Tom of Finland art is sold in flagship fashion shops, and marriage law is gender neutral (since 2017). Official Finland and a majority of the population have a very supportive or at least relaxed attitude on LGBT issues. This does however not mean acceptance everywhere.
Helsinki (the capital) is the most LGBT-lively place in Finland. You can be safely openly gay, or lesbian, or bi, or trans. The tourist office has info for LGBT folks. Both of the LGBT nightclubs in Helsinki are located just around one corner at Mannerheimintie and Lönnrotinkatu streets.
Pori is a nice mid-sized town. Pride, music culture and the Yyteri beach with sand dunes can all be found here.
Oulu – Oulu Pride is the northernmost Pride event in the world.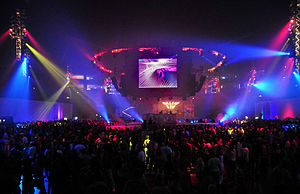 Berlin – Berlin has a pretty widespread gay community, mostly in Schöneberg, but gay couples can be seen pretty much anywhere. The only places where caution should taken are Lichtenberg and Neukölln: historically not very tolerant groups live there, however, NeuKölln is nowadays the new hip part of the city. Near Kufürstendamm there are a lot of gay bars.
Hamburg – The gay heart of the city is called St. Georg with the famous "Lange Reihe" as the gay street in Hamburg. Also the "Pulverfass" has many gay or gay-friendly locations, e.g. bars, shops, restaurants and clubs. For a more sexual connotation visit the local red light district "Reeperbahn" and its many junctions, in particular the "Talstraße" which is the other clearly "gay-labelled" street in Hamburg with gay cinemas, bars and clubs
Budapest – Thermal bath and spa capital of Central Europe with a lively gay scene.
Amsterdam is known as the gay capital of Europe, although these days many other destinations are at least as gay friendly. Still, many clubs have special gay nights every week. A certain area known as Reguliersdwarsstraat, though quite modest in size, is full of cafés where gay people are more common than heterosexuals. Every summer there is the Gay Pride Parade, taking place in the canals in the city centre.
The Big 3 are widely known as Brighton, London and Manchester. Same-sex marriage is legal in most of the United Kingdom, with Northern Ireland being the only exception.
Oceania
Australia and New Zealand are among the world's most LGBT-friendly destinations, with acceptance of LGBT people on par with Western Europe. On the other hand, most other countries in the region are strongly-conservative Christian moral societies, and thus tend to strongly disapprove of homosexuality.
Australia is a very safe destination for LGBT people. The majority of Australians are accepting of homosexuality, and acceptance is almost universal among the younger generation. Same-sex marriage was legalised on 12 December 2017 following the results of a nationwide postal ballot. Australian law also prohibits discrimination on the grounds of sexual orientation.
Auckland – the city comes alive around 1AM, full of incredible restaurants, pubs with live music, and great dancing places in 'K Road'.
Vinegar Hill – a camping ground in the Manawatu that hosts a large gay and lesbian camp over Christmas/New Year.
Asia
There are no laws against homosexuality in China, and people are generally tolerant towards gays and lesbians with unprovoked violence against homosexuals being extremely rare. Still, homosexuals should keep a low profile, as there is heavy censorship of homosexual-themed (or featured) media by the government. Shanghai Pride began in 2009 without a parade, due to fears that the government would not allow it. Same-sex marriage is not recognized by the government.
Shanghai – Home to the first-ever Pride Festival in mainland China
There are no laws against homosexuality in Hong Kong although same-sex marriage is not officially recognised. In this conservative society sexuality is still generally not discussed in public. For youngsters is quite different; there are some hip gay clubs that could well be in London, New York or Madrid that cater to locals and tourists and the city held its first Gay Pride Parade in 2008. Anti-homosexual violence is virtually unheard off, and gay and lesbian couples should generally not run into any major issues.
There are no laws against homosexuality in Japan, though same-sex relationships are also not recognised by the Japanese government. Acceptance of homosexuality among the Japanese public tends to be somewhat lower than in Western countries. That being said, given Japan's low violent crime rate, homosexuals are extremely unlikely to encounter unprovoked violent attacks.
Nepal was the first nation in South Asia to decriminalize homosexuality, and same-sex marriage has been legalized. In 2011, the nation's tourism industry focused heavily on attracting gay tourism, trying to entice them with gay marriages on
Mount Everest
. The government is making moves to ensure that the police will enforce laws protecting homosexuals (and not discriminate themselves). Gay travellers in Nepal should still remain conservative; although the government is making changes, local attitudes about homosexuality remain negative and some resent being seen as a "gay travel" destination.
Manila – Known as the gay capital of Asia. Most gay-friendly or LGBT-friendly destinations are found in the city and are owned by LGBTs themselves.
Cebu – There are active LGBT organizations and gay-friendly restaurants and cafes in Cebu.
South Korea does not have any laws against homosexuality, though there is also no legislation that prohibits discrimination on the basis of sexual orientation. Same-sex relationships are not recognised by the South Korean government. Acceptance among the South Korean public tends to be negative, and evangelical Christians in particular will likely strongly disapprove of it. That being said, your chance of encountering anti-homosexual violence is close to none.
As far as East Asian countries go, Taiwan is considered to be one of the most gay-friendly areas. Taiwan does not have any laws against homosexuality, and became the first Asian country to legalise same-sex marriage in 2019. Anti-homosexual violence is extremely rare, and younger Taiwanese tend to be more accepting of homosexuality.
Taipei – an annual gay parade event known as Taiwan Pride is held there between September and November
Bangkok – Known for its gay tolerance, and its gay festivals.
Pattaya – Many homosexual clubs and bars.
Phuket – Popular in the transgender community for medical tourism as skilled practitioners offer gender affirmation surgery at reasonable cost.
No laws against homosexuality have ever existed in Vietnam.
Africa
There are few good choices in this region; many African governments continue to hunt homosexuals as criminals, and extreme homophobia continues to be very widespread among the general population. As a notable exception, South Africa has sought to break with this history by constitutionally prohibiting discrimination as part of a larger effort to sever ties to the country's apartheid-era past.
Cape Town – Easily the most liberal and gay-friendly city in South Africa, and considered the "gay capital" of Africa. Gay nightlife centred around the Greenpoint district and holds the Mother City Queer Project (MCQP) every December.
Somewhat safe destinations
Countries listed in this section have laws against homosexuality, though the said laws are not enforced in practice.
Asia
While homosexual acts were decriminalized by a 2018 supreme court ruling after years of litigation, discrimination continues to exist in many rural villages.
Much gay activity was underground and focused on public cruising, but conventional scenes are quickly developing in cities such as Bangalore, Delhi and Mumbai.
On June 29, 2008, four Indian cities (Delhi, Bangalore, Pondicherry, and Kolkata) saw coordinated pride events, and on 16 August 2008 the gay community in Mumbai held its first ever formal parade.
Engaging in public displays of affection for both the straight and the gay and lesbian community is met with strong rejection. If you are being open as gay/lesbian couple in the open as in many areas, laws do not tend to have such a positive effect.
Even though India claims to be anti-homosexuality in political and religious aspects, public demonstrations of affection like holding hands or soft kissing are not penalized and are a very common practice between same sex members all over the country (it would be worse if they see you kissing or holding hands with someone of the opposite sex). A study from B.H.U. (that was penalized and quickly disappeared from all media) discovered that almost 90% of the male population has engaged in sexual acts with males, because of the great taboo that women are to Indian men.
While homosexual acts are not illegal (except for in the province in Aceh and the city of Palembang), many still hold homophobic attitudes, as Indonesia is a religious Muslim country. However, there are gay scenes in
Jakarta
and
Bali
.
Male homosexuality is theoretically illegal in Singapore, as a result of colonial-era statutes, with a punishment of 2 years imprisonment. However, that law is not enforced in practice, and there are some high profile people working in the fashion and entertainment industry who are openly gay. There are also several gay bars operating in
Chinatown
, particularly in the vicinity of Neil Road. Attitudes towards homosexuals among the general population, however, leave much to be desired, and there is legalised discrimination against gay employees in government departments and the military. Openly flaunting your sexual orientation is likely to draw stares and whispers from the public, but you are extremely unlikely to get anything more serious than that. That being said, acceptance of homosexuality is slowly but surely growing among the younger generation. Given Singapore's low violent crime rate, unprovoked violence against homosexuals is virtually unheard of.
Dangerous destinations
Criminalization
The following countries have
criminal laws
against sexual acts between consenting adults of the same sex.
Bold Links
and
Bold Italic Links
denote countries that have
life imprisonment
or the
death penalty
for homosexual acts.
This list covers just criminalisation of sexual activity; many nations prohibit or criminalise conduct such as wearing garments of the opposite gender (the distinction between transgender and homosexual is lost on a few less-accepting jurisdictions), serving alcohol to gays (as a tactic to shut down LGBT bars) or speaking out on gay and lesbian issues. Gay saunas in some locations are raided under laws intended to shut down houses of prostitution.
Homosexuality illegal:
Algeria
,
Benin
,
Burundi
,
Cameroon
,
Chad
,
Egypt
,
Eritrea
,
Ethiopia
,
Gambia
,
Ghana
,
Guinea
,
Liberia
,
Libya
,
Malawi
,
Mauritania
,
Mauritius
,
Morocco
,
Nigeria
,
Senegal
,
Somalia
,
Sudan
,
South Sudan
,
Togo
,
Tunisia
.
Male only:
Kenya
,
Sierra Leone
,
Eswatini
(Swaziland),
Tanzania
(except
Zanzibar
, where lesbianism is also punishable),
Uganda
,
Zambia
,
Zimbabwe
.
Nigeria and Uganda have enacted laws that make it a criminal offence for one to know that someone is homosexual and not report it to the police.
Homosexuality illegal:
Afghanistan
,
Bangladesh
,
Bhutan
,
Brunei
(death by stoning),
Malaysia
(punishable from 2 to 20 years imprisonment or caning),
Myanmar
(punishable from 2 years to life imprisonment),
Sri Lanka
.
Homosexuality illegal, but law is generally not enforced:
Pakistan
(fine or 2 to less than 10 years of imprisonment for sexual orientation; rarely officially enforced but vigilante action may cause death in some parts).
Male only:
Maldives
,
Turkmenistan
,
Uzbekistan
.
Homosexuality illegal (for Muslims only) in one province of
Indonesia
:
Aceh
.
In
Marawi City
,
Philippines
there's a local ordinance forbidding cross-dressing and overtly feminine behaviour among men (
bayut
) enforced by the local religious police (but
not
the Philippine National Police) and the Philippines generally has a long history of tolerance and sympathy for queer folk.
Homosexuality illegal:
Antigua and Barbuda
,
Barbados
,
Saint Vincent and the Grenadines
.
Male homosexuality ("buggery") illegal:
Guyana
,
Jamaica
,
Grenada
,
Saint Kitts and Nevis
,
Saint Lucia
.
Anal sex illegal, regardless of gender:
Dominica
Homosexuality illegal:
Iran
,
Iraq
(executions ordered by non-state sharia courts and militias, together with defenestration, decapitation and burning alive in Daesh-administered areas),
Kuwait
,
Qatar
,
Saudi Arabia
(can also be punishable with prison, fines or whipping),
Syria
,
United Arab Emirates
,
Yemen
.
Male only:
Gaza Strip
.
In
Oman
homosexuality is illegal, but is practiced and talked about with discretion. The larger cities will be more liberal on this issue than the rural regions, but for the LGBT traveler, play it safe and treat homosexuality the same as you would with Saudi Arabia or other Middle Eastern nations.
Homosexuality illegal:
Samoa
,
Solomon Islands
Male only:
Cook Islands
,
Kiribati
,
Papua New Guinea
,
Tonga
,
Tuvalu
Homophobia
The following destinations pose some problems to LGBT travellers (see also the "Stay safe" section of region and cities articles):
Cayman Islands – in 2008, two men kissing caused one to be "arrested" by an off-duty police officer for "a public offence." The one man taken from the Royal Palms, Grand Cayman was in fact detained and not arrested. It turns out there is no law against homosexuality in CI – a British Overseas Territory – but homophobia there is endemic.
Homophobia and discrimination are growing in much of the former Soviet Union, sometimes with tacit government support:
While a court decision in Trinidad and Tobago decriminalised homosexual activity in 2018, this case is being appealed and gays may remain targets for violence or discrimination.
There have been reports of mass arrests in Indonesia in 2017. While homosexuality is only illegal in part of the country (Aceh), police have been using other laws (such as laws targeting pornography) to attack gay saunas with the tacit support of local political leaders.
See also