Rochester (New York)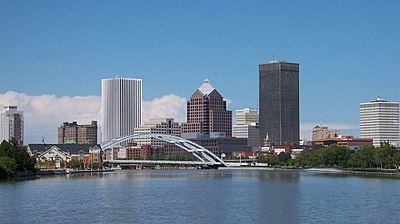 Big-city culture and small-city charm combine in
Rochester
, a mid-sized city on the shore of
Lake Ontario
. The birthplace of amateur
photography
, Rochester has long been known as Kodak Town, but its fame was established well before George Eastman came on the scene. Today, its historical treasures complement modern family-friendly attractions that rival those found in much larger communities.
In Rochester, you can find the only museum in the world dedicated to play; award-winning music, dance, and acting ensembles; a dense festival calendar covering nearly every weekend of the year; minor-league sports of the highest caliber; and a trio of majestic waterfalls right in the middle of the city. The gateway to the scenic and culinary delights of
New York
's
Finger Lakes
region, Rochester is the perfect place to begin your exploration of
Western New York
.
Understand
With more than 200,000 residents, Rochester is the third-largest city in the state of New York, after
New York City
and
Buffalo
.
Lake Ontario
lies to its north, with the
Genesee River
flowing northward through the city and over a set of three waterfalls. The historic
Erie Canal
also runs along the city's borders.
But Rochester is much more than just its waterways. The city loves to celebrate its long history of
industry and invention
, taking pride in the many innovators and social reformers that have made their marks here. It also looks to the future, to the new places to which today's innovations will lead. And when it's time to relax, few cities of its size can compare when it comes to the variety and quality of its cultural and recreational events.
Above all, the city's primary trait may be
perseverance
. Epitomized by the yearly collective slog through another snowy winter, this perseverance also manifests itself in the way Rochester has reinvented itself over the years. Even today, as the city tries to chart its course through the 21st century, its people plunge forward with that same determination, carrying with them not just the hope, but the certainty that springtime will arrive and with it, growth.
History
Rochester has always been defined by water. It was born in the early 19th century as a small village on the
Genesee River
, a few miles south of
Lake Ontario
. The village was constructed around flour mills that took advantage of the three waterfalls on the river for power. When the
Erie Canal
was built a few years later, it was routed through Rochester, and the small village became
America's first boomtown
, a major trade center for grain being shipped east and goods being shipped west. It soon garnered the nickname "
The Flour City
", and its products were known as far away as England.
As time went on, and farmland opened up in the Great Plains, Rochester's flour industry faded, to be replaced by a succession of others, including clothing, shoes, boats, and horticulture. By the middle of the nineteenth century, Rochester's nurseries and gardens had led to a new nickname: "
The Flower City
", celebrated each year with the famous
Lilac Festival
each May. Rochester also became a center for social progressivism. The great abolitionist orator
Frederick Douglass
made his home here for many years, and suffragist
Susan B. Anthony
was a lifelong resident.
In the early 1900s, the modern city began to take shape, molded in large part by the philanthropy of
George Eastman
, whose Eastman Kodak camera company became the area's largest employer. The Eastman School of Music, the Eastman Theatre, the George Eastman Museum, and numerous other buildings and institutions remain today as testaments to his influence and generosity.
Since World War II, Rochester has seen a decline in population but has also seen periods of urban renewal funded by industry. In the 1960s and 70s, the city became known as the leading
jazz
town in upstate New York, a legacy recalled today by the annual
Rochester International Jazz Festival
in June. Around the turn of the century, Rochester started calling itself "
The World's Image Centre
", based on the local prominence of imaging giants Kodak and Xerox and optics company Bausch & Lomb. Those "Big Three" have all downsized in the years since, however, forcing yet another Rochester reinvention.
The industrial decline has been painful, but it has been countered by a rise in world-class historical and cultural attractions as the city learns to take advantage of what makes it unique.
Climate
Rochester is unashamedly part of the Snow Belt of the United States, competing every year with its upstate neighbors for the "coveted"
Golden Snowball Award
(for most snowfall). Snowfalls in Rochester were once legendary, although lately the lake-effect snow has favored
Syracuse
, and Rochester has started to fall behind.
Visitors are often surprised by the sheer
amount
of snow Rochesterians will put up with. It takes multiple
feet
of snow or biting cold frostbite-in-ten-minutes temperatures to close schools; anything less and you just put another layer on and grab the shovel. And forget about work or college being canceled; unless the governor has declared a state of emergency, you'll find commuters dutifully plunging forth across barely-plowed roads and highways. And sometimes, even then....
Simply stated, snow is a daily fact of life in Rochester winters, and the traveler must be prepared to deal with it as the locals do: with a hearty grumble of resignation, the assertion that "at least we don't have earthquakes, tornadoes, or hurricanes", and the knowledge that better days lie ahead.
An illustrative anecdote
Rochester astronomer
Lewis Swift
(1820–1913) once attended a conference in California. Invited to gaze through the telescope there, he expressed amazement.
"What do you see?" he was asked.
"Stars!"
"Well what did you expect to see?"
"Clouds!"
Fortunately, those "better days" are
truly
gems, and few cities appreciate them more when they arrive. "The weather is beautiful" headlines can often be found in the news media when a wave of pleasant weather hits. July and August can be very humid at times, but relief is rarely more than a few days away. May, June, late August, September, and early October have the most comfortable temperatures. Outside of those months, partly sunny days alternate with overcast conditions and heavy precipitation, ranging from light fluffy snow to heavy wet glop to cold damp drizzle.
But all this emphasis on winter should not overshadow Rochester's short but beautiful springs, mild summers, and
very
colorful autumns. Rochesterians make the best of winter, but they
really
take advantage of every nice day the rest of the year—and so should you.
Visitor information
Center City Visitor Information Center

address: 45 East Ave

This is the main office for VisitRochester.

Visitor Information Booth

address: Greater Rochester International Airport

Although only staffed during the listed hours, the booth's brochures can be picked up anytime.

Tourist Information Center
phone: +1 585 232-3420

address: 120 E Main St

Focuses on downtown information. Keep an eye out for red-shirted Downtown Safety Services team members on bike or on foot; they roam downtown and can help you with any problems you have.
The High Falls Interpretive Center and Museum (see
#Neighborhoods
, below) focuses on the High Falls district, but it has information on the rest of the city as well.
Talk

Rochester is part of the "Inland North" dialect region of the United States, with only a few minor local variations. There is, though, one language issue that separates Rochester from the rest of the region: American Sign Language. Rochester has one of the highest populations of deaf people (per capita) in the United States, so sign language is not an uncommon sight around the city. Now, it's not a given that you'll see ASL being used if you visit Rochester (unless you drop by the Rochester School for the Deaf, or the National Technical Institute for the Deaf at Rochester Institute of Technology), but you never know.
For deaf people, few cities in the world are as accommodating as Rochester. Most businesses, especially in Henrietta and Brighton, are accustomed to working with deaf customers and often have teletype machines and dedicated TTY phone numbers (or, the modern era being what it is, the ability to receive SMS text messages). Open-captioned films are regularly shown at the local multiplexes (in particular, at Regal Henrietta), and many major events will be interpreted. At RIT, nearly all events have both captioning and interpreters. Wherever the event is held, a quick phone call to the venue or sponsor is often all that is needed to ensure the presence of an interpreter.
If you encounter a deaf person but don't know sign language, remember not to shout. You can raise your voice slightly, but it's most important to speak clearly and directly, being careful not to hide your mouth with your hand. If all else fails, find a piece of paper and write back and forth. If an interpreter is available, be sure to address the deaf person, not the interpreter. The deaf person will watch the interpreter, but you should be looking at the deaf person and listening to the interpreter.

Get in
By plane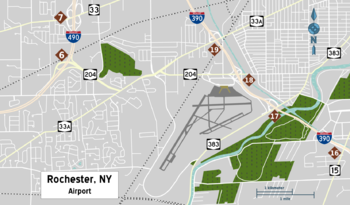 Greater Rochester International Airport
(
ROC
), 1200 Brooks Ave (I-390 to Exit 18B or I-490 to Exit 6; follow signs) is located just southwest of the city proper, 6 miles southwest of downtown. It is a very nice medium-sized airport, with three runways and two concourses. The airline with the most passengers is Delta, but most of the major domestic carriers and low-cost airlines have multiple daily scheduled flights between Rochester and their hubs. There are direct flights to and from Atlanta, Baltimore, Boston, Charlotte, Chicago, Detroit, Fort Lauderdale, Minneapolis/Saint Paul, New York City, Orlando, Philadelphia, Tampa, Toronto, and Washington, D.C. (Make sure you book your flight to Rochester, NY (ROC), not Rochester, MN (RST)!)
To travel to/from the airport:
RTS Route 6 ($1 for a single trip, $3 for a day pass) operates between the airport and the RTS bus hub downtown.
Taxis cost $3/mile; $10 minimum; $2.50/add'l passenger. Taxis can easily be hired at the airport.
Rental cars from all of the major agencies are obtainable at the airport.
Hotel shuttles are free from many of the hotels on the west or south sides of the city.
By car

Because Rochester is so close to Lake Ontario, the New York State Thruway (Interstate 90) doesn't pass through the city: it runs a few miles to the south, through the southern suburbs. It still provides the quickest route into the area from the east and west, though. Whichever way you're coming, you'll take I-490 to get into the city proper; it leaves the Thruway eastbound at Exit 47, passes through downtown Rochester, then rejoins the Thruway at Exit 45.
Exit 46, between them, is for I-390, the primary route into Rochester from points south. I-390's south end is at I-86, and it also connects with U.S. Route 15 out of Pennsylvania.
From the northeast, if you don't want to head south to the Thruway, most drivers will take State Route 104, a former federal route that constitutes the main rural drag through the northern part of Western New York. 104 also works if you're coming from the northwest—the northern part of the Niagara Frontier—but an alternative is the Lake Ontario State Parkway, which starts northwest of downtown and follows the lake shore to the Rochester harbor.

By train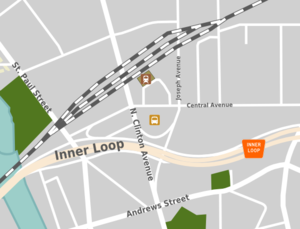 Amtrak operates from a brand-new terminal building at 320 Central Ave (Inner Loop to N Clinton Ave, quick right onto Central), operating daily scheduled service on three lines. The Empire Service heads east to Syracuse, Albany, and New York City (with some stops along the way), and west to Buffalo and Niagara Falls. The Maple Leaf is the same but keeps going past Niagara Falls across the Canadian border to Toronto. The Lake Shore Limited from Chicago to Boston or New York also stops in Rochester.
The station's immediate environs are not particularly accommodating to pedestrians. You'll probably be fine if you're walking from, say, the transit center, but use caution after dark and don't try to venture north across the railroad tracks. The station itself, and its parking lot, are well lit and quite safe, though. Be prepared for delays and be aware there's not a whole lot to do to kill time in or around the station. The new station has retail space but it's not filled yet, but at least there are charging outlets for your electronics.
A few taxis will often be waiting at the station around the scheduled arrival times, or you may want to arrange for a rental agency to pick you up.

By bus
Greyhound and Trailways share a bus station just across the street from the train station, at 186 Cumberland St. It is some distance north of the RTS hub, although several routes stop nearby.
Megabus offers service to Rochester from Toronto, Buffalo, Syracuse, and New York City. The bus stop is located on the north side of E Broad St, between Chestnut and Broadway. Closed top double decker buses. Free Wi-fi, and power outlets. Wheelchair accessible. Fares from $1 when reserved far in advance.
By boat

With the Erie Canal, Genesee River, Lake Ontario, and Irondequoit Bay, waterways are a rare but not unheard-of method of getting to Rochester.
Coming from Lake Ontario, you have two main options. Irondequoit Bay has a large number of slips throughout its several miles of coastline, but the bay is only open April through October. (Then again, who's out boating in November or March?) You can also head up the Genesee River, where you have a few options. On the west bank, 3-hour courtesy dockage is available right in front of the terminal building, while the nearby Port of Rochester Marina has 30 transient slips (as well as 54 seasonal slips, for you long-term visitors) and a whole host of amenities, including a ship store, utilities, and laundry. The cost for a transient slip is the length of your boat in feet times $1.50 per day ($1.75 per foot per day from the end of June through Labor Day). The east bank has commercial marinas like Shumway Marine, with similar amenities... as well as mechanics in case your boat needs some repairs.
If you're entering from Canada, you must call in your arrival to U.S. Customs, using their Videophone Inspection Program. There is a VIP booth at Shumway Marine, 40 Marina Dr.; call +1-800-827-2851 if the videophone is out of order.
If you're on the Erie Canal coming from points east or west, you can often moor in one of the villages along the way, including Pittsford, Fairport, and Brockport, although these are all a few miles outside of Rochester. You could also take the canal to the river, then turn north; you can tie up at Brooks Landing near the University of Rochester, or at Corn Hill Landing just south of the I-490 bridge. Both landings are on the west side of the river.

Get around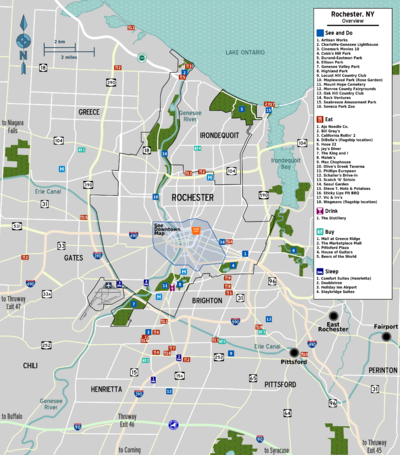 Most people will tell you that a
car
is a virtual necessity for getting around Rochester. Although largely true, especially taking into account the suburbs, the adventurous can manage to see a lot of attractions on foot or bicycle, and the patient can take advantage of the municipal bus system to traverse the entire county.
Of course, in winter
all bets are off
. Driving becomes potentially hazardous, biking becomes impossible, and walking is very much hit-or-miss.
Rush hours
in Rochester are approximately 7AM–8:30AM and 4:30PM–6PM on weekdays.
By car
Six major rental agencies have desks at the
Greater Rochester International Airport
: Avis, Budget, Enterprise, Hertz, National, and Thrifty. Most also have locations scattered throughout the city and surrounding towns, and they will usually come pick you up if you're coming in from, say, the Amtrak station. Contact your preferred agency for details and locations.
Those who balk at needing a car to get anywhere in the Rochester area can at least take heart that it is a very drivable city. A common local maxim is that the travel time between any two points in or around the city is twenty minutes. The expressway system was designed in the 50s, when Rochester's population was booming; this growth slowed to a stop soon afterward, leaving a network of high-capacity roads that rarely see congestion. You'll encounter some mild rush-hour slowdowns, especially on Interstates 390, 490, and 590, but visitors from more populous areas will scoff at what Rochesterians call "traffic".
Construction and severe winter weather can disrupt Rochester's normally placid roads, however. In winter, pay close attention to traffic advisories, and if they say "no unnecessary travel"—they
mean
it. Most of the time, though, drive slowly and carefully and you'll be fine. It takes locals a snowfall or two to remember this every November, so be extra-cautious early in the season.
Outside of downtown, any place you want to go will have its own parking lot of some sort. Downtown, you'll find a mix of dedicated lots, street parking, public lots, and parking garages. Most surface lots are $5/day or thereabouts, with higher prices near the Blue Cross Arena on game/concert nights. The garages are generally priced reasonably as well.
Expressways
The highway system is designed as two loops, the unofficial
"Outer Loop"
and the official
"Inner Loop"
, with feeders coming in from the west, east, and south. (North is Lake Ontario—no highways there!) As of November 2014, the Inner Loop is no longer continuous; this urban expressway used to circumscribe the nominal downtown area, although some "downtown" attractions—Frontier Field, High Falls, and most of the museums, for example—lie outside the Inner Loop. The portion of the loop that remains is now a fairly straightforward spur off of
I-490
, a convenient way to access the northern side of downtown.
I-490 runs east-west right through the middle of the city and formed the bottom portion of the once-complete loop. It is the feeder expressway that connects the Outer and Inner Loops on both the east and west sides of the city, eventually connecting up with Interstate 90, the New York State Thruway, on both ends (several miles out).
The Outer Loop runs very close to the official city limits.
I-390
comes up from the south (where it connects with the Thruway), then turns sharply west at a junction with
I-590
, which heads east. The two spurs curve out and up to the north to form the bottom part of the loop, until they each reach I-490 on either side of the city. Their Interstate designations end there, but the highways each continue north as State Routes 390 and 590. 390 passes State Route 104 and continues north as an expressway to the Lake Ontario State Parkway, just west of the Rochester harbor. 590 also passes Route 104, but then becomes an unnumbered surface boulevard for the rest of its run to the lake, at Seabreeze near Irondequoit Bay.
New York State Route 104
is a major east-west route and forms the northern part of the Outer Loop, although it's only an expressway on one side, from the river east. It's also the main feeder route from the northeast and northwest.
Surface roads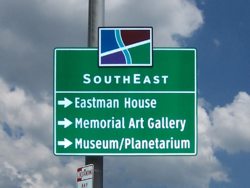 The expressways will get you close to your destination, but navigating the surface streets is necessary as well. Rochester's early founding as a milling village means that its major avenues were laid out to facilitate traffic to outlying and neighboring settlements—namely, in a radiating pattern. In general, "avenues" radiate outward from downtown and "streets" connect the avenues, but this is not set in stone and there are almost as many exceptions as there are examples.
The only place it's really tricky to drive is downtown. There is a small selection of one-way streets, just few enough to confuse you when you encounter one. There are also some turning restrictions on weekdays, especially for turning onto Main Street; watch the signs carefully. Outside of downtown, you shouldn't have any problem navigating the surface streets; most are well signed.
By bus
The area bus system is the
Regional Transit Service
(
RTS
), run by the
Rochester Genesee Regional Transportation Authority
(RGRTA). While the buses are clean, efficient, comfortable, and cheap, the service has often been criticized as inconvenient.
The bus routes are designed as a hub-spoke system, optimized for travelers headed to and from downtown. The hub is downtown, so travelers trying to get from one suburb to another often have to ride one bus all the way into the city, then another all the way back out. The system works great for getting to the center of downtown, but the typical rider will be faced with a walk or another bus ride to get the rest of the way to his or her destination.
If the bus routes are convenient for you, though, RTS service is hard to beat, especially when the roads get slushy in winter. Every RTS bus has a bicycle rack on front, which can provide some flexibility if you're willing to bike to a bus stop. Fares are $1.00 per ride, or $3.00 for an all-day pass. $14.00 gets you a 5-day pass and $56.00 allows you to ride freely for a full month. Discounted fares are available for children and seniors (although you'll need a Medicare or RTS low-fare card for the senior discount). The $1.00 fare is valid for an hour so you can change buses without paying again; be sure to ask the driver for a transfer ticket.
Bus schedules are available
online
and throughout the city, especially at transit hubs and information centers.
By foot
Downtown Rochester is very walkable, at least for eight months out of the year. Traffic is light outside of rush hours, and crosswalks are plentiful. The Rochester
Skyway
is a system of enclosed elevated walkways and underground tunnels that connect numerous buildings downtown, including hotels, office buildings, and parking garages. It's especially useful in the winter, but the network only covers the east side of the river, and its continuity was severely disrupted when Midtown Plaza closed in 2008. Still, it provides a relatively warm, traffic-free route around the area. Look for the blue Skyway logo to find your way.
On the surface streets downtown, most areas are relatively safe, but be careful in the northeastern area (bounded by E. Main Street, East Avenue, the Inner Loop, and N. Clinton Avenue), especially at night.
Outside of downtown, there are a number of pedestrian-friendly neighborhoods, including Park Avenue and the South Wedge, but they are not well connected to each other, or to downtown. Safety and navigation become issues the farther out you get from tourist attractions and recreation areas. Especially at night, you'll want vehicular transportation available.
One exception to the general lack of walkability is the
Genesee Riverway Trail
, an almost-completed walking and biking route along the river. Once completed, this trail will take you from the Erie Canal on the south edge of the city all the way to Lake Ontario at the harbor. It also connects with other trails, especially the Genesee Valley Greenway south of the city.
Outside of the city, the inner suburbs are similarly hard to walk in, but there are pockets of village-like atmospheres where walking can be pleasant, such as Twelve Corners in Brighton and the Titus-Hudson area of Irondequoit.
By bicycle
Rochester has a bike-share program operated by Zagster's
Pace
brand, operating from April through October. When the program launched in 2017, stations were concentrated in the center city, with only a few in outlying areas and none in the suburbs. Fares are $1 per half hour, and you don't have to return the bike to a Pace/Zagster rack; you can just leave it locked at any plain old bike rack in the service area.
Whether you use Zagster or bring your own bike, much of the advice above for pedestrians applies to you as well, although bikers won't be able to make use of the Skyway. The
Genesee Riverway Trail
is fully accessible for bicycles, and they're a common sight all over the area in the summer, especially on the
Erie Canal towpath
. The low traffic in Rochester is a boon for cyclists, allowing brave ones to take to the highways (but stay off the expressways!). Also, as noted above, all RTS buses have bike racks mounted on the front, which can be a great convenience.
By taxi
You can hire a taxi, but you'll need to call ahead to have one pick you up unless you're at the airport or the Amtrak station. Prices are set by the city at $0.50 per 1/6 mile, plus $2.00 per additional passenger ($2.50 to/from the airport). $10.00 minimum to/from the airport; $5 minimum otherwise. Local limousine companies can provide more luxurious transportation for a somewhat higher fee.
By boat
Most boating in Rochester is exclusively recreational in nature, but you may find it a convenient way to travel between destinations.
The
Genesee River
is
not
navigable through downtown; you can go downstream from the south (Erie Canal) as far as the Anthony-Douglass Bridge (I-490), or upstream from the north (Lake Ontario) as far as the Lower Falls, but the three waterfalls and the downtown area are no-go. That still leaves some options, however. Mooring is available at the harbor near Lake Ontario and at Brooks Landing and Corn Hill Landing between the canal and downtown. The
Erie Canal
passes along the southern city limts, providing access from points east and west to the upper river. It's doable, but be sure to plan for the additional transportation you'll need once your boat is docked.
The Erie Canal is drained every November and not refilled until the end of April.
See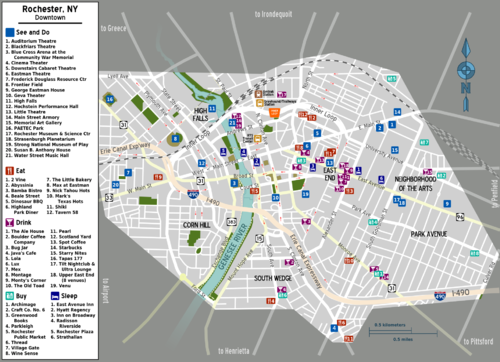 Rochester may not be the most popular place for sightseeing, but the
Genesee River gorge
and its
three waterfalls
are certainly worth a trip. For nature lovers, the most scenic of the city's parks is probably
Highland Park
, although
Genesee Valley Park
has more recreation options.
Where Rochester shines is in its selection of cultural attractions; the variety and quality compare favorably to cities twice its size. The most prominent of these is the
Strong National Museum of Play
, absolutely a can't-miss attraction if you have young kids with you or enjoy a sense of nostalgia. The
Rochester Museum and Science Center
also has fun hands-on exhibits and an adjacent planetarium. History buffs will want to stop by the
Susan B. Anthony Museum & House
, one of the most important sites in the country for students of the women's rights movement. And fans of photography will be awe-struck by the collections at the
George Eastman Museum
.
Parks
Famed landscaper
Frederick Law Olmsted
designed Rochester's first public parks, which today comprise Highland, Genesee Valley, Maplewood, and Seneca Parks. Each remains a popular destination for locals and visitors alike.
address: Moore Rd

At the confluence of the Genesee River and the Erie Canal, the park is a great place to step off onto the Genesee Riverway Trail, the Genesee Valley Greenway, and the Erie Canalway Trail (see below).

phone: +1 585 753-PARK

address: Highland Ave at South Ave

Most famous for its hundreds of lilacs, Highland Park is the site of the annual Lilac Festival. Even when the lilacs aren't blooming, though, there are countless other examples of Rochester's horticultural tradition. There is a Sunken Garden behind the Warner Castle, and the Highland Park Bowl, a natural amphitheater, hosts concerts and films during the summer. The park also hosts the county's Vietnam Veterans Memorial and the AIDS Remembrance Garden.
phone: +1 585 753-7270

address: 171 Reservoir Ave

The conservatory holds a number of more exotic plants that wouldn't survive outside in Rochester, including desert and tropical species. Open year-round and a wonderful refuge from the stark winter landscapes.
address: 1133 Mt Hope Ave

Frederick Douglass, Susan B. Anthony and other historic figures are buried in this beautiful Victorian cemetery. Also a great place for running. Guided tours are available periodically throughout the year; the Halloween tour is particularly popular.
Museums and galleries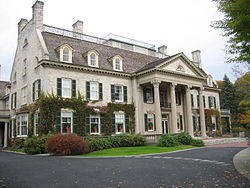 Rochester's art scene flies a bit under the radar, but there's a lot around if you're willing to look for it. For a nice sampling, you can check out
First Friday
, a monthly event in which small galleries throughout the city open their doors to expose works from lesser known artists to the public (6PM-9PM, first Friday of every month). Or wait until June, when the Rochester Contemporary Art Center sponsors the annual
6x6
exhibition of tiny 6-inch square tiles, each created anonymously by a different local artist (or celebrity!); only after they're auctioned off to benefit RoCo do the buyers find out the names of the artists!
Rochester & Genesee Valley Railroad Museum & New York Museum of Transportation, 6393 East River Road, +1 585-533-1113, Sundays 11AM-5PM. Railroad- and transportation-themed exhibits, track car and trolley rides between museums, locomotive and caboose rides on selected dates (including some Saturdays). There's a model train layout inside.

Rochester Medical Museum and Archives

phone: +1 585 922-1847

address: 1441 East Ave

Several different collections, for both exhibition and research, are combined here to document the public health of Rochester and Monroe County.

Rochester Museum and Science Center

phone: +1 585 271-4320

address: 657 East Ave

A science museum filled with hands-on exhibits and activities. Fantastic for kids, but a lot of it is fun for parents, too. Kids will love the Adventure Zone, full of active and creative play opportunities. Don't miss the enormous mastodon skeleton in Expedition Earth, or the musical Tesla coils in Electricity Theater. Other permanent exhibits focus on the people of the Haudenosaunee, 19th-century Rochester, and the Underground Railroad. The Strasenburgh Planetarium is next door.
address: 657 East Ave

The planetarium adjacent to the RMSC offers a variety of large-format films and weekly planetarium shows using their state-of-the-art star projector. Saturdays during the summer feature laser-light shows set to music. Show times vary.
phone: +1 585 336-7200

address: 2222 St Paul St

Rochester's zoo is nestled inside the Olmsted-designed Seneca Park. While small—the entire zoo can easily be enjoyed in an afternoon—a lot of value is packed into the small area. The zoo has the only four African elephants in the state, part of their Step Into Africa exhibit that includes a rhinoceros, giraffes, lions, baboons, and zebras. The Rocky Coasts exhibit, with polar bears, sea lions, and penguins, is another highlight.
Zoo BrewEnjoy live music, drink beer and wine, socialize, and enjoy other activities among the animals of the zoo. Ages 21 and up only.
address: 2370 East Ave

The oldest remaining building in Monroe County, parts of which were built as early as 1792. The house later served as a tavern for travelers along East Avenue; it's been restored and serves as an excellent example of the era.
The Strong - National Museum of Play

phone: +1 585 263-2700

address: 1 Manhattan Sq

This downtown children's museum, the only one in the world with a specific focus on play, is the place to visit if you have kids from 1-12. You can easily spend a whole day here, or visit a couple of times to enjoy everything. This museum focuses on learning through play and features tons of interactive exhibits, including some focused on well-known themes like Sesame Street. One nice feature is that most exhibits have information for adults to read (such as on how fairy tales have changed with the times) while the kids do things like climb on a pirate ship. Older visitors (those who can remember the 1980s) may also enjoy the classic arcade cabinets in the eGameRevolution exhibit. The Strong is also home to the National Toy Hall of Fame; the associated toy archives are less interactive but might bring back a lot of memories for older visitors. The museum's Dancing Wings Butterfly Garden costs $3 extra and has a limited number of timed tickets available each day.
Susan B. Anthony Museum & House

phone: +1 585 235-6124

address: 17 Madison St

This is the house where the women's rights activist lived for many years, and where she was arrested after voting illegally in 1872. The museum highlights Anthony's influences, the many reforms she worked for (suffrage, abolition, temperance, education, and a purse of her own among them), her friendship with Frederick Douglass, and her trial for voting.
Wall\TherapyPublic art came to Rochester in a (literally) huge way in 2012, in which Wall\Therapy invited urban artists from all around the globe to come and use the city's blank walls as canvases. It started in the Public Market neighborhood, then in 2013 moved to El Camino and the South Wedge. No admission needed; just stroll around and gawk. It's rapidly becoming a major event in the street-artist community, so look for it to continue in the years ahead.
Neighborhoods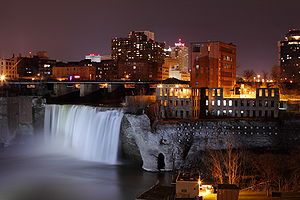 East AvenueDon't miss a drive down historic East Ave; with the mansions of Rochester's past barons still mostly intact, you can really see a history lesson of the Rochester area. Another great place to see off of East Ave is the Sandringham/Ambassador Drive neighborhood; some of the greatest residential architecture in Rochester can be viewed here.

Corn HillMost famous for its annual Corn Hill Arts Festival, this area can be nice to walk around any time of the year. As Rochester's oldest residential neighborhood, there are lots of beautiful historic homes. Corn Hill Landing, on the river, has shops and restaurants.

Grove PlaceSmall residential neighborhood in downtown Rochester. Full of beautiful 19th-century townhouses. Several good restaurants are in the neighborhood and it is in easy walking distance to Eastman Theater and the Eastman School of Music as well as the Memorial Art Gallery.

High FallsThe majestic High Falls of the Genesee are what attracted settlers to the area in the first place. A 96-foot (29 m) waterfall in the center of downtown is certainly a unique sight; viewing is best from the Pont de Rennes pedestrian bridge. But also take a walk around the old warehouses on the west bank between the bridge and the falls; this is the area known as "High Falls" and home to a very nice museum/visitor's center and some very old milling equipment.
High Falls Interpretive Center and Museum

phone: +1 585 325-2030

address: 74 Browns Race

This visitor's center focuses on High Falls but has information on the whole city as well. Also features a small museum with rotating exhibits, a gift shop, and walking tours of the High Falls area and other historic neighborhoods (call ahead).
Neighborhood of the ArtsAn eclectic neighborhood along University Avenue, near the Village Gate and the Rochester Museum and Science Center. Lots of public artwork (thanks to ArtWalk), some small shops and eateries, and beautiful Victorian homes. Very walkable.
Park AvenueThere are a lot of great trendy shops in this district, and it's serviced by the RTS service. However, it's definitely not an entire day activity, and things close relatively early.
South WedgeA triangular neighborhood bordered by the Genesee and Interstate 490. The South Wedge is what some may call an "up and coming" neighborhood. Many nightlife options and a growing number of shops and businesses. Close to Alexander street, the University of Rochester and Mt. Hope Cemetery.
Do
You might sometimes catch residents complaining that there's not much to do around Rochester, but a little research reveals a wealth of opportunities, even during the long winters. Nearly everything is
family-friendly
, too; Rochester is consistently ranked one of the best cities in the world for visiting with kids. In addition to the many parks and museums, kids will have a great time at
Seabreeze Amusement Park
in Irondequoit, near the mouth of the bay (see
listing, below
).
Festivals
Once May rolls around, snow becomes less likely, and Rochester's renowned
festival
season begins. Pretty much every weekend from May through October, there's at least one festival of some sort going on in Rochester or its suburbs. Rochester's festivals run the gamut, focusing on such diverse subjects as horticulture, music, crafts, and food—and admission is free for almost all of them!
The flagship festival is, of course, the
Lilac Festival
, which has been drawing visitors from out of town to Highland Park for over a century. Newer, but no less popular, is the
Rochester International Jazz Festival
, which has quickly grown into one of the world's top music festivals. Less well-known outside of Rochester is the
Park Ave Fest
, but it epitomizes the local festival scene and shouldn't be missed if you're in town the first weekend of August.
Among the suburban festivals, be sure to check out
Fairport
Canal Days
in early June. Of the many festivals centered on the Erie Canal, this may be the best, and it's held in the quintessential canal town.
The closest
Renaissance Festival
is in
Sterling
, Cayuga County. It's about 45 minutes away, but it's worth the trip. It's open weekends from July through mid-August every year.
There are many cultural festivals around the city and the local areas, including Greek and Turkish festivals.
The listings below are only a sampling of the top festivals.
April & May
address: Lomb Memorial Dr, Henrietta

Rochester Institute of Technology's innovation and creativity festival showcases what happens "when the left brain and right brain collide," featuring hundreds of student projects from every corner of the university. Robotics, music, sign language, virtual reality, ecology, and weird science are just a few of the many subject areas covered; in fact, most of the projects take elements from multiple disciplines and combine them in innovative ways. Plenty of food, hands-on exhibits, and kids' activities make for an unbeatable value for a day out.

address: Highland Park (Highland Ave betw South Ave & Goodman St)

For ten days every May, Rochester's flagship festival celebrates the community—and its flowers—in beautiful Highland Park, designed by renowned landscaper Frederick Law Olmsted. The park's world-famous lilac collection was started by horticulturist John Dunbar in 1892 with 20 varieties. Today, over 500 varieties of lilacs cover 22 of Highland Park's 155 acres. The usual summer festival staples are all here, such as kiddie rides and food vendors, but also tons of activities for kids, a parade, a craft show, a festival-sponsored 5K race, and a packed schedule of music and entertainment. You can even buy Highland Lilac perfume!

Rochester Cocktail RevivalModern and classic cocktails are making a comeback, even in often-staid Rochester. Rochester's bars and bartenders get together to share cocktail culture, ideas, and recipes with each other and with the general public. Six days of events at venues throughout the city.
June
address: Driving Park Ave at Lake Ave

They may not be the lilacs of Highland Park, but Maplewood Park's rose garden is impressive in its own right. This is also a great opportunity to take a tour of the Genesee River gorge near the park.

Rochester International Jazz Festival

phone: +1 585 454-2060

Founded in 2002, this is already one of the largest music festivals in North America. Held in 19 venues, all within walking distance of each other, the nine-day festival offers a mix of free and ticketed events for people of all ages. It attracts fans from the U.S. and around the world who come to hear one of the most multidimensional, international, and diverse artist lineups presented at a major music festival.
July
phone: +1 585 262-3142

The Corn Hill neighborhood, with some of the city's oldest and prettiest homes, is just south of downtown along the river. This festival celebrates the neighborhood's long history with over 400 arts and crafts exhibitors, plus the standard live musicians and food vendors.
August
Park Ave Summer Arts FestPark Avenue is already one of the most eclectic neighborhoods of the city, and this festival just cements that. Almost the entire length of the street (more than a mile!) will be packed with people browsing artisans' wares, eating great food, visiting the local stores and restaurants, and listening to some music. This one may be the most popular of the summer arts festivals.

phone: +1 585 234-4177

address: Clarissa St

Many years ago, Clarissa Street was known as "Rochester's Broadway", home to the best jazz clubs in the city. Urban renewal in the 1960s and 70s left its unfortunate mark on this neighborhood, but every August people come back for one day to celebrate the place it used to be. Live music is the main draw, but you'll also find a parade and other typical festival fare.
September
phone: +1 585 276-8900

address: Memorial Art Gallery, 500 University Ave

This is the most "artsy" of the summer festivals, focused on paintings and other artwork more so than the crafts of other festivals. You can also take this opportunity to browse the gallery itself.

KeyBank Rochester Fringe FestivalOrganizers of this festival hoped to attract 15,000 attendees when it started in 2012; they got 33,000... and 50,000 the next year. The festival features a wide-ranging slate of artistic performances, from theater to dance and music, at venues throughout the East End... including a magnificent and rare Spiegeltent from Germany. This was the first Fringe Festival in Upstate New York, and it's been an unqualified success.

phone: +1 585 336-6070

address: Camp Eastman, 1301 Lake Shore Blvd, Irondequoit

Rochester has a number of ethnic festivals throughout the year, but this one, celebrating German culture, is certainly the biggest. The music presented here might be the best you'll find at any other local festival outside of the Jazz Festival. And if you like bratwurst and sauerkraut—or a good German lager—you can't beat Oktoberfest.
October
phone: +1 585 428-5990

Rochester celebrates the Genesee River with this full weekend of events taking place all along the river. The Head of the Genesee Regatta, a two-day series of rowing races on the upper river near the canal, could be considered the centerpiece, but there are plenty of other family-friendly things to see and do.

phone: +1 585 271-2640

Films and videos of all types, but all having something to do with gender and sexuality, are on tap for these ten days in October at multiple venues around the city.

Fashion Week of RochesterRochester is not known for its role in the world of fashion, but one group has dedicated themselves to showing that fashion touches everyone's lives. With affordable ticket prices, accessible events, and a sense of fun and charity, Fashion Week goes all over the city to bring fashion to the masses. It's becoming a big event around town, with boutique crawls, fun parties, and of course runway shows.
November
High Falls Film FestivalIt may not be Cannes or Toronto, but Rochester's annual film festival has its own niche and charm. Appropriately for the home of both George Eastman and Susan B. Anthony, Rochester's film festival focuses on the achievements of female filmmakers and actresses and each year awards The Susan B. Anthony "Failure is Impossible" Award. Most of the films are shown at the historic Little Theatre on East Avenue; others are at the Dryden Theatre at the Eastman House.
Spectator sports
A true hometown team
The Red Wings used to be owned by the
St. Louis
Cardinals—that's how they got their name, in fact. But in 1956, the Cards decided not to continue that relationship. Rochester businessman Morrie Silver organized a drive in which 8,222 shareholders each purchased a share of the team, saving it from relocation or folding. Rochester Community Baseball owns the team to this day.
It may not be the first city people think of when it comes to sports, but few other cities have as wide a variety, or as long a winning tradition, as Rochester does. The city was once the best city in the country for minor-league sports. Sadly, that segment of the sports market is starting to dry up, not just in Rochester but all over the country, reducing Rochester's options and profile. But you can still see some very talented players in some great, intimate venues for a very reasonable price.
Film
As befits the home of Eastman Kodak, Rochester is a major destination for film buffs. It's no New York or Los Angeles, but no other mid-sized city can compare. The centerpiece of the film festival schedule is the
High Falls Film Festival
(see
Festivals, above
), but there are also GLBT, Jewish, Polish, and short-film festivals.
Rochester is also home to several charming cinemas, where the atmosphere is almost as important as the films.
Live theatre and music
The prominence of the
Eastman School of Music
means that some of the world's best musicians have passed through Rochester during their school years, and many have stuck around to enrich the city's cultural life.
phone: +1 585 222-5000

address: 885 E Main St

The Auditorium Theatre is Rochester's Broadway roadhouse; the Rochester Broadway Theatre League brings to town several touring productions each year. The theater is aging and acoustically imperfect, but it's been kept up as well as can be expected, and it's the only area theater with the space to put on the big shows. Other concerts and performances dot the schedule throughout the year; see the web site for upcoming events.

phone: +1 585 454-1260

address: 795 E Main St

Blackfriars Theatre is a mid-sized professional theatre that has entertained audiences for almost 60 years, providing a local showcase for actors and actresses, theater artists and technicians who have chosen to make Rochester their home. They've just moved to a new space on East Main near the Auditorium Center and the Main Street Armory.

phone: +1 585 325-4370

address: 20 Windsor St

A tiny theatre with seating just a few feet from the stage; great for a small group outing or a date. It's best to call beforehand to buy tickets and get directions, as some productions are housed in one of their three other locations. Their newest space is a relatively enormous 250-seat venue in Brighton (3450 Winton Pl).

Eastman Theatre

phone: +1 585 274-1100

The Eastman Theatre dates back to George Eastman's time and contains three halls within its space.
address: 60 Gibbs St

The main hall is what most people think of when they think of the Eastman Theatre, and it's the best place to catch the Rochester Philharmonic Orchestra (see below), one of the top mid-sized city orchestras in the country. Opened in 1922, it was designed by George Eastman as a concert hall and movie house. Today, after renovations to improve sightlines and comfort, it seats 2,400. It's by far the best large performance space in Rochester, with the expected variety of events going on all year.

address: 26 Gibbs St

Kilbourn, which also opened in 1922, is one of the finest small concert halls in the world, and it serves as the primary performance space for Eastman School of Music students. As such, audiences are in for a treat, in the form of free recitals and concerts throughout the year, as elite music students exhibit their talents on stage.

address: 433 E Main St

Hatch opened in a new wing of the Theatre in 2010, providing an even more intimate space for recitals than Kilbourn. It incorporates the latest acoustical designs and technology to provide the most precise listening and performing experience possible.
Several of the city's bars and clubs also present live music frequently. Of particular note in this respect are The Bug Jar and the Montage Grill. See
Drink, below
.
Golf
For whatever reason,
golf
is very popular in Rochester. That's reflected not just in the world-class
Oak Hill Country Club
, host to numerous national and international tournaments over the years, and in the always-fantastic turnout at the yearly
Wegmans LPGA
tournament, but in the number of high-quality public and semi-public golf courses. Most of them are in the rural suburbs, of course, but there are a few close in to the city:
phone: +1 585 266-0110

address: 1200 N Kings Hwy, Irondequoit

phone: +1 585 424-2920

address: 1000 East River Rd

phone: +1 585 663-9100

address: 1165 Greenleaf Rd
Beaches and boating
For a city with so many waterways, it's surprising that waterfront activities are so far down the list for most visitors. True, neither the river nor the canal is suitable for swimming (and the lake only barely so), but boating can be a great way to spend an afternoon.
There are two beaches in the city proper:
Durand-Eastman ParkGeorge Eastman and Dr. Henry Durand donated their summer-cottage lakefront properties to the city in 1909, and the park is now a popular summer getaway for everyone. Its beach is open for swimming during the summer, and it's less often closed due to water conditions than Ontario Beach. Also has a golf course and other standard park amenities.

Ontario Beach Park

address: 4650 Lake Ave

Located at the northernmost reaches of the city, Ontario Beach is the most popular beach area in Rochester. Unfortunately, there's a persistent algae problem that lends a unique scent to the area and closes the beach to swimming fairly frequently. When conditions allow, swimming is open 11AM-7PM daily during the summer. If you can't go in the water, though, there are other things to do; in particular, the 1905 Dentzel carousel should not be missed.
Boats can be launched at the Port of Rochester where the river empties into the lake; on Irondequoit Bay; or along the canal in many surrounding suburbs like
Pittsford
and
Fairport
.
If you don't have your own boat, there are a couple of nice cruises available, including the
Sam Patch
replica packet boat in Pittsford. For boats departing from the city:
address: 1000 N River St

This 80-foot paddlewheeler recalls the heyday of the Mississippi riverboats. It docks at the Port of Rochester and cruises both up the river and out onto the lake. Lunch and dinner cruises available, including specialty packages. Fall foliage cruise in October.
Hiking
Three major (albeit under-improvement) multi-use trails pass through the Rochester area, and they all meet up inside Genesee Valley Park.
Genesee Riverway TrailThis not-quite-completed trail runs along the river, north from the canal, through downtown, and all the way to the lake. You'll get a good look at the gorge along the northern section, and it can be a nice way to get downtown if your legs (and shoes) are up to the task. One highlight is the wide boardwalk over the Turning Point basin a couple of miles south of the lake.

Erie Canalway TrailThis trail, which will eventually stretch across the state, is being created from the former Erie Canal towpath, where the mules would walk to tow the barges along. Though the walking paths are open year-round, the canal is drained, kept empty, and less scenic between November and May. During the winter time, however, the canal trail is virtually deserted, and provides an excellent place to snowshoe and cross-country ski.

Genesee Valley GreenwayFormerly a railroad bed, this mostly gravel trail is perfect for off-road cycling/walking/running. It follows along the Genesee River, cutting through the rolling farmland south of Rochester. 50+ miles depending upon how far south they've developed the path.
Aside from the trails, there's not much hiking to do without heading for the suburban parks, though Cobb's Hill Park might tide you over:
Cobb's Hill Reservoir ParkIf you happen to be in the area, Cobb's Hill provides a great panoramic view of downtown. Located on the corner of Culver and Monroe, it is an easy walk from the cafes on Park Ave. Large duck pond, baseball diamond, tennis courts and a nice (although steep) trail to the top of the hill, where the reservoir is located.
Winter Sports
Winter sports are not as popular in Rochester as one might think given the climate, but there are plenty of opportunities. The nearest downhill ski resort is
Bristol Mountain
, north of
Naples
in Ontario County; it's a popular day trip for Rochesterians.
Several ice rinks around Rochester offer
public skating
sessions, in particular Ritter Arena on the RIT campus and the Webster Ice Arena in
Webster
. In good (meaning cold) weather, the city maintains an outdoor rink at Dr. Martin Luther King Jr. Memorial Square Park, near the Strong Museum.
Other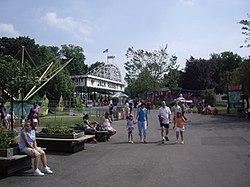 Learn
Genesee Center for the Arts & Education

phone: +1 585 244-1730

address: 713 Monroe Ave

Three institutions housed in a single non-profit entity, the Genesee Center is focused on providing studio space and training for artists. The main attraction for visitors are the classes, which are held year-round and teach budding artists the finer points of photography, pottery, printing, and more. Classes tend to extend over several weeks, though, so they're most useful for long-term travellers. If you happen to already be an experienced artist and need studio space, you might consider buying a membership, starting as low as $25. Members can rent studio space on an hourly basis.
Community Darkroom

phone: +1 585 271-5920

Genesee Pottery

phone: +1 585 271-5183

Printing & Book Arts Center

phone: +1 585 244-9312
phone: +1 585 349-7110

address: 125 Fedex Way, Gates

If it's glass or metal, the AFC can teach you how to make it... with fire. Welding, smithing, glass-shaping... it's all here. Though they also offer classes for pros, amateurs can have fun with the flames too. They even cater to couples, with frequent date-night specials.
phone: +1 585 730-7034

address: 176 Anderson Ave Ste F109

Looking for a quick infusion of knowledge? Or maybe you have something to teach the fine residents of Rochester? Either way, the Brainery is the place to go, as they provide classroom space for teachers to teach just about anything, from cat care to computer graphics. Most classes take up just a single evening session. Their offerings change constantly, so check back often.
Buy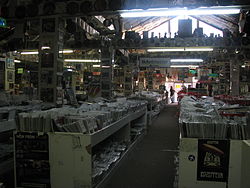 Shopping around Rochester is dominated by the major suburban commercial strips: Route 104 (Ridge Road) in Greece, and Route 252 (Jefferson Road) in Henrietta. You'll also find major big-box retailers along Route 104 in Irondequoit and
Webster
, Route 31 (Monroe Ave) in Brighton and
Pittsford
, and Route 96 in
Victor
. The three area indoor shopping malls are
The Mall at Greece Ridge
in Greece,
The Marketplace
in Henrietta, and
Eastview Mall
in Victor.
Pittsford Plaza
is an upscale and very large strip mall on Monroe Avenue in Pittsford.
Within the city proper, you won't find many large chains, but rather a wide array of independent shops and boutiques. Park Avenue is a particularly rich location for such shops, as well as great dining options. You'll also find quaint shopping districts in Charlotte near the harbor, along Exchange Boulevard on the east side of Corn Hill, and all along Monroe Avenue.
Also in the city is one of the nation's best public markets:
phone: +1 585 428-6907

address: 280 N Union St

Established in 1905, the public market features over 300 stalls where independent sellers ply their wares, from cheap locally grown produce to handmade crafts and other curiosities. Many vendors even sell prepared foods, with regulars lining up early to place their orders. Great fun to just walk around, but good luck getting out without buying anything. Often overlooked by locals, yet always super-crowded; get there early for the best selection, or late for the best prices.
One unique space you won't want to miss is
Village Gate Square
on North Goodman Street between University Avenue and East Main Street, part of the "Neighborhood of the Arts". It doesn't look like much from the outside, but on the inside it's an old industrial space filled with small independent retail shops and eclectic restaurants. The upper floor also houses space for artists' workshops, so it's almost like a free art gallery up there. Among the many shops on the lower floor:
phone: +1 585 271-7010

address: 274 N Goodman St

Books, gifts, and artwork with a focus on African and Afro-American themes. Special events including performances and workshops are often hosted here.
Some other places of note for shoppers:
phone: +1 585 454-2667

address: 571 South Ave

Owned by two thousand locals who've invested in this cooperative, the market is open to anyone who wants to buy their groceries from a non-profit rather than enrich the Wegman family coffers. They moved to the new location on South Ave in 2017.

phone: +1 585 266-5180

address: 1100 Hudson Ave

One of three very good local chocolatiers, Andy's Candies has been distributing sweets since 1917. The Hudson Avenue location, where the shop was founded, is the main factory; it's only open occasionally for retail business. To buy chocolates, you'd best head to one of the suburban outlets. In addition to the ones below, there are stores in Victor, Penfield and Webster.
phone: +1 585 427-7642

address: Henrietta

phone: +1 585 663-9190

address: Greece
Archimage

phone: +1 585 271-2789

address: 668 Monroe Ave

Great gift shop with an eclectic selection. They sell children's toys, cards, jewelry, incense, stones, musical instruments, chimes, housewares, unconventional clothing items, and more. All at a variety of price points; it's not all cheap kitsch and it's not all pricey luxury. Well worth a stop in to browse, if nothing else.
phone: +1 585 271-3354

address: 1460 Monroe Ave, Brighton

The legendary Bop Shop made its name at the Village Gate but has now set up shop at a larger location on Monroe Avenue. The shop is still crammed to overflowing with vinyl records, cassette tapes, and compact discs covering every era and every style. True music-lovers can spend hours pawing through the racks and uncovering treasure after treasure—albums they either never knew existed, or haven't seen in decades. The staff are all highly knowledgeable collectors and they love to talk music with customers. Often hosts jazz concerts; see web site for schedule.
phone: +1 585 473-7150

address: 1115 East Main St. Door 8

There are a few good comic shops in Rochester, but Comics Etc. has long been one of the best. Booted from the Village Gate, the shop still has legions of loyal customers who tout the extensive back-issue selection and dedicated service.
address: 785 University Ave

Housed in a converted firehouse, this store is unique and probably one of the most unusual stores you will ever go to. Everything is handmade and for sale. Very artsy and not mass marketed.
Fleet Feet SportsFleet Feet Rochester (there's also a Fleet Feet Syracuse) in 2014 was named one of the top 50 running stores in the country. Probably the best place in the region to get running shoes. They have two locations.
phone: +1 585 697-3338

address: 155 Culver Rd, Ste 110

phone: +1 585 270-4334

address: 2522 Ridgeway Ave, Greece
Greenwood Books

address: 123 East Ave

A nice selection of new and used books, with some older items that one simply can't find in large chain bookstores. Of particular interest is the selection of books covering both historical and modern Rochester.
phone: +1 585 461-2815

address: 674 South Ave

Right next door to their sister ice cream shop, Hedonist has a variety of creative chocolate confections, changing seasonally. The raved-about specialty is their salted caramels.
phone: +1 585 544-3500

address: 645 Titus Ave, Irondequoit

The "Great, Great House of Guitars" has a huge selection of new and used records, CD's, and cassettes, most of which you won't be able to find anywhere else. The store is also a shrine to music and musicians, with an extensive collection of instruments for sale. Some of the biggest music groups in the world (Metallica, Ozzy, "Weird Al", etc.) go out of their way to come to this store, because of the selection and the knowledgeable, well-connected staff.
phone: +1 585 424-2323

address: 900 Jefferson Rd, Henrietta

An organic and natural-food superstore; incredible selection and very good service.
address: 215 Park Ave

The most typically Park Avenue of all the Park Avenue stores, Parkleigh is a gift shop par excellence. One of the oldest retailers of MacKenzie-Childs ceramics, they also specialize in gourmet coffee and tea.
phone: +1 585 244-1210

address: 33 1/3 Rockwood St

A Rochester icon with probably the biggest selection of used vinyl records in the city. It doesn't have a great selection of newer records, but it will wow you with its extensive collection of used records. The Record Archive also hosts many concerts on a stage located in the middle of its spacious warehouse. Famous among locals for the dancing-record-guy commercials.
phone: +1 585 413-0895

address: 4364 Culver Rd, Irondequoit

This friendly boutique sells nothing that was not manufactured or assembled in the state of New York. You'll find foodstuffs of all kinds, of course, but also fine silverware, musical instruments, backpacks, and licensed puzzles and games from Buffalo Games. A great place to go to get gifts and souvenirs, or even just for your regular shopping.
phone: +1 585 473-2098

address: 623 Park Ave

The candy and chocolate at Stever's is made fresh daily, in small batches, so you know you're getting the freshest stuff possible. Their specialty is sponge candy, a Western New York favorite.
While the usual generic liquor stores abound, there are specialty shops that are worth a second look:
phone: +1 585 424-2266

address: 175 Clay Rd

Massive selection of domestic and craft beers from all over North America and beyond. Great place for home-brewing supplies. 30 rotating taps to fill growlers! Most beers are in walk-in coolers, cold and ready to go!

phone: +1 585 334-0034

address: 2599 E Henrietta Rd

A huge selection of both macro and micro brews from all over the world, plus home-brewing supplies. Also has a large display filled with good cigars. Word to the wise: the owners are quite stand-offish, especially to first time customers and some of the beers are not that fresh. Watch out for dust!

phone: +1 585 248-0931

address: 3349 Monroe Ave, Pittsford

In the highly regarded Pittsford Plaza, Century Liquor has a very large selection of wine and liquor, including vintage. Receives tour buses from the nearby vineyard- and winery-laden Finger Lakes, which is the second largest wine producing area in the U.S.

East Ave Liquor and Wine

phone: +1 585 271-5119

address: 1667 East Ave

Wide selection of imported, domestic and New York wines and very helpful staff. Off-street parking.

Wine Sense

phone: +1 585 271-0590

address: 749 Park Ave

Located near numerous other small shops and cafes, this wine dealer has a very friendly staff and carries many quality wines from the Finger Lakes region.
There are several bookstores on Monroe Ave and East Ave which sell new, used, and rare books.
Eat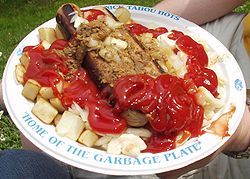 Dining in Rochester is typical of most mid-sized American cities. The immediate suburbs are crawling with large chain restaurants, but you can find more original fare in the city proper, and in outlying areas away from the biggest commercial strips.
There is one mainstay of local cuisine that travelers with a large stomach and no fear of cholesterol should absolutely try: the famous
Garbage Plate
of
Nick Tahou's Hots
. For a few dollars, a "Plate" comes with your choice of meat served on top of macaroni salad, home fries, and onions, topped with "hot sauce" and ketchup and/or mustard. Most suburbs of Rochester have a local "Hots" (Penfield Hots, Empire Hots, etc.); each of them, not to mention nearly every other burger joint and diner around town, has its own variant on the "Plate"—but the original and most authentic is found at Tahou's.
Steve T. Hots and Potatoes
is the former second location of Nick Tahou's, and run by a different branch of the Tahou family; it's an acceptable second choice, mainly because the original is only open until 8PM these days. Late-night "plate runs"—a college tradition in Rochester—thus usually end up at Steve T.'s.
A "hot", by the way, is simply a hot dog, but they come in two varieties: red hots (traditional hot dogs) and white hots. White hots are filled with uncured and unsmoked meats, which causes the color difference. The flavor is similar to a mild sausage.
Zweigle's
is the local brand; don't even bother with any other brand if you're going to try a white hot. "Hot sauce", rather than the expected mouth-scalding pepper blend, is usually a mildly spicy meat sauce to put on hots, especially on garbage plates.
Of course, if you do want mouth-scalding sauce,
Buffalo-style chicken wings
are almost as popular here as they are in Buffalo. (Surprisingly, Buffalo's Anchor Bar—the inventor of the dish—failed in its attempt to establish franchises in Rochester; now their chief competitor,
Duff's Famous Wings
, is working on entering the market themselves.) Most any bar, bar-like establishment, or pizza joint will have "wings" on their menu (no need to specify "Buffalo wings"; it's assumed). Everyone has a favorite location for wings, but
Jeremiah's Tavern
has some awards to back up their claim.
If you're looking for something a little more traditional, Rochester's beaches spawned a great set of local burger joints (most of which don't call them burgers; they're "ground steak sandwiches"). The two big local chains are
Bill Gray's
, with their flagship location at Seabreeze, and
Tom Wahl's
, which started south of the city in
Avon
. Tom Wahl's is famous for their root beer floats and homemade ice cream, while Bill Gray's has incorporated
Abbott's Frozen Custard
into several of their locations. Both have great burgers and classic old-time atmospheres.
Speaking of Abbott's, it's
the
place to go for ice cream—only it's not ice cream; it's frozen custard, which is richer and creamier than regular ice cream. With about thirty locations around Rochester, you have no excuse not to drop in and try some.
DiBella's
is a chain of local sub shops that locals swear by, despite some inroads being made by Subway. DiBella's restaurants have a classic 1950s atmosphere, with lots of neon, chrome, and checkerboard patterns. The sub rolls are made fresh in-house each morning, and they're solid and big enough to hold all the toppings you could want. The "Godfather" and "Dagwood" subs are quite popular. You can order them hot; it takes a few minutes, but it's well worth it. Don't forget to pick up one of Grandma DiBella's chocolate chip cookies; they're also baked fresh in-house and have almost as many fans as the subs do.
For pizza, everyone has a different favorite. The local style is somewhere between New York thin-crust and Chicago deep-dish–not surprising considering Rochester's location. The oldest local chain, dating from 1947, is
Pontillo's
, but quality varies widely from location to location. The best Pontillo's pizzas are truly outstanding, but the worst are truly bad. More consistent quality can be found at another large local chain,
Salvatore's
, though pizza aficionados may be disappointed.
Mark's Pizzeria
is also popular, and
Cam's
is expanding and popular with college students. True New York-style pizza is hard to find, though the
Pizza Stop
on State Street downtown probably comes closest.
It's not just pizza, either. Rochesterians love all sorts of
Italian food
; it seems like around every corner is another favorite neighborhood Italian-American restaurant, at least in the suburbs. You'll also find a lot of places owned by Greeks, from greasy spoons like Nick Tahou's to classy family restaurants, although they usually toss in plenty of Italian and traditional American entrees as well. A staple at local Greek- and Italian-American restaurants is
Chicken French
. It's a breaded chicken breast sauteéd in a lemon-wine sauce. It's so popular that veal and even artichokes can be found "Frenched" on local menus.
All this focus on the lower end of the dining spectrum shouldn't obscure the upscale dining available, mostly in the downtown area. The options are neither as exclusive nor as pretentious as those in other, bigger cities like New York, but that doesn't mean you won't want reservations, and you will want to dress up a bit.
Finally, no trip to Rochester is complete without stopping in to a local
Wegmans
supermarket. No joke: residents frequently take their out-of-town guests to Wegmans, not necessarily to buy anything, but just to see the place. "Wait," the guests say, "you're taking us to a grocery store?" But Wegmans is something special, and Rochesterians are justifiably proud of their hometown grocer. Customer service is paramount at Wegmans, consistently ranked one of the best companies to work for in the U.S. The stores are attractive, clean, well-stocked, and open 24 hours a day. They also each feature an amazing "Market Cafe", where a wide variety of prepared foods are available for purchase (eat-in or carry-out), all made in-store from Wegmans-branded grocery items. Don't miss the very good subs; Wegmans' sub shops were modeled after DiBella's and rival Rochester's favorite sub shop in quality.
There's only one Wegmans left in the city proper, but the suburbs are loaded with them. The flagship location is on Monroe Avenue adjacent to Pittsford Plaza.
Budget
Rochester's cheapest options are epitomized by the burger joints that sprung up along the lake shore in the middle of the 20th century—Bill Gray's, Vic & Irv's, and Don's Original at Sea Breeze near Irondequoit Bay; and Schallers west of the river. The greasy spoons like Tahou's are also easy on your wallet (if not your arteries). The
Rochester Public Market
(see
the Buy section
, above) hosts many vendors who sell prepared foods, including a number of ethnic specialties like empanadas; in many ways it's like an enormous food court.
Bill Gray'sThe largest local burger chain may also be the best, with a wide-ranging menu of burgers, hots, wings, and "plates". With eight locations in and around the city, and four more in the outer suburbs, you won't have to go far to find one. In a delicious local partnership, several locations have Abbott's Frozen Custard stands right inside, and most have a game room as well.
phone: +1 585 266-7820

address: 4870 Culver Rd, Irondequoit

The original location, at Sea Breeze.

Bill Gray's at the Skyliner Diner

phone: +1 585 232-5284

address: 1 Manhattan Sq

This location is housed in a tiny 1950s-type diner, long and narrow like a train car. The diner, which used to be known as the Skyliner Diner, is in turn located in the lobby of the Strong National Museum of Play. No museum admission is needed to get to the restaurant (or to the carousel, for that matter!).

phone: +1 585 889-8260

address: 3240 Chili Ave, Chili

phone: +1 585 247-3940

address: 2987 Buffalo Rd, Gates

phone: +1 585 663-7320

address: 2050 Latta Rd, Greece

phone: +1 585 424-2350

address: 1225 Jefferson Rd, Henrietta

Biggest location, including a large game room.

phone: +1 585 342-9070

address: 869 East Ridge Rd, Irondequoit

phone: +1 585 385-3450

address: 1650 Penfield Rd, Penfield
Byblos Cafe

phone: +1 585 262-2890

address: 9 E Main St

Considered one of Rochester's best-kept secrets by the downtown lunch crowd, this tiny eatery offers a huge menu of Mediterranean specialties. Don't see what you want? Just ask; the staff is extremely accommodating; they'll make sure you get something you like. The falafel comes highly recommended.
Campi's

phone: +1 235-7205

address: 205 Scottsville Rd

This tiny joint northeast of the airport is no longer Rochester's best-kept-secret; Adam Richman's Man vs. Food Nation has featured Campi's signature dish, the massive Steak Bomber. Take a huge pile of sliced chuck, top it with carmelized onions and other veggies, add Rochester's meaty hot sauce, and put it all on a 12-inch-diameter toasted roll.
phone: +1 585 271-6620

address: 691 Monroe Ave

Dog themed restaurant known for garbage plates and hot dogs with a huge variety of toppings. Tahou's will always be the original, but most locals hold up Dogtown's garbage plates as the best in town.
phone: +1 585 323-1177

address: 4900 Culver Rd, Irondequoit

One of "Hot Dog Row" burger joints in the Seabreeze neighborhood. Motto: "Where Quality Predominates". They have another location in Penfield at Lloyd's Corners.
DiBella's Old-Fashioned SubmarinesThe best subs in Rochester, hands down. It's the rolls, freshly baked in-house, that do it. Red Osier roast beef and other high-quality toppings put Subway to shame. The cookies are also among the best in town.
DiBella's Italian Market

address: 620 Jefferson Rd, Henrietta

This new flagship location includes soups and salads in addition to the usual subs, chips, and cookies.

phone: +1 585 473-1118

address: 1876 East Ave

phone: +1 585 256-2060

address: 1900 S Clinton Ave, Brighton

phone: +1 585 225-8440

address: 2540 Ridgeway Ave, Greece

phone: +1 585 266-0288

address: 1405 E Ridge Rd, Irondequoit

Other locations locally in Webster and Perinton, and further afield about three dozen others in a swath from Indiana to Connecticut.
phone: +1 585 491-7272

address: 2425 W Henrietta Rd

Though they didn't invent Buffalo-style chicken wings, most Buffalo natives will tell you that Duff's perfected them. They opened their first Rochester franchise in December 2015, where they serve wings (with a variety of sauces) and sandwiches.
phone: +1 585 461-2815

address: 672 South Ave

With an ever-changing eight-flavor lineup, Hedonist offers premium small-batch ice cream in the South Wedge. The goodies are made on-site with local ingredients, including cream from Pittsford Dairy. It's outstanding ice cream, but you'll pay for the indulgence.
phone: +1 585 424-3710

address: 2612 W Henrietta Rd, Brighton

A popular hangout with local college students, there's cheap food and it's always open.
Malek's Bakery

phone: +1 585 461-1720

address: 1795 Monroe Ave, Brighton

Located in the Twelve Corners area of Brighton, this Jewish (and Kosher) bakery makes European-style breads and pastries. They always have great challah, rye, pumpernickel, white and sour dough, and then each day of the week turn out specialty breads, like the not-to-be-missed chocolate babka (Th F Su) and poppyseed danish (Th F Su).
Mark's Texas Hots

phone: +1 585 473-1563

address: 487 Monroe Ave

This is where drunk college kids stumble off of Monroe Ave. to eat a garbage plate. The garbage plates from establishments that reside inside the city limits of Rochester have a decidedly more flavorful character than those in the suburbs. Mark's is the only diner you might ever visit that has a bouncer. Go if only for the spectacle.
phone: +1 585 436-0184

address: 320 W. Main St

Tahou's is the origin of Rochester's authentic cuisine, the garbage plate. For a few dollars, the plates come with your choice of meat, macaroni salad, home fries, onions and special sauce. The most common plate can be ordered by as quickly as possible saying "Cheeseburger plate, mac salad, home fries, everything!".
phone: +1 585 353-2382

The "food truck" phenomenon comes to Irondequoit Bay via this mobile food boat. Two gentlemen head out onto the Bay and Lake Ontario, grilling up burgers, dishing out salads, and scooping Perry's ice cream for hungry boaters.
phone: +1 585 546-7252

address: 131 State St

As if a little slice of Brooklyn has been transported to Rochester, the Pizza Stop makes pizzas the way they do downstate; even NYC transplants approve! In addition to the thin Neapolitan style, they make a mean thick Sicilian as well, and their stuffed pizza is just over-the-top ridiculous. Their new location just down the street from the original opened in January 2015.
phone: +1 585 225-5552

address: 2532 Ridgeway Ave, Greece

The Greece location has the same great pizza and an extended menu.
Salvatore's Old-Fashioned PizzeriaThis chain, founded by local legend Salvatore "Soccer Sam" Fantauzzo, advertises that they "deliver everything... but babies!" But primarily, they deliver pizza, and they've become very successful doing so. Pizza experts scoff at the quality of their pies, but with almost 30 locations in Monroe, Livingston, Ontario, and Wayne Counties, they must be doing something right.
phone: +1 585 288-4570

address: 1985 E Main St

The original Salvatore's location.
Schallers Drive-In

phone: +1 585 865-3319

address: 965 Edgemere Dr, Greece

Another Rochester burger joint that grew up along the beach, this one in Greece west of the river. The Greece location has some excellent ice cream.
phone: +1 585 544-2097

address: 559 Ridge Rd E, Irondequoit

phone: +1 585 427-7810

address: 2747 W Henrietta Rd, Brighton
phone: +1 585 622-9417

address: 4671 Culver Rd, Irondequoit

Vic & Irv's was one of the restaurants on Hot Dog Row, sitting between Bill Gray's and Don's Original. But it closed in 2014, and the manager and many of the employees opened up a new spot just up the road, called Vic's Place. When Vic's Place closed in 2017, the location was quickly reopened under new ownership. The menu goes back to the Hot Dog Row basics, with hots and ground rounds and plates.
phone: +1 585 429-6388

address: 2260 Lyell Ave

Just as authentic as Nick Tahou's, but in a safer part of the city and always open.
phone: +1 585-425-3353

address: 7450 Pittsford-Palmyra Road

Mark's Pizzeria has been around since 1982, when founder and president Mark Crane started selling pies in Palmyra. The chain has grown and shrunk throughout the years, but remains the most popular pizza in Rochester, winning the Democrat & Chronicle Rochester Choice Award for best pizza 8 times. Chances are when you think of Mark's, a familiar jingle will start playing in your head: "We'll treat you like family, Mark's Pizzeria!"
Food trucks
Rochester was a latecomer to the food truck scene, but it's exploded with a variety of creative trucks appearing around the county. You'll find them downtown at lunch, of course, but also at most festivals and at occasional food truck rodeos (such as the one held monthly during the less-frigid months at the Public Market). If you want to see where they are on any given day, the
Democrat and Chronicle
maintains
Where That Food Truck?
, which puts each truck's social media postings in one place for your convenience.
The most well known food trucks in Rochester are
Macarollin'
,
Le Petit Poutine
,
Marty's Meats
, and
Brick N Motor
, but there are a couple dozen more plying the streets.
6
Mid-range
The middle ground is where most of Rochester's restaurants lie. A variety of ethnic cuisines are available, if you're willing to look around a bit. In particular, Rochester's
barbecue
scene is better than you might expect.
California Rollin' 2

phone: +1 585 271-8920

address: 1000 N River St
phone: +1 585 473-2090

address: 274 N Goodman St

This restaurant, named after its location in Village Gate Square, specializes in burgers and flatbread pizzas, but with a distinctly upscale twist. High-quality ingredients creatively applied to these staple menu items make the Gate House a very popular place for dinner before a show at the nearby Auditorium Theatre. Of course, this is Rochester, so you can even get a fancy version of a garbage plate. Reservations recommended.
Highland Park Diner

phone: +1 585 461-5040

address: 960 S Clinton Ave

Rochester's last classic diner. A 1948 Orleans diner restored in 1986 to an art deco style. Their motto is "real food, served real well at real prices". A neighborhood joint with very good food. Friendly, personal service (the owner himself often takes orders) and fantastic Sunday breakfast/brunch menu: berries & peaches stuffed French toast, tasty savory omelets and a glorious eggs Benedict. Be sure to ask for "sweet cheese" on your waffles, pancakes & French toast.
phone: +1 585 442-4293

address: 197 Park Ave

A cozy eatery in the heart of the Park Avenue neighborhood, offering traditional fare with a slight upscale twist. Most entrees change daily, though a few are constants. Parking is iffy.
phone: +1 585 621-2200

address: 56 Stutson St

Housed in a former firehouse, Hose 22 offers up great American grill fare.
phone: +1 585 461-1280

address: 658 Park Ave

According to the jingle, "Sooner or later, everyone dines at Jines," which may only be a slight exaggeration. Jines is one of a cluster of restaurants at the corner of Park and Berkeley, each with very popular sidewalk tables (at least in nice weather), which makes this a particularly lively and inviting stretch of Park Avenue. Jines was part of the wave of Greek-American diners that opened in the 60s and 70s, though this is more "family restaurant" than "greasy spoon". The atmosphere and service are familial (the Gines family still runs the place), and the menu is extensive, hearty, and not without its creativity.
phone: +1 585 427-8090

address: 1455 E Henrietta Rd, Henrietta

Located in Henrietta, a sprawling suburb that features mostly grimly terrible chain restaurants, this fantastic Thai spot features reasonable prices, lightning quick service (seriously, it's like they know what you're going to order before you get there) and food that always tastes uncannily fresh and yummy. The ambiance is not great, with a huge cavernous dining room and terrible, terrible art on the walls, but the food is consistently good and you can always get takeout. Make sure to try the Thai iced tea. No need to bother with reservations. Open for lunch and dinner.
Olive's Greek Taverna

phone: +1 585 381-3990

address: 50 State St, Pittsford

Located in Rochester's snootiest suburb, you wouldn't expect the best deal in Rochester, but this charming restaurant will give you the most bang for your buck. Authentic and carefully prepared, don't miss the huge mezede village platter (an appetizer that can be easily shared by two or more), gyros and well-spiced kebabs. Lots for vegetarians, and unbelievable sweet potato fries. Reservations only taken for 3 or more. On the weekends they're basically required, or you'll wait hours for a table.
phone: +1 585 442-0778

address: 686 Monroe Ave

This popular Japanese restaurant specializes in sushi, particularly their sushi rolls, each of which has a rather unique moniker. The Yummy Yummy Roll is highly recommended, but you can also try the Red Dragon Roll, BFF Roll, or of course a Rochester Roll. Other typical Japanese-American dishes are available as well.
phone: +1 585 473-8031

address: 741 Monroe Ave

Vietnamese cuisine. Very large portions.
Seoul Garden

phone: +1 585 424-2220

address: 2805 W Henrietta Rd, Brighton

Features extensive Korean menu -- Korean BBQ, scallion pancakes, spicy stews, etc. All meals come with lots of tasty extras, like fermented black beans and kimchee.
phone: +1 585 271-2090

Looks like nothing from the outside, an easily miss-able hole-in-the-wall place on South Clinton. But inside the tiny space is a little haven, authentically Japanese, with rice-paper screens and the most perfectly prepared sushi in Rochester. The only staff are the friendly Japanese owners who will offer lots of guidance if you ask.
phone: +1 585 546-5800

address: 58 University Ave

Classy yet casual, one of the newest and best-reviewed restaurants in downtown. They have positioned themselves as a great place to get dinner after seeing a performance at the Eastman Theater or Downstairs Cabaret. Dinner-and-theater packages available with some Auditorium Theatre shows; being able to park at the restaurant is a major benefit. Go for sandwiches if you want to spend less than $10, or steaks or seafood if you're willing to spend about $20.
phone: +1 585 272-8900

address: 1225 Jefferson Rd

Upstate NY chain sports bar with an enormous menu. The real attraction is the chicken tenders and honey mustard which are nothing like the frozen variety served at most sports bars. There are dozens of televisions which makes it a good place to watch a game.
phone: +1 585 417-6231

address: 421 River St

The former Steel River BBQ still has their popular smoked wings, but they've expanded into the historic building next door and now offer a variety of entrees in their dining room, along with classic pub fare in the bar area.
Barbecue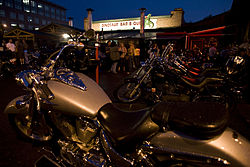 Dinosaur Bar-B-Que on Court Street is where everyone you ask will send you for barbecue; it's a small
Syracuse
-based chain that Rochesterians have adopted as their own. Sticky Lips also has a dedicated following, and some will tell you does a better job (at least for some dishes). Other than those two, though, most of the growing BBQ action around town is in the
suburbs
.
phone: +1 585 325-7090

address: 99 Court St

Amazing Ribs, Chicken, and Black Beans and Rice among many other things. Expect to wait though! Average wait for a table is easily an hour, they don't take reservations, and unless your whole group is there you can't get on the list. They're a tad vigilant about it, but the place pushes so much business through they can afford to do so. The Dino is a must when in Rochester, if only for some of the sauce.

phone: +1 585 292-5544

address: 830 Jefferson Rd, Henrietta

Sticky Lips has a different vibe and charm from Dino. Its sauce bottles are decorated with 1940s-style pinups, and the decor features advertisements and periodicals from the same era. The food is good, too, with a very wide variety of options and combos, and five different sauces to choose from. This Henrietta location is much bigger than the (now-closed) original in the city, with live music just about every night and a full bar. Gospel Brunch on Sundays.
Splurge
Rochester's reputation as a staid company town is slowly dissolving, and more and more restauranteurs are opening upscale establishments to cater to a growing taste for more adventurous cuisine and more personalized service. The latest, and priciest, addition to the fine-dining scene is
Morton's The Steakhouse
, the well-known chain located in the Hyatt Regency hotel, where the cheapest steak on the menu is the $49 filet mignon. Rochester's local chefs are no doubt ready for the challenge, as the improving business climate brings more businesspeople on expense accounts to the city.
address: 26 Broadway

Possibly the most expensive meal in Rochester... or, for that matter, in the entire six-county area. The menu represents all of the high-end standards without going overboard on the creativity. The service is regarded by locals as impeccable.

phone: +1 585 270-5460

address: 145 Culver Rd

An old military armory is the setting for this trendy, upscale-casual hotspot. What does upscale casual mean? Consider that there's a variety of contemporary dishes on the menu, but you'll also find a "burger bar". (Sunday brunch includes a "hangover burger" and fried PB&J among other treats.) Put on your best pair of jeans and enjoy. Some diners report inconsistent experiences with the food and service, but the unique setting and romantic atmosphere more than make up for any snags; TRATA is all about the atmosphere and the environment. There's a rooftop bar and some amazing outdoor seating available; inside there are more bars and seating across three floors of space.
Drink
The big local brew is
Genesee
, along with its label-mates Genny Lite, Genesee Cream Ale, and the
Dundee
line of lagers (especially The Original Honey Brown). Don't believe the wags who tell you the beer is "brewed from the waters of the Genesee"; although the river is clearer than it used to be, you won't find its influence in the local beverages. Genny isn't as popular around town as you might expect, but it's working at making a comeback, and few locals would turn down a Cream Ale or Honey Brown if offered one. As the saying goes: if a bar doesn't serve Genny, even if no one you know drinks it, it's not a real bar. As of late summer 2012, the brewery—the eighth-largest in the U.S.—has finally opened a visitor's center (see the
Do section
).
Several Rochester area restaurants have their own craft beer made by
Custom BrewCrafters
, which is a local microbrewer. Additionally there is the Fairport Brewing Company, Naked Dove Brewing Company, Roc Brewing Company and Rohrbachs microbreweries that all have their own beers. Rohrbachs in particular can be found at events like baseball games and soccer matches.
Sitting as it does at the edge of the
Finger Lakes
, Rochester is also a good place to get some high-quality wine. Finger Lakes wines can be found in many restaurants throughout the city and its suburbs, although just as many forgo the local stuff in favor of the same old Californian and European selections. If you can, seek out the places that serve local wine; it gives you a better taste of the region and is better for the environment to boot.
Bars & clubs
There are several districts to party in around Rochester. They include the St. Paul Quarter, the East End (Area around Alexander St. and East Ave., also referred to as "East & Alexander."), High Falls Entertainment district, and Monroe Ave. Even during the cold winter evenings, people can be seen on the street, hopping from one bar to the next.
Each district has an array of diverse bars, from trendy, to sports bars, to dive bars you can find a bar you will like in each area. Rochester is known for it wide selection of martinis and micro-brewed beers. Visit any mid-range to upscale bar/restaurant and they will probably have a great selection. Ask for their martini menu!
The
East End Festival
is a great opportunity for bar hoppers and pub crawlers to hear all sorts of music and try all sorts of drinks. Outdoor stages are added to the usual indoor venues, and the East End becomes packed (more packed than usual). The 2015 festival date will be September 13.
phone: +1 585 454-2966

address: 219 Monroe Ave

The walls display various works of art created by local artists, and the stage area/dance floor has an entire roomful of furniture arranged on the ceiling. Drink specials and live entertainment are featured here nightly, presenting popular local and national musical artists.

Cheshire

address: 647 South Ave

This speakeasy-style bar serves up classic pre-Prohibition cocktails and inventive newly crafted ones with a sophisticated style.

phone: +1 585 360-4627

address: 293 Alexander St

The founders of this newspaper-themed tavern (with a speakeasy feel) call their establishment a "gastro-lounge", with a focus on custom cocktails and artisan foods.

phone: +1 585 271-4105

address: 1142 Mount Hope Ave

This popular sports bar and grill is expanding and now has four locations around Rochester. The food—including steaks—is quite good for a place known mostly as a sports bar. Also worthy of note are the specials: Before 10PM, there is a different draft beer on sale every day of the week. After 10PM, the beer sale ends, but all appetizers are half off. Naturally, the best time to arrive is 9:45PM.
phone: +1 585 339-3010

address: 3010 Winton Rd S, Henrietta

phone: +1 585 621-1620

address: 300 Paddy Creek Cir, Greece

The fourth location is in Victor.
phone: +1 585 461-1313

address: 1104 Monroe Ave

The epitome of the neighborhood bar, Jeremiah's is best known for its award-winning wings.
address: 2200 Buffalo Rd, Gates

New location in Gates, opened June 2012.
Lux

phone: +1 585 232-9030

address: 666 South Ave

Lux is something of an alternative bar in Rochester and trades on being in the South Wedge to add cred to the atmosphere. Lots of tattoos and piercings and a good PBR special. The back yard is great. They have hammocks in the summer time and a huge wood burning stove for the winter. This place is something you would expect to find in Brooklyn not Rochester.
address: 4909 Culver Rd, Irondequoit

Once a speakeasy during Prohibition, this joint was one of the first in the area to get a liquor license after it was repealed. Today, it's a wild and raucous neighborhood bar; there's no food, but folks come for the drinks and the atmosphere. The deck extends out onto the beach for a great view of Lake Ontario. Parking is non-existent; you'll have to jockey for a spot on the south side of Culver. 21+ only.
Montage Grill
phone: +1 585 471-8803

address: 302 N Goodman St

Nox eagerly embraces its "nerd pub" reputation, naming its menu items and cocktails with pop culture references, from Dracula and Sherlock Holmes to Star Wars and Harry Potter. The house-designed cocktails are the main attraction, while the food menu focuses on hearty comfort food that uses modern gourmet ingredients.
phone: +1 585 232-2626

address: 277 Alexander St

Great English beer, poor English food, friendly English staff. A unique atmosphere with reasonable prices, the Toad is an excellent place to get sloshed.
PearlA retro contemporary lounge with nightly house music DJ's spinning.
The Pythodd Club
In the 1950s and 60s, a ramshackle three-story house on Clarissa Street, in the Corn Hill neighborhood, was a popular waypoint on the jazz circuit—the clubs across the country where the biggest stars of jazz could drop in and always find an appreciative audience. Anyone who was anyone in jazz during that era played the Pythodd stage. The name (pronounced "PIHTH-od") was a portmanteau of the two fraternal organizations that previously resided in the building: the Odd Fellows and the Knights of Pythias. The Pythodd closed in 1972, but its legacy is remembered every year during the Clarissa Street Reunion festival in August.
phone: +1 585 491-6649

address: 4705 Lake Ave

With a name that harkens back to the famous Pythodd Club, the Pythodd Jazz Room seeks to rekindle Rochester's jazz scene. Live music every night starting at 7:30PM.

Scotland Yard Pub

address: 187 St Paul St

A new English-style pub has replaced the Table 7 lounge.

Sheridan's Pub

phone: +1 585 271-7777

address: 1551 Mount Hope Ave

This small pub tucked away on Mount Hope Avenue away from the hustle and bustle of the East End and Monroe Ave is truly a hidden treasure. It has some of the nicest staff you will find in the city and an overall friendly atmosphere. They also know how to pour the finest Guinness in the city. Although located near the U of R, Sheridan's is hardly a college bar attracting a diverse crowd. The food is also excellent, especially the fish fry that is served on Friday night.

phone: +1 585 397-7595

address: 139 State St

One of the burgeoning number of craft-cocktail specialists in the Rochester region, The Spirit Room takes things to another level with its decor and atmosphere. Borrowing elements from Rochester's Spiritualist past (and other traditions like New Orleans voodoo), the place evokes a turn-of-the-century drugstore run by aficionados of the occult. In addition to the creative cocktails served in solid Wexford glassware, the dining menu represents Southern soul food. Live music, poetry readings, and a tarot card reader round out the offerings.

address: 177 St Paul St

Where the martinis are as big as the day is long.... so kick off your heels, and loosen your tie.

Tilt Nightclub and Ultralounge

address: 444 Central Ave

This place is the closest Rochester has to a NYC style club. Posh and dramatic the club spins dance/house music on one side with chill/down tempo beats on the other. The club is gay friendly, with Friday night being straight night.

address: 630 Monroe Ave

Turcott's Taproom is an English-style pub.

Vibe Lounge

phone: +1 585 442-8423

address: 302 N Goodman St

Just opened in May 2012, Vibe is bringing jazz, blues, and comedy shows to the Village Gate.

phone: +1 585 325-3663

address: 120 East Ave

Tons of Belgian and Belgian-style beers on tap at this Downtown bar. Victoire has a large indoor seating area complete with fireplace, but the real attraction is the patio during warmer months, which also has a fireplace because this is Rochester.

phone: +1 585 319-5696

address: 330 East Ave

You can get meals here—with waitstaff, no less—but the drinks are the attraction at this spot that just opened in August 2012. In keeping with the name, drink prices fluctuate based on popularity... just like stock prices. Keep an eye on the price ticker; buy low and sell high!
Breweries and brewpubs
The craft beer scene is rapidly growing and Rochester is no exception. Home to a diverse and rapidly expanding selection of breweries, here are some great places to check out.
phone: +1 585 594-9800

address: 3859 Buffalo Rd, Ogden

Although Rohrbach's is a bit out of the way, their beer is worth the trip. Certainly the highlight is the Scotch Ale, and if you don't want to travel all the way to the actual brewpub, any number of establishments in the city will have it on tap, including Frontier Field. However, if there, do try as many of the beers as possible, as it is some of the best craft-brewing in upstate NY. You can get a sampler of 3 oz. glasses before you decide. The food is also quite good and leans toward German fare such as sauerbraten and bratwurst.

Stoneyard Brewing Company

phone: +1 585 637-3390

address: 1 Main St, Brockport, NY 14420 1517 Empire Blvd, Webster, NY 14580

Stoneyard's beer stands out as excellent even in the very competitive New York craft beer scene. Like most breweries these days, they are probably best known for their IPAs, and for good reason. They make many of them and they are very good. But they also make some more atypical styles that are worth seeking out, like their wonderful Toasted Coconut Kareem Ale and it's variants. They have two brewpub locations both of which boast excellent food and, in addition to their own outstanding house beers, they also both have extensive guest tap lists making them one of the best craft beer bars in the area in addition to being one of the best breweries.

phone: +1 585-530-3471

address: 378 Mt. Hope Avenue Rochester, NY 14620

Great location in the South Wedge neighborhood just across the street from the Genesee River. Swiftwater is one of the most popular and fastest growing Rochester breweries. They typically have around a dozen of their beers on tap as well as a guest tap for cider. Like most breweries their focus is IPAs and they do them very well, but you won't be short on variety when you visit here.

phone: +1 585 388-8281

address: 111 Parce Avenue Suite 3A-1 Fairport, NY 14450

One of the newest entries in the Rochester craft beer scene, they just opened in late 2016. Triphammer has made a name for themselves very quickly. Located in an alley just off of main street in the Village of Fairport, the taproom is a great place to visit. They have a raw, industrial decor that is fairly typical of craft breweries. You can grab a pint of your favorite Triphammer beer or get a flight and sample everything they have available.
Wine bars
A handful of excellent wine bars have popped up in Rochester.
phone: +1 585-242-6096

address: 757 University Ave

The name is apropos, as this bar does indeed specialize in chocolates and wines—the former more so than the latter, some would argue. Still, the wine selection is expertly paired with the desserts, making this a very popular place for ending an evening on the town. Housed in an historic century-old house, the bar has a summer patio that looks out on the lovely Neighborhood of the Arts, a great place for people-watching.

Flight Wine Bar

phone: +1 585 360-4180

address: 262 Exchange Blvd

Dressy, sophisticated, and urbane, Flight might be the most well known wine bar in the city. As you might guess, they specialize in wine "flights"—tastings of a selection of wines based around a theme. You can try three different wines made from the same grape, or perhaps three different grapes from the same region. It's not just wine, either: cheese, chocolate, and even olive oil are presented in flights of three.

phone: +1 585 232-3070

address: 647 South Ave

A small but high-quality wine bar in the South Wedge. Some people find the service a bit off-putting, and the lack of seating can be a deterrent, but the wine list is well curated. Also consider heading up the stairs to Cheshire, a classic cocktail bar, which tends to get even better reviews.
Cider
With so many apples grown in Western New York, it was only a matter of time before craft hard cider started being produced locally. Now there's a cider-only bar in the city:
phone: +1 585 287-5875

address: 1344 University Ave, #180

This cider-only bar just opened in December 2015 and has a dozen ciders on tap and over 100 more in bottles, as well as knowledgeable staff who can help you make a selection. As far as bar food goes, the house specialty is kettle corn, presented in seasonal varieties.
Spirits
Despite the fact that there's a popular local bar+grill chain called The Distillery, Rochester hasn't had a
real
distillery within its boundaries since before Prohibition. That changed starting January 25, 2014.
Black Button Distilling

address: 85 Railroad St

While distilling has started to grow in the otherwise wine-mad Finger Lakes region, its production has not been seen in Rochester in quite some time. Black Button uses local ingredients to make corn whiskey, wheat vodka, and gin at their new distillery. Tours and a tasting bar are the amenities available for visitors.
Coffeeshops & cafes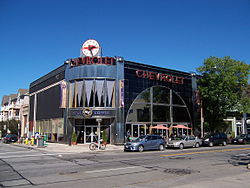 Rochester has its share of
Starbucks
locations, although the mega-chain's is not yet ubiquitous. Much more popular around Rochester is the coffee at Canadian donut shop
Tim Hortons
.
But venture beyond the big chains and you'll find a number of cozy little coffee shops perfect for lounging around and meeting new people... or mooching the free Wi-Fi.
phone: +1 585 454-7140

address: 100 Alexander St

An independently owned coffee shop with regular live music. Their web page lists upcoming acts. Drinks and snacks are typical coffee shop prices. Free WiFi on the premises.
Dark Horse Coffee

phone: +1 585-730-8035

address: 274 N Goodman St

Pet-friendly coffee shop in the Village Gate.
Easy on East

phone: +1 585 325-6490

address: 170 East Ave

Laid-back lounge-type bar aimed at young professionals.
Equal=Grounds

phone: +1 585 242-7840

address: 750 South Ave

This coffee shop opened in 2006. It has a great open-minded atmosphere and has a GLBT gift shop. The coffee, smoothies, and pastries are temptations.
Java's Cafe

address: 16 Gibbs St

Another downtown coffee shop, more popular with the art house crowd. Java's prices and products are similar to Spot. They also sell a variety of large homemade cookies in a variety of styles for about a dollar. At lunch time, an adjacent cafe-style restaurant serves for soup and sandwiches. Local art adorns the walls and local bands of questionable quality occasionally perform.
phone: +1 585 442-8960

address: 645 Park Ave

A tribal arts importer orders select creations from area bakers, inviting guests to dine among large African statues. Take in a coffee while you wrestle with desires for an amber necklace.
phone: +1 585 319-5279

address: 1344 University Ave

A coffee roaster and full service coffee and espresso bar located near the Neighborhood of the Arts, Joe Bean has been mentioned among the best coffee shops in the country. They serve some food as well, but the real attraction is the java, which is fair trade and eco-friendly, and roasted right in-house. The focus at Joe Bean is on coffee education; they believe that good coffee can be savored and analyzed like good wine, and they even offer classes on how to make your own.
Spot Coffee

address: 200 East Ave

A trendy, popular hangout housed in a former Chevrolet dealership, people come here to relax and socialize while enjoying a cup or two of the brown brew. It's quite acceptable to spend hours here while only buying a single small cup of coffee; students do it all the time. Local art of various sorts is often marked for sale on the walls.
phone: +1 585 271-2630

address: 696 University Ave

A funky space named after Van Gogh's famous painting, near many of Rochester's museums. Along with the required drinks, they make their own soup, salads and sandwiches. Free WiFi.
Sleep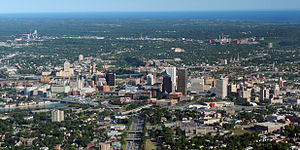 There are only nine hotels within the Rochester city limits, including three downtown high-rises. (Okay, ten, if you count the Hotel Cadillac. But please don't.) The city hotels aren't cheap, but most travelers will be staying in one of the numerous suburban hotels. No matter where you stay, though, you probably won't be far from an expressway, which means you can get pretty much anywhere you want to go in 20 minutes or less.
Many—maybe even most—hotels in the area offer free shuttle service to and from the airport. Several of them even have "Airport" in their names, but pay attention to the map; they may be miles away in reality.
Within the city limits
If you look around, there are also a number of bed-and-breakfasts in the city, but they don't publicize themselves much.
In the immediate suburbs
The innermost suburbs are loaded with chain hotels of every size and shape; here are a few of particular note.
Connect
The area code for Rochester and the surrounding area is 585. You don't need to dial the area code locally.
Despite Rochester's strong technology base and highly educated citizenry, you won't find much in the way of public Internet access. Perhaps that's because so many residents have access right in their homes. For public access, your best bets are coffee houses (for Wi-Fi connections) and libraries (for public terminals and Wi-Fi). There are very few, if any, dedicated Internet cafes.
The area's main post office is actually south of the city, in Henrietta:
phone: +1 585 272-5953

address: 1335 Jefferson Rd, Henrietta
Stay safe
Like most other cities, Rochester is generally safe but there are areas that are more prone to crime than others. Potentially dangerous areas exist in the northeast and southwest city neighborhoods. However, there is nothing in these neighborhoods of any particular interest to non-residents so it is unlikely that the average visitor would encounter these areas. Use common sense and situational awareness and crime will not be a problem.
The suburban areas of Rochester generally enjoy a low crime rate.
The
US Border Patrol
has a significant presence in Rochester (arguably more so than
Buffalo
, which is physically located on the US-Canadian border) and regularly patrol public transit and long distance buses and trains. Persons approached by an officer will be asked their country of citizenship and if not a US Citizen, for their passport, I-94 card or visa (if applicable.) Having these documents handy will prevent delays, see
United States of America#Border Patrol
.
The presence of
The region also has numerous urgent care facilities, open during business hours, that can handle minor medical needs to relieve pressure on the hospital emergency rooms. Notable among these:
Behavioral Health Access & Crisis Center

phone: +1 595 368-3950

address: 89 Genesee St

Rochester Regional Health (the parent of Rochester General and Unity Hospitals) operates this facility, which serves a similar purpose as urgent care centers, but for mental health. They can treat non-life-threatening mental health issues (including addiction and relationship problems) or at least connect you with other resources.
Call 911 in case of emergency. You can also
text 911
; be sure to provide a very specific location, as the dispatcher won't automatically receive location information.
Cope
Print media
The local daily newspaper is the
Democrat and Chronicle
. $1 daily, $3 Sundays. On Thursdays, they publish a special section called
ROCWeekend
with extensive entertainment listings for the next several days. The
D&C
also publishes
Rochester Magazine
, a monthly glossy with feature articles on local events, culture, food, and home.
The local alternative weekly is
City Newspaper
, while
Post
is a bimonthly magazine with stories that seek out people around Rochester who are dreaming big and making things happen, usually under the radar.
(585)
is a bimonthly glossy magazine covering the entire Rochester region, a broader geographic focus than
Rochester Magazine
.
For business news, the
Rochester Business Journal
provides comprehensive weekly coverage, while
The Daily Record
is published every weekday.
Broadcast media
When a blizzard arrives, or other significant news hits, Rochesterians turn
en masse
to radio station
WHAM
, 1180 AM. George Eastman himself came up with the catchy call letters for Rochester's 50,000-watt clear-channel station. It remains the local gold standard for school closings and other emergency information. In calmer times, WHAM runs a lineup of syndicated and local conservative talk programs, including Rush Limbaugh from 1PM-4PM.
For the morning drive-time, locals who want some strong radio with their coffee turn to
WAIO
(95.1 FM), and listen to long-time radio personality
Brother Wease
, the outspoken, liberal host of one of the longest (and longest-running) morning shows in America. Some of Wease's former colleagues from his many years at
WCMF
(96.5 FM) are still on their morning show, known as the
Break Room
. Those looking for less intense morning fare go with the
WHAM Morning News
, or
Tony Infantino
on
WRMM
, Warm 101.3 FM.
WGMC
, Jazz 90.1 FM, is one of the last remaining full-time jazz stations in the country, although on the weekends they mix in some ethnic flavor.
For specific genres of radio:
National Public Radio: WXXI 1370 AM
Classical: WXXI 91.5 FM
Jazz: WGMC 90.1 FM, WJZR 105.9 FM
Country: WBEE 92.5 FM, WNBL 107.3 FM
Easy listening: WRMM 101.3 FM
Oldies: WLGZ 102.7 FM
Classic rock: WAIO 95.1 FM, WCMF 96.5 FM
Modern rock: WZNE 94.1 FM, WBER 90.5 FM
Top 40: WPXY 97.9 FM, WKGS 106.7 FM
Urban: WDKX 103.9 FM
College: WITR 89.7, WRUR 88.5 FM
Libraries
Libraries are your best bet for public Internet access, unless you can find a Wi-Fi hot spot elsewhere. Fortunately, the city and its suburbs have an excellent network of libraries, the
Monroe County Library System
. There are a total of eleven library branches in the city, and more than twenty in the suburbs. If you want to check out any materials, there's a $30 annual membership fee for non-residents of the county.
Central Library of Rochester and Monroe County

phone: +1 585 428-7300

address: 115 South Ave

This is the main library for the county, and the biggest of the branches. It's split between two buildings on opposite sides of South Ave; there's a tunnel connecting them.
Places of worship
Rochester has many places of worship of different religions and denominations. The Interfaith Chapel at the University of Rochester sits on the banks of the Genesee River; it houses services of different religions and denominations. There are many others to be sure in Rochester as well as surrounding towns and suburbs
Here are a few of the many worship places within the Christian Community; If you're looking for a lively Protestant church in the heart of downtown, Bethel Community Fellowship on 321 East Avenue and Broad Street which seats a good number of worshipers.
New Song Church, which meets in an auditorium at Monroe Community College because it lacks a building of its own, offers a very modern and youth-oriented service. Both of these churches are popular with college students.
A bit down the street from Bethel, you'll find a more traditional service at Asbury First United Methodist Church (1050 East Ave.), recognized for wonderful formal music.
Speaking of music, Pearce Memorial Church features many musicians from the Roberts Wesleyan College community. Take 490 way out west to the North Chili exit, and follow the signs right for Roberts Wesleyan.
Tucked almost in the heart of downtown, Lutheran Church of the Incarnate Word is a cozy place 597 East Avenue. Walk across the street afterward for lunch at the Spot.
Also downdown, next door to the Geva Theatre is St. Mary's Catholic church. This church has beautiful architecture to behold. Across the street is the Universalist church which also is interesting to visit. A popular Catholic Church, St. Pius X, is at 3000 Chili Avenue, which is the western continuation of Main street (take the expressway to avoid lights; it's between the airport exit and Chili Center).St. Stanislaus on Hudson Avenue preserves Polish culture and European architecture.
A few miles west of downtown, visible from 490, is an exhuberant Spanish congregation: Iglesia La Luz Del Mundo, 200 Child Street
Also within the Christian community are two messianic congregations: Petah Tikvah on Doncaster and Shema Yisrael. If you follow 590 North up to the Webster exit, turn right at the first street. Shema Yisrael is on 1326 North Winton Rd.
Other houses of Christian worship include Baptist, and Christian Science.
Within the Jewish community there are more than a dozen welcoming synagogues and communal services available within a few miles of downtown.
If your hotel is in Henrietta, check out Temple Beth Am, a Conservative congregation on 3249 E. Henrietta Rd which has interesting modern architecture.
The largest Conservative synagogue is Temple Beth El on South Winton Road.
The largest Reform synagogue is Temple B'rith Kodesh on 2131 Elmwood Avenue in the Town of Brighton which is adjacent to Rochester and minutes from downtown. It too has very interesting design.
Temple Sinai is a Reform congregation on Penfield Rd. also a hop and a skip on East Avenue from downtown. It has a beautiful sanctuary with a wall of glass looking out to the natural beauty outside.
Beth Sholom, Rochester's largest modern Orthodox and Zionist synagogue, is at 1161 Monroe Avenue, near downtown.
Light of Israel, Rochester's only Sephardic minyan, in Beth Sholom at 1161 Monroe Avenue, welcomes all. It preserves the distinctive beauty of ancient mizrachi (mideast) worship.
Chabad 1037 S. Winton Rd is in the heart of Brighton at 12 Corners and has branches at the University of Rochester and in Pittsford.
Other synagogues are: Congregation Etz Chaim (reform) in Fairport, about 15 minutes from downtown, Beth Hamedresh-Beth Israel (Conservative), on East Avenue, Temple Beth David (Conservative); Beth Hakneses Hachodosh (Orthodox), Temple Emanuel (Reform) and there are others.
The Jewish community is also served by Kosher food restaurants: Abba's Pizza, in Chabad, Geula's Cafe at the Jewish Community Center (1200 Edgewood Avenue), the Jewish Home (2021 Winton Rd S), Malek's Kosher Bakery (1795 Monroe Avenue), Lipman's Kosher Market (1482 Monroe Avenue) and several grocery stores such as Wegmans on Monroe Avenue and Tops on Clinton Avenue.
Beth Hatvilla, the mivkvah, is off Monroe on St. Regis. For more information on Jewish Rochester, contact the Jewish Community Center, Jewish Federation or Jewish Bureau of Education.
There are also Hindu, Muslim and Bahai communities in Rochester.
Go next
First and foremost, you'll want to check out the many attractions in Rochester's immediate suburbs, especially the canal communities of
Fairport
and
Pittsford
on the east side and
Brockport
and
Spencerport
to the west. There's also much to be seen in suburbs such as
East Rochester
and
Victor
.
Rochester is also the perfect jumping-off point for forays into the incredible
Finger Lakes
region of New York. Several destinations in that region stand out:
Canandaigua — only a little over half an hour from Rochester by car, this small city offers excellent lake-front activities, a nice small water park, and the beautiful Sonnenberg Gardens
Letchworth State Park — "The Grand Canyon of the East" features a second set of three waterfalls on the Genesee, mirroring Rochester's trio; the Mount Morris Dam is also a sight to see
Seneca Falls — a cradle of the women's rights movement, this village houses the Women's Rights National Historical Park and is a great place to visit after seeing Susan B. Anthony's home in Rochester
Only about 90 minutes away from Rochester is one of the world's greatest natural attractions, the spectacular
Niagara Falls
; if you've never been, you owe it to yourself to take this easy day trip. You could also swing by
Buffalo
, the state's second-largest city and home to historic architecture, major league sports, and plenty of Buffalo wings. To the east,
Syracuse
is also 90 minutes away.
For onward travel,
New York City
and the scenic
Adirondack
mountains are both a six hour car trip to the east. Cosmopolitan
Toronto
, Ontario, Canada, is even closer by and can be reached by a three hour drive around Lake Ontario.