Santiniketan
Santiniketan
is a city in
Birbhum district
of
West Bengal
. It forms one urban agglomeration with Bolpur.
Understand

The town is home to Visva Bharati, founded by Rabindranath Tagore in 1921. Visva Bharati was declared a central university in 1951. It has produced such diverse personalities as Indira Gandhi and Amartya Sen and has been home to great artists and musicians. Around 1.2 million visitors visit Santiniketan annually.

Get in
By plane
Nearest airport from Santiniketan is the Andal (Durgapur) airport. But a few flights are present in this airport.
Netaji Subhas Airport(Kolkata) is the nearest airport to get in Santiniketan smoothly.
Cabs are available from the airport to Santiniketan. (169 km approx.)
You can also use trains from Sealdah and Howrah stations.
By train
Bolpur is the railway station for Santiniketan. It is two to three hours by train from
Kolkata
. Convenient connections are 13017/13018
Gana Devta Express
departing Howrah at 06:05, 3015/3016
Shantiniketan Express
departing Howrah at 10:05 (this is the only train which originates/terminates in Howrah and Bolpur, so one has a better chance of finding seats on this train rather than the other trains if one buys unreserved tickets. If you are buying reserved tickets, then it won't make a difference), 2347/2348
Sahid Rampurhat Express
departing Howrah at 12 noon (and taking only 2 hours 20 min - the shortest time ), 3011/3012
Malda Inter-city Express
departing Howrah at 15:25, 5657/5658
Kanchenjunga Express
departing Sealdah at 06:45, 2345/2346
Saraighat Express
, 215/216
Visvabharati Fast Passenger
, 3071/3072
Jamalpur Express
, 209/210
Darbhanga Passenger
are other good trains.
For schedules check with
Indian Railways
.
If you are female and taking the train, look for designated "Ladies Cars" to enjoy a more comfortable and hopefully less crowded ride. If you are travelling with significant amounts of baggage, be aware that even in reserved cars you may struggle for space, and hiring a car may be a better alternative to reach Santiniketan.
By bus
Santiniketan is well connected by buses from all around. From Kolkata, if you want to go by bus, then you have to take Kolkata-Asansol bus or Kolkata-Suri bus. For Asansol bound bus you have to get down near Panagarh and for Suri bound bus you have to get down near Ilambazar and for both cases you have to catch another bus for Santiniketan.
By car
Santiniketan is connected with Kolkata by an excellent 4-lane freeway. From Kolkata travel to Dankuni and take the Durgapur Expressway. It is now part of NH 19. It will bypass Saktigarh, Bardhaman and Panagarh. At Panagarh (Darjeeling Mor) turn right. After the highway crosses the Ajay river take the road to the right at Ilambazar and proceed towards Bolpur. At the Santiniketan-Sriniketan junction (also called Surul Mor) take the road to the left. Santiniketan is 212 km from Kolkata by road. Good drivers can cover the distance in about 3 hours. Coming from the direction of Kolkata, one can also take the NH-2B route via Talit-Guskara-Bhedia-Surul Mor by taking a right turn from the Durgapur Expressway just after crossing Burdwan Town on the right (where the Renaissance Township is on the left) and taking this route via Nababhat Mor. It saves time and the distance is less from the above route by about 50 km.
Get around
Totos are the most convenient and cheap means of transportation these days. The older Cyclerickshaws are still available and can be availed, though it would cost more. Hired cars and taxis are not always readily available. If you are a tourist, don't get on the cycle rickshaws in front of the museum that are manned by the persistent teenagers as they will take you on a farcical circulatory routes to make you spend more. Choose the older guys. Or just walk round the town. See map of Visva Bharati complex online .
If you are planning an extended stay, it may be worth your while to purchase a bicycle from one of the many local cycle shops. A brand new bicycle costs ₹3,200-₹3,600.
Landmarks
Bolpur railway stationMain railway station for Santiketan

Bolpur Bus Station

Surul MorhThose coming by road from Darjeeling Morh, Panagarh (on NH 19/ Grand Trunk Road) have to turn left here for Santiniketan.Surul Rajbari & terracotta temples are 5 minutes walk from the crossing.

Kopai river

Prantik railway station
See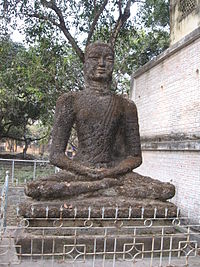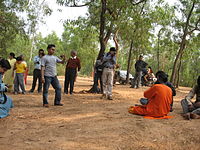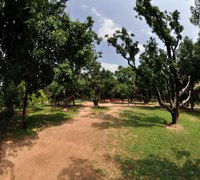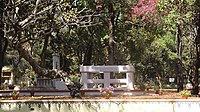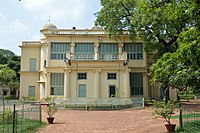 Rabindra Bhaban MuseumThe museum hall is called Bichitra. Constructed in Tagore's birth centenary year 1961. There are original manuscripts, letters, documents, medals (including Nobel Prize medallion), plaques, certificates, paintings, photographs etc. The five houses used by Tagore during his life named Udayan, Konark, Shyamali, Punascha and Udichi. No photography in Rabindra Bhavana and Uttarayan complex.

ChhatimtalaPrayer place (under the "Chhatim" tree) of Maharshi Devendranath Tagore

Brahmo MandirUpasana Griha, constructed in 1891

Tagore's ashramaOne has to walk through the area. Guides are generally available outside Uttarayan Complex/Rabindra Bhaban, otherwise one has to follow the crowd. The first building in the area was a guest house built in 1863 by Maharshi Devendranath Tagore, father of Rabindranath Tagore. It was named Santiniketan and thereafter the entire place acquired that name. Hermitage created with a Trust Deed in 1888 by Maharshi Devendranath Tagore. The area has several buildings associated with the Tagores - Santiniketan building, Nutan Bari, Dehali etc. School classes and major functions are held in the Amra Kunja (mango grove). Some of the Visva Bharati institutions are also located here. Tourists are not allowed to stray into areas where outdoor classes are held as they disturb studies. Some distance away on the eastern side is a small hillock with a large banyan tree. It was a favourite of Maharshi Devendranath Tagore.
Look out for sculptures and frescoes of Nandalal Bose, Ramkinkar Baij and Binode Bihari Mukherjee, particularly around Kala Bhavana.

Kalo BariProfusely decorated

Prakriti BhavanLocated in the Ballavpur area of Santiniketan, Birbhum, West Bengal. It is India's one and only Nature Art museum with an impressive indoor display of natural sculptures in driftwood, dry wood and a sprawling open air garden of natural rock sculptures. Set in the most picturesque part of Santiniketan it is an aesthetic manifestation of the legacy of Tagore's Santiniketan in linking man with nature through Art, music and poetry

Shilpa GramShilpa Gram is close to the Ballavpur deer sanctuary. It is designed very nicely and showcases tranditional handicrafts of eastern region (including Bihar, Assam, Orissa, Manipur, Andaman, Jharkhand etc). Each state is represented by a traditional house which has collection of paintings, articrafts etc. The place is maintained neatly and has good collection of cultural elements.

Ballavpur Wildlife SanctuaryIt includes a Deer Park
Visva Bharati
Visitors are not allowed to loiter around educational centres during working hours as these disturb the classes being held
Cheena BhavanaChina study centre

Hindi BhavanaHindi study centre

Nippon BhavanaJapan study centre

Bangladesh BhavanaWell-deigned new addition with auditorium

Kala BhavanaCollege of fine arts and crafts, has a museum exhibiting sculptures, frescoes and murals and a library of art books

Patha BhavanaSecondary school, is of particular interest, being an example of the traditional Brahmacharya Ashram

Sangeet BhavanaCollege of music and dance

Siksha BhavanCollege of science

Vidya BhavanCollege of humanities

Vinaya BhavanTeacher's training college

Sriniketan CampusVisiting hours, Winter: 14:00-16:30 hours. Summer: 14:30-17:30. During holidays: 07:30-11:00
Do
Fairs and festivals
BriksharopanaPlanting of saplings and Halakarshana ploughing of the fields on 22nd and 23rd Sravana (August).

MaghotsavAnniversary of Brahmo Samaj celebrated on the 11th of Magha (25th January), with prayers and songs at Chhatimtala.

Poush MelaThe fair is held at Santiniketan from 7th-9th Poush (December 22/23-25). Tribal sports, folk songs and dances including songs by bauls, the itinerant singers, are a part of the fair and festivities. Some sort of "bhanga mela" or broken fair, with some shops, continue till the end of December. (Accommodation is heavily booked during this period. Anybody wanting to visit during this period will need to plan ahead for hotel bookings.)

Rabindra JayantiAlthough the birth anniversary of Rabindranath falls on 25th Baisakh (May 8/9), the anniversary as well as the Bengali New Year (Nabo Barsho) is celebrated on the first day of the Bengali New Year (Poila Baisakh) in mid-April with songs, dances, and recitations by the students.

VarshamangalFestival of rains during August/September. Tagore was a poet of nature and some of his finest creations were about the rains.

Vasanta UtsavHeld to celebrate Holi (March). The students dance and sing their ways through Amrakunja, followed by open-air variety programmes. (Accommodation is heavily booked during this period. Anybody wanting to visit during his period will have to plan ahead.)
Learn
Buy
HandicraftsBatik prints, leather craft. A favourable time for shopping is during the "Pous Mela". The unique style of embroidery associated with Santiniketan is known as 'kantha stitch'. 'Sudha Karu Shilpa' in Andrews Palii, Santinikeatn, 'Amar Kutir' in Sriniketan, and 'Basundhara' in Sonajhuripalli offer quality kantha stitchwork in the form of Sarees, Dupattas etc. throughout the year. Other handicrafts like dokra (artistic brassware from nearby Dariapur), leather bags, bamboo toys and locally handwoven cotton are also worth a look.

Rabindranath, Santiniketan, Sriniketan (book) by Tapan Kumar BasakAvailable locally

Amar KutirMany handicrafts like cloth, leather, batiks, hand-loomed fabrics and similar available.

Saturday Market

address: Sonajhuri

It starts from around 15:00 and goes on till about 17:30-18:00 only on Saturdays and is worth visiting. Variety of items available, including local handicrafts. Baul programmes organised
Eat
Budget
phone: +91 9932486906 03463253278

address: Chandi Das Road , Bolpur

Indian, Chinese, Tandoori food specialist, no alcohol. Distance from Railway Station 4 minutes.

phone: +91 9434132416

address: Bolpur-Santiniketan Rd

This restaurant, near Jambuni Bus stand opposite to Gitanjali Prekhagriha, is very good, both in terms of food quality and quantity. Look for "morabba", a Siuri speciality (type of sweet meat).
Drink

Santiniketan and the surrounding areas offer a few bottle shops for wine and liquor purchases. A few restaurants have permits to serve beer (Kharimati restaurant, Park Hotel restaurant) and one local bar with a liquor licence is the Moon Bar at the new Kharimati Hotel. During tribal festivals, the Santals enjoy rice beer which is served warm, is quite tasty and has a low alcohol content.

Sleep
Mid-range
phone: +91 3463 262043, +91 33 2334 4069, +91 3463 2321 9688, +91 9007030199

address: Prantik

phone: +91 34 6325 2692, +91 34 6325 5015

address: 241 Charupalli, Jamboni

Reservation from Kolkata: +91 33 99 0357 0921 Ilaco House, 3/1 Brabourne Road, Kolkata

phone: +91 90 0798 2002, +91 97 4810 2002

address: Bhubandanga

40 A/C rooms with attached attached western toilets with Hot & Cold water,cableTV in rooms, WIFI, Telephone, Room service & House-keeping facilities. Multi-cuisine restaurant has continental, Indian & Chinese options, car parking, IDD telephones and , Landscaped garden along with a children's play area, banquet/conference facilities, Live cultural shows can be arranged (fee). 24 Hrs Secuity and off-street parking.

phone: +91 94 3400 7777

address: Sriniketan Rd

3 star property spread over 5 acres with swimming pool, fishing pond, games room, children's park, multicusine restaurant, banquet halls, conference halls, 32 cottage style A/C rooms with running hot/cold water.

phone: +91 9903392484

address: Ruppur, Bolpur

Raktokorobi Karugram is located in the ethnic surroundings of the picturesque village of Ruppur and is just 10 km from Bolpur Railway Station. There are a total of 9 AC duplex huts, all designed in a traditional way, so that visitors can feel at one with the natural space around them and to promote local artistry. The duplex huts have been created using mud, and wall murals have been painted by various tribal artists. Each cottage has a living room, a bedroom, a change room, a bathroom, an open terrace. The multicuisine restaurant serves quality Indian and Chinese dishes. Parking and driver's accommodation free.

Rater Tara Diner Rabi Guest House

phone: +91 98 3004 8007, +91 94 3301 4277

address: Tinni House, Phul Danga, Taltor Rd, Behind PHE Bunglow

A double storied garden guesthouse having AC rooms, CTV, Refrigerator, attached western toilets with hot water, fan etc. All rooms & toilets are well maintained & linens are cleaned. Separate driver accommodation is available on nominal charges, car parking is free.

phone: +91 3463-252398, +91 9732100920

address: Bolpur

Sonajhuri Homestay

phone: +91 9830011715

address: Sonajuhri Forest
Budget
Bolpur Lodge

phone: +91 3463 252662, +91 3463 252737

address: Bhubandanga

phone: +91 9903398059

address: Adjacent to Mela Math

American breakfast included. Well maintained. 24 hr cold water available and fridge.

phone: +91 9333510012, +91 9332083644

phone: +91 9748445544

address: Purbapally, Shantiniketan, Bolpur

Hospitable family home with modern facilities.

Manashi Lodge

phone: +91 3463 254200

phone: +91 3463 226286

Rangamati Tourist Lodge

phone: +91 3463-252305

address: Bolpur Rd

Maharshi Niwas

phone: +91 3463-202821

address: Ballavpurdanga, Bolpur

10 AC double-bedded cottages

Hotel Sathi

address: Bhubandanga, Bolpur
Go next