Vermont
Vermont
is in the
New England
region of the
United States
. The Green Mountain State is known for its beautiful fall foliage and its maple syrup. It is a popular destination for hiking and skiing.
Cities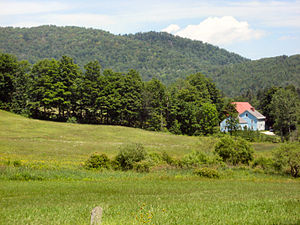 — capital of Vermont
— famous for the Bennington Battle Memorial, a 300' Washington Monument lookalike
— artsy college town looking for a college
— Vermont's largest city and thriving college town
— the crossroads of Vermont
— upscale outlet shopping destination
— refined college town
— built by the marble industry, sustained by visitors to Killington Resort
— the "Aspen of the East," Vermont's most famous ski town.
Other destinations
– Vermont's second tallest mountain, the East's largest ski resort.
– Picturesque islands in the middle of Lake Champlain
, Woodstock — Preserves a nineteenth century managed forest and dairy farm.
(USFS), Green Mountains
(USFS), Green Mountains
Understand
Orientation
Vermont is the second smallest state in terms of population (it has 626,431 residents) and the sixth smallest in geographic area. Lake Champlain, the nation's sixth-largest freshwater body lies at the northwest border with
New York State
and
Canada
. The state is split east-west by the
Green Mountains
, which are popular for recreational activities. The eastern border with
New Hampshire
is defined by the Connecticut River. Vermont is the only landlocked state in New England which leads to its often being short-changed in guides to the region. Its highest point is Mount Mansfield at 4,393 ft, and its lowest point is Lake Champlain, at 95 feet.
The state is extremely rural, its valleys littered with farms. Its largest city is Burlington, pop. 42,417. Among the state's major exports are cheese, maple syrup, marble, slate, and granite. Tourism is also a very large industry in Vermont, as skiers travel from Boston, New York, Canada, and elsewhere to ski resorts up and down the
Green Mountain
spine during the winter. In summer, the many bed and breakfasts fill up with couples and families wanting to visit the state's small towns and wild areas. Vermont's autumn foliage is known for being the most spectacular in the country, and possibly the world. It occurs quite early usually mid-September to mid-October. The only time that the visitor might try to plan around is "Mud Season" (March-April), when unpaved ground becomes undriveable during the thaw. Even Mud Season has its charms, though.
History
Vermont was the 14th state admitted to the United States. It was not among the original 13 colonies because of a border dispute between New Hampshire and New York which was originally resolved in New York's favor. Vermont residents, led by Ethan Allen and his Green Mountain Boys, fought New York's land claims tooth and nail until declaring independence and soon thereafter being admitted to the union.
Vermont attracted settlers during the early nineteenth century, but population remained stagnant as flatter land to the West grew in favor. Significantly deforested by upland sheep farming during the 1800s, the forest has regrown (now covering 80% of the state) since dairy became the predominant form of agriculture.
Vermont's urban areas have always been minuscule compared to the Northeast; the rural state, once seen as the most conservative in the nation, is now considered politically independent, progressive and protective of its environment and rural character.
Natural History
The
Appalachian Mountains
that enfold Vermont were most likely created during the Taconic Orogeny, when the North American plate collided with the African plate approximately 550 to 440 million years ago. The mountains have subsequently been eroded by ice, water, and wind, such that they are rather humble in their current state (they are suspected of having reached the heights of the
Himalayas
). Today Vermont is home to many wild habitats and their constituent flora and fauna, including northern deciduous forests, coniferous forests, wetlands, farmlands, powerline greenways, and patches of tundra (most notably on Mount Mansfield). Notable fauna include the black bear, moose, and the pileated woodpecker.
Organization
Vermont is like the rest of New England in that town governments fulfill many of the same functions as cities. The distinction can sometimes be confusing for visitors.
Barre
, for instance might tout itself as the fourth largest city in Vermont. However if all cities and towns are considered together, Barre wouldn't even make the top ten. Some of the largest and most interesting places in Vermont such as
Bennington
and
Brattleboro
are actually towns.
Talk
The Vermont dialect uses broad "a" and "e" sounds for vowels. Also, words that end with "r" get an "uh" sound, and one-syllable words are turned into two syllables. Here are some examples of Vermont speak: that is "tha-at", there would sound like "they-uh" and idea is "oi-dea". If you are not a native Vermonter, you will likely be called a "flatlander". Visitors to Vermont may also be called a "white plater," a reference to the state's green license plates compared with the white license plates of surrounding states. Native Vermonters are also known as "woodchucks." In most of the state, it's unlikely you will come across someone with a strong Vermont accent except for seniors, but it is still possible in the Northeast Kingdom.
A dialect of
French
that's similar to Quebecois French is spoken as a native language in some areas near the Canadian border.
Get in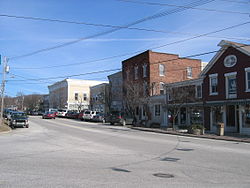 By plane
By train
Two
Amtrak
routes serves Vermont. There are no trains from
Canada
to the state, but during summer the
Adirondack
train between
Montreal
and New York calls at Port Kent, a short ferry ride from Burlington. Off-season, the nearest stop on this route is in
Plattsburgh
.
Ethan Allen Express, with daily service between New York and Rutland.
Vermonter, with daily service between Washington, D.C., New York and St. Albans. There are eight additional stops in Vermont on this route, Brattleboro, Bellows Falls, Windsor, White River Junction, Randolph, Montpelier, Waterbury and Essex Junction (for Burlington).
By car
Driving access to Vermont is Interstate 91 that runs north-south and Interstate 89 that runs northwest-southeast.
By bus
Greyhound. Service from Boston, MA, Albany, NY and Montreal, Canada as well as various other New England locations.
Megabus. Service to Burlington from Boston and New York City.
Bonanza, +1-888-751-8800. Service from New York to Bennington, Vermont.
Adventure East, +1 718 601-4707. Service from Manhattan to Vermont ski resorts.
Dartmouth Coach, +1-800-637-0123. Service to Hanover, NH (convenient to White River Junction, VT) from Boston South Station and Boston/Logan Airport.
By boat
Ferry service is available from three locations in Vermont that provides access to New York across Lake Champlain from Burlington,VT to Port Kent, NY, Grand Isle, VT to Plattsburgh, NY and Charlotte, VT to Essex, NY.
Get around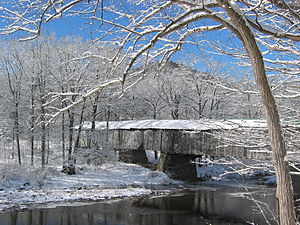 You will need a car to reach most places in Vermont. Public transportation can be used in Northwest Vermont using CCTA and its commuter services. From Burlington you can reach Montpelier, Waterbury, St. Albans, Middlebury, Vergennes, and Bristol. Greyhound and Amtrak could be used to travel between some of the larger towns in the state, however service is infrequent and very slow compared with driving.
See
As a predominantly rural state, most of Vermont's sightseeing opportunities are of natural origin. Most of the terrain consists of mountains and valleys so scenic views are around every corner. The Champlain Valley is by far the largest and you can find some pretty flat agricultural areas here. Many people drive up to Vermont from points south to view the fall foliage.
Vermont is an excellent place for fans of wildlife photography. Moose can be found all over the state, but are easiest to find in the wetlands of the
Northeast Kingdom
. Canada geese are another draw. Large flocks often rest in fields around the state on their way south. The most famous viewing opportunity can be found in Addison where thousands of Canada geese gather all at once.
Vermont's cities, towns, and villages are also a scenic attraction in their own right. The state was a part of the original 13 colonies (although whether New Hampshire or New York owned it was up for debate) and is home to some of the oldest buildings in the country. Federalist architecture can be found around much of the state, but particularly in
Bennington
. Most of the small towns will have a charming town common surrounded by 200 year old churches and town halls. Covered bridges are another man-made attraction and can be found concentrated in the Upper Valley of the Connecticut River.
Vermont is dotted with art galleries and museums. The largest concentrations can be found in
Burlington
and
Brattleboro
. South of Burlington, you will find the
Shelburne Museum
, the largest collection of Americana in the country.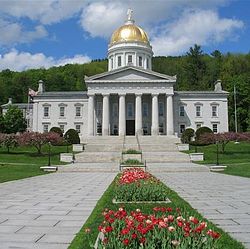 Vermont State House

address: 115 State St

Montpelier. This golden-domed building is the most notable in the capital and is the meeting-place of the Vermont Legislature. The building is open to the public.
Burlington Waterfront and Church Street, Burlington. This charming pedestrian and waterfront area along Lake Champlain is home to galleries, shops, and restaurants where you can find live music, an excellent sampling of local micro-brews, and great people-watching. Home to what may be Vermont's only "urban" nightlife.
Fall foliage During September and October, Vermont's wooded mountains burst into fiery color. Hotels, restaurants, and roads fill quickly during this season, so make reservations early. Columbus Day weekend is usually the most crowded. The small geographical size and rural character of the state make it easy to view foliage from almost any location. Bus and bicycle tours will often guide tourists to the best foliage-viewing areas. Several ski resorts in the region offer foliage-viewing ski-lift rides to mountaintop overlooks. Foliage season begins in mid to late September, with color increasing day by day until "peak" around the first or second week of October. During peak, most deciduous trees will display some color change. Maples will blaze orange and red; birches, ash, and aspen will glow yellow; and oaks will turn a warm purplish-brown. After peak, the leaves drop and color quickly fades from the hillsides over the next week or so. Foliage change is partially triggered by cold, so "peak" will arrive sooner in the north of the state and at higher elevations, moving south and down during the season. Bring warm clothing and an umbrella, as the New England weather can be unpredictable.
Manchester Center is a town in southern Vermont, nestled at the foot of 3,816-foot Mount Equinox. It's a shopper's paradise that is completely different from the village with its signs, sights and many shops. Manchester is also home to Hildene, Robert Todd Lincoln's 412-acre summer estate
Vermont Toy & Train Museum, Quechee Gorge Village, Quechee. This wonderful collection of more than 100,000 toys is the result of one man's dream.
Do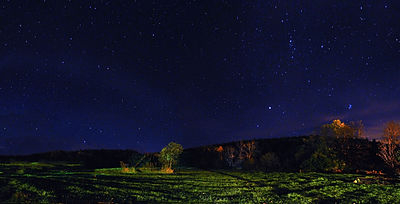 Outdoor activities abound in the Green Mountain State. Excellent hiking can be found along the spine of the Green Mountains in the center of the state. Smaller mountains to the east or west of the main range also offer good hiking opportunities.
Camping is another popular activity. Campsites can be found in the numerous state parks and more rustic sites can be found along some of the popular hiking trails.
Vermont is home to many lakes, the largest being Lake Champlain. Boating, swimming, kayaking, and fishing are all popular lake activities. In the winter, you can try your hand at ice fishing or take a high speed snowmobile ride across the ice. Be sure to check the thickness of the ice beforehand.
Skiing and mountain activities
This is what brings most visitors to Vermont. The state's ski areas range from small family operations with a single lift to some of the largest resorts in the country. Vermont is home to the most popular ski resorts in the Northeast.
Stargazing
As a rural state with little light pollution, Vermont is also a great place to watch the night sky. Particularly in the winter, there is also a chance of seeing the Northern Lights, though you shouldn't expect them every night.
Eat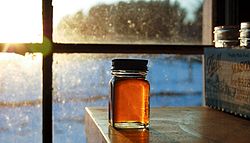 Maple syrup
products and
cheddar cheeses
are the foods for which Vermont is most famous.
Creamees:
Basically soft serve ice cream. Try a maple one.
Sugar on Snow:
Maple syrup poured on chunks of snow so it forms a taffy like substance. Often served with a pickle.
Ben & Jerry's:
The world famous ice cream maker is based in Waterbury.
Vermonter sandwich:
Many delis will serve a sandwich called a Vermonter, usually consisting of maple ham, sharp cheddar, lettuce, tomato, and hot honey mustard.
Michigans:
A hot dog topped with a slightly spicy meat sauce, onions, and mustard.
There are many outstanding restaurants throughout Vermont that use local produce. Burlington, the largest population center in the state, has the greatest variety of restaurants, but there are gems hidden even in the smallest towns, like Hardwick and Plainfield. Montpelier, the Route 100 corridor from the Mad River Valley through Stowe, and Manchester are other areas with high concentrations of quality restaurants. Vermont also offers a variety of ways to see the farm to table connection, from guided tours of the people and places behind the flavors of Vermont to on-farm lodging.
Drink
Microbreweries
Vermont is home to some very original and high quality breweries. When in the Green Mountain State, stop by for a tour or look for titles from some of these fine companies:
Vineyards and Wineries
Vermont is also home to a growing number of vineyards and wineries. Although the climate is very cold, winemakers have found ways to make quality wines with cold hardy grapes. Vineyards located in the Champlain Valley can take advantage of a slightly milder climate due to the presence of a large lake.
Boyden Valley Winery

phone: +1 802 644-8151

Lincoln Peak Vineyard

Snow Farm Vineyard
Cider
Vermont is home to a number of both regular and hard cider producers including Woodchuck, the largest hard cider producer in the U.S.
Stay safe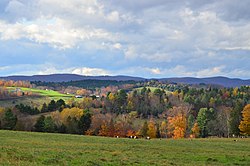 Vermont has one of the lowest crime rates of any state in the country. Outdoor hazards are much more common. Avoid wilderness areas during hunting seasons (November) when accidental shootings can occur. Always stay on marked ski trails while skiing. The areas around resorts may be trackless wilderness, and the cold is potentially deadly. Use good outdoor safety practices when hiking, boating, and biking.
Vermont does not require licenses for the open or concealed carry of handguns. Visitors to Vermont who wish to bring handguns to the state are advised to
avoid New York State entirely
. This advice is especially valid for air travelers, because Albany International Airport in New York serves travelers going to and from Vermont.
Go next