Chicago/Bridgeport-Chinatown
Bridgeport-Chinatown
is the South Side at its most dynamic, as the old South Side Irish neighborhood of the Daleys increasingly blends with the old Chinese immigrant community to the north. Enormous cathedrals now stand next to Buddhist temples, and Old Style washes down
lo mein
. If you are a visitor, though, you only need to keep in mind two things:
Chinese food
and
baseball
.
Understand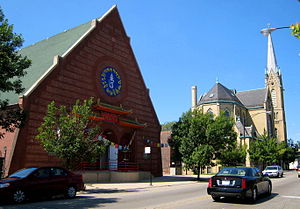 Chicago's
Chinatown
is pleasantly authentic. At the many restaurants in the area, local Chinese customers are joined by Chicagoans from all over the city "going Chinese" for the night. Chicago's Chinatown is the third largest in the United States, the Midwestern business center for Chinese-Americans, and home to large populations of Cantonese and Taiwanese. The main street, Wentworth Ave, is a great place for dining out and rummaging through eccentric stores, looking for gifts. Guaranteed Rate Field, better known as Comiskey Park, is several blocks south of Chinatown and is home to the South Side's favorite baseball team, the Chicago White Sox.
Bridgeport
is a large Irish-American enclave that has produced some of Chicago's most famous South Side Irish, such as Finley Peter Dunne and the two mayors Daley. Being the birthplace of the city's power brokers has been good to Bridgeport. The first Daley remembered playing in the streets as a child, dodging fetid puddles filled with carcasses from the local slaughterhouses. The Daleys in many ways fitted the mould of the stereotypical Chicago politician, being known for their corruption and ties to organized crime during their terms in office. Bungalows and other single-family homes are more the norm these days. Bridgeport is now seeing a large influx of Mexican immigrants, which means more good food options are springing up left and right, and has even seen a wave of North Siders priced out of hip neighborhoods like
Wicker Park
and
Lincoln Park
. Notable recent immigrants are international acclaimed painters, the Zhou brothers, Da Huang and Shan Zuo, who purchased five large buildings along Morgan Street with the hopes to encourage more art and artists in Bridgeport. Regardless of what brings you to the neighborhood, it is full of gritty character (and characters) and is quite possibly haunted — Bridgeport is always an interesting place for a walk.
Get in
By train
The main L stations are on the CTA
Red Line
at Cermak-Chinatown and Sox-35th for visiting Chinatown and Guaranteed Rate Field respectively. Other options include Halsted and Ashland on the
Orange Line
, which are on the northern and western outskirts of Bridgeport, and 35-Bronzeville-IIT on the
Green Line
, which is a block and a half east of the Sox-35th station.
By bus
The main routes into Bridgeport-Chinatown from
the Loop
are #62, which runs the length of Archer Ave from State St, and the #24, which runs from Clark St to Wentworth Ave through the center of Chinatown and next to Guaranteed Rate Field. Route #8 is also useful, as it runs north-south along Halsted St, which runs through the
Near West Side
and
Near North
neighborhoods as well as the middle of Bridgeport.
By car
Parking is always plentiful in Bridgeport, and you can usually find spaces right by your destination, though you should check to make sure you're not on a permit parking only residential street. On game days, however, watch out — though no signs go up, you can be ticketed for parking in the neighborhood. Take the L instead to avoid the bad game day traffic and pricey parking lots. Chinatown is more crowded, but you should still have little trouble finding on-street metered parking around Cermak/Archer on weekdays or on off-hours.
The
Dan Ryan
and
Stevenson Expressway
cut across the east and north of the district. From the Dan Ryan, take either of the 31st or 35th Street exits; from the Stevenson, take the Cermak Avenue/Chinatown exit for Chinatown and the Damen Avenue exit via Archer or 35th Street for Bridgeport. The main city streets are Halsted Street (north-south), and 31st St, 35th St, and Pershing Rd (east-west).
Get around
The easiest way to get around Bridgeport by public transport is on the two main east-west bus routes #35 and #39, which run along 35th St and Pershing Rd, as well as the aforementioned #8 running north-south on Halsted St. Bus routes are not terribly convenient between the two neighborhoods, but #62 Archer does run along the north of Bridgeport from the Chinatown L stop, from which you can hop on the Halsted route. Chinatown itself is very compact and easily covered on foot.

See
You can cover Chinatown's sites easily in an hour or two on foot, but if you are interested in art, set aside some real time to explore the new Bridgeport galleries that fly under the popular radar, but are quite important to the contemporary art world in Chicago.
Chinatown
Chinatown Square

phone: +1-312-225-0088

address: 2100 S Wentworth Ave

This main square is a Chinatown landmark, with some pagoda-like structures as well as animal sculptures of the Chinese zodiac. Be sure to check out the Chinatown Mural — a mosaic of painted tiles depicting the migration of Chinese-Americans from China to, ultimately, Chicago's Chinatown. Ultimately, though, the reason to come here is to wander into the surrounding Chinatown Marketplace, full of narrow alleys packed with shops and restaurants, which occasionally threaten to transport you back to Taipei.

Chinese-American Museum of Chicago

phone: +1-312-949-1000

address: 238 W 23rd St

A museum with exhibits on Chinese-American culture, history, and the community's contributions to American society. Long closed due to a fire, the museum has finally reopened 25 September 2010.

Chinese American Veterans Memorial

address: 2169 S Archer Ave

A small memorial to Chicago Chinatown residents who served the United States in foreign wars.

Dr Sun Yat Sen Museum

phone: +1-312-842-5462

address: 2245 S Wentworth Ave

A one-room museum good for some Kuomintang nostalgia.

Nine Dragon WallA smaller semblance of the ancient glazed tile Nine Dragon Wall located in Beijing's Behai Park.

address: 300 W 19th St

A riverside park with a Chinese touch, including a riverside Chinese pavilion and a bamboo garden. On a clear day the park has nice southwest side views of the Chicago skyline. The park offers many summertime events from movie screenings to the very popular dragon boat races. Check the Chinatown Chamber of Commerce's website for details.

phone: +1-312-328-1188

address: 2214 S Wentworth Ave

A historical landmark building notable for its traditional Chinese architecture now houses a Christian community center.
Bridgeport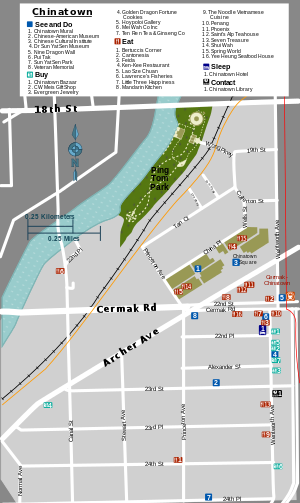 phone: +1-773-837-0145

address: 3219-21 S Morgan St

Bridgeport's (and possibly Chicago's) most radical and experimental artistic space is huge, full of artists and their art, and is an ever-expanding force in the neighborhood — they plan to host live music in the near future. A very interesting place to browse!

Daley Residence

address: 3536 S Lowe Ave

Life-long home of the famous, the infamous, Richard J. Daley, and the place where his sons, former Mayor Richard M. Daley and state congressman John P. Daley, grew up. There isn't much at all to be seen here aside from the nice prairie-style brick one story, and don't bother the current residents.

phone: +1-312-842-7979

address: 2859 S Throop St

Built in 1914 to house overflow from Saint Mary of Perpetual Help, in the so-called "Polish Cathedral Style." Dominates the Bridgeport skyline along with St Mary's.

phone: +1-773-927-6646

address: 1039 W 32nd St

Another massive, opulent church of the Polish Cathedral Style, built in 1882.

phone: +1-773-523-0200

address: 1029 W 35th St

A big arts center in the heart of Bridgeport hosting three contemporary painting galleries: Oskar Friedl, 33 Collective, and the Zhou Brothers Art Foundation, as well as the eerie abstracts and mixed-media experiments of 4Art. The Oskar Friedl Gallery in particular really warrants a visit as it is one of the city's better spots for avant-garde works. Check ahead to make sure the gallery that interests you is open. The whole huge place is open to wander around on the 3rd Friday of each month.
Do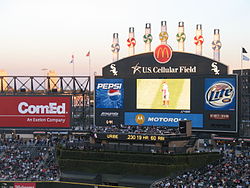 phone: +1-312-747-6012

address: 3309 S Shields Ave

A good place to play some baseball, soccer, volleyball, basketball, or take a dip in the pool. Occasional events include outdoor movie screenings.

Chicago Chinese Cultural Institute

phone: +1-312-842-1988

address: 2145 S China Pl, 2F

Offers an assortment of services and events, such as: neighborhood tours, film screenings, language instruction, and cooking classes.

Chinatown Summer FairA fun neighborhood festival, with a Lion Dance procession along Wentworth at 12:30PM, and performances starting at 1PM, 23rd & Wentworth.

Dragon Boat RaceDragon Boats along the South Branch of the Chicago River.

Sun Yat Sen Park

address: 251 West 24th Pl

A little out of the way, but a nice small park and a great place to relax in the shade on a hot summer day.

Guaranteed Rate FieldFormerly known as New Comiskey Park and later as U.S. Cellular Field, this is the home of the White Sox. The stadium itself was a notorious dud when it opened in 1991, but recent renovations have helped tremendously. If you just want to see a Chicago ball game and don't care who is playing, the stately charm of Wrigley Field might be the better option. But Sox tickets are easier to get, the fans are no less loyal, and the fireworks shows after Saturday night home games (win or lose) are worth the price of admission by themselves. For a nifty ballpark treat not offered at Wrigley, try the elotes, corn-off-the-cob with your choice of salt, butter, cheese, lime, and/or red pepper.
Buy
The Chinatown shops are very fun, especially for gifts, but if you tire of knicknacks and knockoffs, Bridgeport has a handful of very eccentric and interesting offerings.
Chinatown
Chinatown Bazaar

phone: +1-312-225-1088

address: 2221 S Wentworth Ave

An odd gift shop with just about anything you could expect to be at a "Chinatown bazaar." It has a particularly good collection of cloth posters.

C W Mei's Gift & Jewelry Co.

phone: +1-312-225-1933

address: 2241 S Wentworth Ave

Kung fu outfitters: swords, knives, outfits.

Evergreen Jewelry

phone: +1-312-808-0730

address: 2263 S Wentworth Ave

Just what the name would suggest, the store sells jewelry.

Golden Dragon Fortune Cookies

phone: +1-312-842-8199

address: 2323 S Archer Ave

Yes, the man who writes the fortunes is in this factory. Buy fortune cookies fresh out of the oven, or get them in bulk until you can't carry any more.

phone: +1-312-225-6477

address: 2235 S Wentworth Ave

Probably Chicago's strangest upscale boutique with all sorts of interesting artwork and furnishings for interior decorators and gift shoppers.

phone: +1-312-526-3744

address: 2223 S Wentworth Ave

Store that specializes in all kinds of K-Pop (Korean pop) music and merchandise with CD's, DVD's, shirts, mugs, posters and other types of merchandise. Lots of unique and interesting K-Pop stuff sold here.
Bridgeport
Augustine's Spiritual Boutique

phone: +1-773-843-1933

address: 3327 S Halsted St

A store full of everything spiritual: from a rosary and cross collection to occult tomes and voodoo powders. Knowledgeable and helpful staff. They occasionally offer classes in mysticism (call for current information).

phone: +1-312-927-1984

address: 600 W 35th St

A store with extensive inventory of sports memorabilia. A good place to pick up a reproduction Negro League jersey or rare baseball cards.

Let's Boogie

phone: +1-773-254-0139

address: 3321 S Halsted St

A big vinyl store specializing in dance music from house to hip hop. No used records around, only new. A popular shop with Chicago DJs.
Eat
Chinatown is a wonderful and popular place for foodies, with lots of options, great authentic food, and reasonable prices. The flip side is the curt "Chinatown service," but if you've got a good attitude about it, that merely adds to the authenticity. The two most acclaimed restaurants here are Ken Kee and Lao Sze Chuan, but there are plenty of less known gems to seek out as well. For dim sum, the great rivalry is between heavyweights Shui Wah, Little Three Happiness, and The Phoenix. One big thing to watch out for are the scores of inferior dishes on those long menus. Most restaurants specialize in a limited range of dishes, and you need to know which to get a good meal—order a specialty listed below, or ask the server what the specialties are (if he directs you to the Kung Pao, insist on an authentic recommendation).
Bridgeport is far further off the beaten foodie path, but it's a quirky neighborhood with some excellent options. Ed's Potstickers and Han 202 are in particular standout destination restaurants that really warrant a trip.

Budget
Chinatown
Bridgeport
Mid-range
Chinatown
Bridgeport
Splurge
Drink
As you might expect from such an Irish neighborhood, drinking is an established tradition in Bridgeport. If Chicago machine politics and general intrigue are your cup of tea, finish a tour of Bridgeport with a cold beer at the birthplace of many a corrupt scheme, Schaller's Pump. In Chinatown, some of the nicer sit-down restaurants serve alcohol, and the bar at nearby Bertucci's Corner is very pleasant. If you're up for a weirder Chinatown experience, head to the nameless, haunted, union man's bar at 26th and Wentworth.
For tea, you're in luck. In addition to dedicated teahouses, every sit down restaurant in Chinatown will serve you endless, free loose-leaf oolong tea with your meal. If you care more about the tea than the meal,
Mandarin Kitchen
's standard oolong is the finest.
Bernice & John's

phone: +1-312-907-1580

address: 3238 S Halsted St

A laid back and particularly friendly Bridgeport dive bar with Thursday open mic nights that have caught on well with local artists.

phone: +1-773-247-9950

address: 3101 S Morgan St

Starbucks doesn't exist in Bridgeport and in this coffeehouse, the staff knows their customers by name. Features original blends roasted in house and some excellent loose-leaf teas. Free wireless, live jazz on Sundays, and live blues on Wednesdays.

First Base

phone: +1-312-791-1239

address: 3201 S Normal Ave

A lively bar with some good Irish stout on tap. It gets raucous when the Sox are playing.

phone: +1-773-927-6073

address: 3356 S Halsted St

Lots of different kinds of beer, bowling, golf machines, and frequent live music.

Maria's Packaged Goods & Community Bar

phone: +1-773-890-0588

address: 960 W 31st St

Longtime Chicago scenester Ed Marszewski and his brother Mike have re-launched their mother's stalwart bar and liquor store as a community bar. Expect regular performances from 90s no-wave and post-rock bands, electronic artists and performance artists. Ed's connections to the art scene are broad and deep (he's thrown parties at venues ranging from warehouses to the MCA), so the entertainment should be good.

Schaller's Pump

phone: +1-773-376-6332

address: 3714 S Halsted St

This family-owned Irish-American bar is the oldest in the city — founded in 1881. The former speakeasy gets really crowded during and after Sox games, but it's always a good place to spot local power-brokers — it's just across the street from the Democratic Ward office. Regardless of whether you're here after a Sox game or you're just hatching political plots, you can enjoy a mighty fine corned beef and cabbage sandwich.
Sleep
If you want to get out of the touristy areas and get a real Chicago neighborhood experience, the three options below are excellent.
Chinatown Hotel

phone: +1-312-225-8888

address: 214 W 22nd Pl

Free wired internet and computers. One of the best budget options anywhere near downtown Chicago. And to top it off, its right by all sorts of delicious and cheap Chinese restaurants. But do remember that it is a budget spot — staff speaks limited English and accommodations are pretty spare (might remind backpackers of China travels).

phone: +1-773-927-7424

address: 3111 S Aberdeen St

Cozy spacious rooms within an urban Benedictine monastery. The price is way lower than what you would spend in a downtown hotel, but the accommodations actually blow those hotels out of the water (multiple rooms, private gardens!), and the monastery and the surrounding neighborhood have much more character. The monks are quite good cooks, and very quiet hosts — you won't even see them leave you a different breakfast each morning. Definitely make your reservations well in advance, as the two apartments often are booked solid as far as three months.

phone: +1-773-927-1122

address: 3322 S Morgan St

Run by the owner of the Polo Cafe, offering meeting space for 100 people, and suites for 4-6 visitors, the Bridgeport B&B is an unusual neighborhood B&B. One significant plus of staying here is enjoying the big gift certificates and discounts at the Polo Cafe downstairs.
Connect
The most pleasant spots to check your email have got to be the Bridgeport Coffeehouse, and Scoops. But for those without a laptop, there is also free internet access also at the following two public libraries:
phone: +1-312-747-8013

address: 2100 S Wentworth Ave

Free public internet access. Also, the library manages to be a bit of an attraction in and of itself for its indoor koi pond, China-related displays, and collection of books in Chinese.

Richard J Daley Public Library

phone: +1-312-747-8990

address: 3400 S Halsted St

WiFi in the house of "hizzoner."
Go next
Chicago's Southeast Asian Strip is located in Uptown around Argyle Street, at the CTA Red Line stop of the same name. It is a better bet for Thai, Vietnamese, Laotian, and other Southeast Asian regional cuisines. It is also far less touristed than Chinatown.
If you came here after reading Upton Sinclair's The Jungle and are feeling disappointed in the general lack of hog butchery, head due southwest to visit the few remaining monuments to the once vast Chicago meatpacking district, around the Union Stockyard gate in Chicago's Southwest Side.
For those in search of the perfect Irish pub in Chicago, you may have better luck in the Far Southwest Side.