Chicago/Lincoln Park-Old Town
For other places with the same name, see Lincoln Park (disambiguation).
In
Lincoln Park
, collegians mix with freshly-minted lawyers and barrel-chested brokers, all come to seek their good fortune in beer gardens on the north side of
Chicago
, a short walk from miles of beautiful parks and the fabulous
Lincoln Park Zoo
. Just south is
Old Town
, a striking collision of rich and poor, and home of Chicago's two most celebrated theaters,
Steppenwolf
and
Second City
.
Understand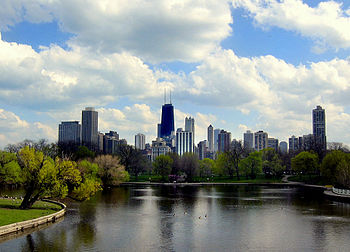 The flames of the Great Chicago Fire of 1871 lapped at the borders of Lincoln Park, and burned no further than Fullerton Avenue. It was, then, a small community of Polish and German settlers near the northern boundaries of the city, named Lake Park for the swamplands (and cemeteries) that were drained by the lake, and renamed Lincoln Park for the slain president in 1865.
Back to that fire, though: refugees poured into the neighborhood for safety, and with their former homes in ashes, plenty of them decided to stay. Lots were sold to "worthy families," and it suddenly became a very fashionable place to live. With the arrival of the elevated train, a construction frenzy began. In fact, an estimated 60% of the buildings that stand in Lincoln Park date from the three decades after the fire. Cultural institutions emerged to match: for example, with the $10 purchase of a bear cub, the
Lincoln Park Zoo
opened to visitors in 1874, and
DePaul University
evolved from a small religious college to the center of life for the neighborhood, with strong academic and sports programs throughout much of the twentieth century. (Long-time basketball coach Ray Meyer introduced the concept of the skilled seven-footer to the sport when he recruited George Mikan in the 1940s.)
The area now known as Old Town was not so lucky in the Fire, but was spared the extensive damage of the city center. Today, its pre-fire history can be seen in the winding layout of the streets in the Old Town Triangle Historic District, and can be heard in the bells of
St. Michael's Church
, one of the few structures to stand in the path of the fire and survive. The neighborhood was hit hard by the urban flight of the 1950s, and many of those classic structures were converted into boarding houses that became affordable for beatniks: artists, folk musicians, actors, and others moved in and made Old Town into the counterculture capital of Chicago for the next two decades. Miles, Janis, Dylan, and Seeger played in and outside of the clubs in Old Town. It was where teens from staid neighborhoods (like Lincoln Park) came to feel the edge. Guitars! Long hair! Loitering! Old Town had it all.
Into this environment came the city's greatest comedic force, a group of ex-pats from
Hyde Park
who named their new theater
The Second City
, and reinvented American comedy. Years later, a similarly talented band of college actors arrived to establish
Steppenwolf
, who set the tone for the next two decades of dramatic theater.
The shocking violence of the 1968 Democratic Convention spelled the end of the hippie era in Old Town. Soon, property values were on the rise, and only the more financially successful countercultural outlets could stay in business. Today, you'll find a historic district and the new
Chicago History Museum
to guide you around, and you can split an amazing night at the theater with one of the trendy restaurants nearby. Old Town is divided, though: crumbling buildings sit on one side of North Avenue without ever much affecting a trip to Steppenwolf on the other side. Old Town is a neighborhood that knows the contradictions within its boundaries, and lives with them.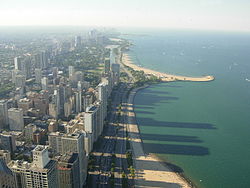 Lincoln Park, on the other hand, is oblivious. Most of the North Side wouldn't live in Lincoln Park if you paid them to do it, and most of Lincoln Park would refuse to live anywhere else, understanding other neighborhoods only as wastelands with poorly groomed people and an unacceptable shortage of Starbucks. Thanks to the presence of DePaul, Lincoln Park has a distinctly collegiate atmosphere, created not only by students but also by young professionals with fond memories of having been students within the last two decades. The weekend club scene in Lincoln Park will either offer an exhilarating trip back to your college years or a vision of hell on earth. That aside, Lincoln Park also has a row of shopping boutiques that is the envy of much of the rest of the city, and the taxes that churn through the local economy go to the well-maintained expanses of the eponymous park, the lakefront bike and jogging trails, and
North Avenue Beach
.
Also, to its credit, the Lincoln Park Zoo didn't rest on its laurels after it got that bear.
Get in
By train
The CTA
Red Line
runs along Sheffield Avenue and stops at Fullerton in Lincoln Park and North/Clybourn at the edge of Old Town. The
Brown Line
, further west, connects with the Red Line at Fullerton, but also makes stops in Lincoln Park at Armitage and Diversey, and in Old Town at Sedgwick.
The Metra
Union Pacific Northwest Line
and
Union Pacific North Line
stop at the Clybourn station just across the Chicago River
on Armitage just west of Ashland
, from which you can catch the 73 Armitage bus into Lincoln Park. The Clybourn Metra station, despite its name, is not on Clybourn Avenue.
By bus
8 Halsted runs past Steppenwolf's front door in Old Town.
22 Clark runs all night north/south down Clark Street, from the Near North and through both Old Town and Lincoln Park, before heading on to Lakeview.
37 Sedgwick runs north/south on Sedwick from Fullerton, into Old Town, River North and the Loop.
72 North runs on North Avenue, into the heart of Old Town, and on to Bucktown.
73 Armitage serves the Armitage shopping corridor.
74 Fullerton runs east/west on Fullerton, the major artery in Lincoln Park.
76 Diversey runs east/west on Diversey, the border between Lincoln Park and Lakeview, and continues to Logan Square.
151 Sheridan and 156 LaSalle both reach the Lincoln Park Zoo and the lakefront from the Near North. The 151 runs all night.
By car
Lake Shore Drive
has exits at Fullerton for Lincoln Park and North Avenue for Old Town. From the
Kennedy Expressway
, take any of the eastbound exits at Division, North, Fullerton, and Diversey.
Traffic is not swift on the streets of Lincoln Park and Old Town, but it's generally manageable. Beware of parking on side streets that require residential permits. (If you're not parking at a meter, take a quick walk up and down the block to make sure that a permit isn't required to park there.)
There are parking garages in close proximity to the theaters (notably Piper's Alley in Old Town) and on the grounds of the Lincoln Park Zoo ($14, 1-3 hours).
See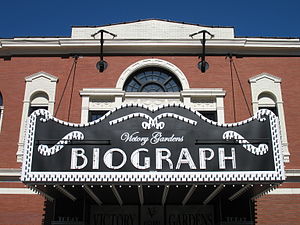 The
Lincoln Park Zoo
and the lakefront are the biggest highlights for a day here, especially with kids, but a few sights, particularly the
Biograph Theater
and the
historic districts
, are at their most powerful by night.
Biograph Theater

address: 2433 N Lincoln Ave

Plays are shown here (see Victory Gardens below), but the theater is still best known as the place where John Dillinger went down in 1934. America's most famous bank robber was leaving after a movie with the Lady in Red when FBI agents opened fire. The owners of the theater have never been keen to play up the connection, but the classic marquee is still there. Reportedly, Dillinger fans hold gatherings outside on July 22, the anniversary of his death.

phone: +1-312-642-4600

address: 1601 N Clark St

A creative urban history museum. Exhibits include The Pioneer, the first railroad locomotive to operate in Chicago, and the bed upon which Abraham Lincoln died; more fun for kids is the Chicago-style Hot Dog showcase, which supplies all the giant plastic ingredients you'll need to turn yourself (or your little brother) into a life-sized hot dog (no ketchup, of course). They also host regular tours of different CTA lines and walking tours of Lincoln Park and Old Town.

Elks National Veterans Memorial

phone: +1-773-755-4876

address: 2750 N Lakeview Ave

This neoclassical veterans memorial is truly grand. Its interior is an extravagant ensemble of marble, bronze sculptures, stained glass, and huge murals.

International Museum of Surgical Science

phone: +1-312-642-6502

address: 1524 N Lake Shore Dr

Housed in a historic mansion, the museum contains four floors of exhibits dedicated to the history of medicine and surgery and is filled with artwork and artifacts ranging from Incan surgical tools circa 2000 BCE to state-of-the-art prosthetic joints. Of special interest to those in the medical field, the collection appeals to anyone interested in history, art, science and architecture.

Lincoln ParkThe 1.5-mile-long park from which the neighborhood draws its name is dotted with statues of people with ties to Chicago or Germany (like Goethe), and features plenty of paths for running wide-open green space for sports, and even a rowing lagoon to the west.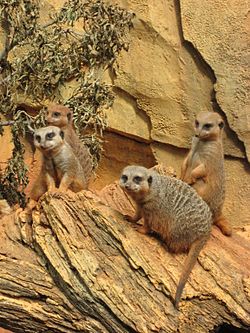 Historic districts
These areas have some of the most impressive homes in Chicago, and can be covered easily on foot. For guided walking tours, check with the Chicago History Museum (above).
Astor Street Historic District

address: Astor St, between Division and North

Near Old Town, on what's often referred to as the Gold Coast, Astor Street was named for the fur tycoon John Jacob Astor, and does him tribute on his favored terms — these are the most expensive houses in Chicago. The atmosphere is the main attraction, but the 1892 Charnley House (1365 N Astor St) is particularly interesting, marking a halfway point between the distinctive styles of master architect Louis Sullivan and his apprentice Frank Lloyd Wright. There are also some interesting Art Deco homes like Holabird & Root's design at 1444 N Astor St.

Mid-North Historic District

address: Between Fullerton Ave, Clark St, Armitage Ave, Lincoln Ave, and Orchard St

There are several nice blocks of Lincoln Park near the lake, but the Italianate, Queen Anne, and Romanesque homes of the Mid-North District are especially lovely. Three survived the Chicago Fire (2121 N Hudson, 2339 N Cleveland, 2343 N Cleveland), and two were early designs of Louis Sullivan (440 W Belden Ave, 2147 N Cleveland St). The 1882-89 row houses between Belden and Fullerton are worth a look, too. As you walk, you'll see the faded white-and-blue signs of the Church of Our Savior (530 W Fullerton Ave), founded in 1867 (although the present structure dates from 1889).

Old Town Triangle District

address: Between North Ave, Lincoln Ave, and Wells St

Several blocks of beautiful cottages and row houses, notably the five at 1826-34 N Lincoln Park West, which were designed by Louis Sullivan in 1885. The anchor of the district is St. Mike's (below).

phone: +1-312-642-2498

address: 1633 N Cleveland Ave

Unveiled in 1869, the walls of St Mike's were all that remained after the Chicago Fire swept through Old Town, making it one of only six structures to survive — and the tallest in the city until 1885. A tower was added in 1887, and the current stained glass windows date from 1902. It serves the Redemptorist faith, a branch of Catholicism, with seating for more than 1000 people.
Do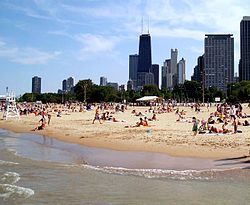 phone: +1-312-742-7529

address: 1600 N Lake Shore Dr

Quite possibly the beach volleyball capital of the Midwest. There are semi-pro leagues here, and plenty of nets for amateurs to show up and play. There's also an enclosed roller-hockey rink and plenty of people whizzing past on the wide bike lanes. The North Avenue Beach House is a big boat-shaped structure at the center (look for the red smokestacks) where there are a few food and drink options, occasional live music, and Park District offices. A couple blocks south, toward Oak Street Beach, there are chess tables.
Events & festivals
Summers in Lincoln Park are full of festivals, with one for every major street and parish. Expect beer, non-descript food and a few jam bands. Old Town has one that's definitely worth singling out, though.
phone: +1-312-337-1938

address: Just north of North Ave at Lincoln Ave and Wisconsin St

One of the premiere neighborhood festivals in Chicago, for almost 60 years. There's plenty of pretty stuff to buy, of course, with roughly 250 artists selected by a jury to participate and again at the fair for award purposes. But there's also food and good live music (local high school and national performers), garden walks through the historic district and the neighborhood at its early summer best.
Theaters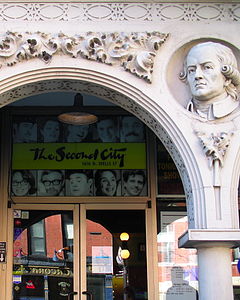 Buy
Trendy boutique shopping can be found at the shops on Armitage between Halsted and Sheffield in Lincoln Park.
Eat
The Lincoln Park Zoo may be free, but the food court and the concessions are a bit steep. If you need to eat at the zoo, take some solace in remembering how much you paid to get in!
Budget
The DePaul area has a lot of fast food targeted at students, mostly sandwich and noodle shops.
phone: +1-773-472-3505

address: 1118 W Fullerton Ave

This mom-and-pop establishment has been whipping up sandwiches for DePaul students since 1976, and the service alone is worth the trip. Fries are free with almost everything on the menu and a Jumbo Chicago style dog with fries and a large drink comes to about 5 bucks. Cash only.

phone: +1-773-472-3505

address: 2441 N Lincoln Ave

Breakfast all day and night, although burgers are available, too. The food is decent at best, but the hours make it a must-know for anyone on the Lincoln Park bar scene.

phone: +1-773-857-1576

address: 507 W Dickens Ave

CityGrounds coffee bar serves artisan coffee, loose leaf tea and locally produced pastries, cakes and breads. Serves the locally roasted coffees of Metropolis Coffee Company.

phone: +1-312-638-9151

address: 2521 N Clark St

If you're in the park by the lakefront, or if you're carrying a lighter wallet after a trip to the Century Shopping Centre in Lakeview a couple blocks north, the prices are absurdly low for the amount of satisfaction you'll get from the Mediterranean salad bar or falafel sandwiches here. They also do a fine shawerma.

phone: +1-773-235-6652

address: 2501 N Damen Ave

Hoo boy, it's the motherlode. This is where all Chicago's hot dogs are born (not to mention Polish sausages, Italian Beef, and other assorted deli meats). You cannot eat a truer Chicago hot dog than in the factory itself, and the prices are among the best in the city. Parking is easy in the outside lot.

The Wiener's Circle

address: 2622 N Clark St

The food is only so-so, the prices fair, but what makes this walk-up joint famous is the staff, who have zero patience for customers and the colorful language skills of a bartender at the seediest dockside bar imaginable. A favorite of the late-night crowd, who after a long night of drinking seem to find major entertainment value in being served a massive dose of profane invective with their greasy chili fries and Chicago-style hot dogs.
Mid-range
Lincoln Park is crammed with mid-range Italian restaurants. Sushi places aren't rare, either.
phone: +1-773-472-7400

address: 2204 N Lincoln Ave

A Lincoln Park branch of the Loop favorite that serves what many call the city's best stuffed pizza.

phone: +1-312-664-3663

address: 1400 N Wells St

Reliable and sometimes exceptional sushi at this Old Town outlet of the Chicago sushi chainlet. There's relief for vegetarians as well: try the agedashi tofu.

phone: +1-773-832-4030

address: 958 W Wrightwood Ave

Lincoln Park branch of the deep-dish pizza giant. This location has outdoor seating and a nice park across the street.

Mayan Palace

phone: +1-773-935-4200

address: 2703 N Halsted St

Good Mexican food in a relaxed atmosphere, indoor and outdoor seating. Don't put much stock in their claim regarding the best margaritas in the world (1/2 price Tu&Th), but their mole sauce and their fried ice cream are worth bragging about.

phone: +1-773-327-1512

address: 2207 N Clybourn Ave

Great place to get caramelized/burnt crust Chicago style deep dish pizza, considered a secret favorite.

phone: +1-773-348-1010

address: 2660 N Halsted St

Great Indian food with an extensive menu. The service is creaky and the staff always seem to be breaking in flocks of new busboys, but the taste and decor are worth the stop.

Riccardo Trattoria

phone: +1-773-549-0038

address: 2660 N Halsted St

Unpretentious and authentic Italian restaurant rated among the best in Chicago, with traditional pastas and numerous other dishes to choose from.

phone: +1-773-327-2652

address: 2119 N Clark St

Indian/Pakistani cuisine, good bite before the B.L.U.E.S. or the Kingston Mines.

phone: +1-312-266-1616

address: 1655 N Sedgwick St

Impress your friends with your knowledge of Chicago by "stumbling across" this hidden neighborhood joint. Once Frank Sinatra's favorite restaurant in town, it's best known for its ribs, although they also have decent steak.
Splurge
phone: +1-312-867-0110

address: 1723 N Halsted St

Ranked seventh in the world in 2012 by Restaurant Magazine (second in the USA), and Chicago's only restaurant to hold three stars from Michelin; that's only the beginning of the acclaim for Alinea and Chef Grant Achatz. Reservations can be tough to get; start well in advance with the ticket system on their website and keep an eye on their social media for same-night tables.

phone: +1-312-337-6070

address: 1729 N Halsted St

The menu mixes Japanese, Mediterranean, European, and dang ol' Midwestern food without apparent self-consciousness. Plenty of seafood and a raw bar, too. Dinners are satisfying but light, making it the perfect place for a pre-show meal. You won't need formal dress, but you will need a reservation.
Drink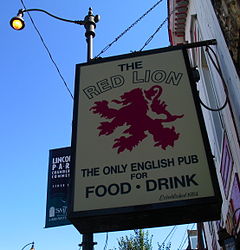 If there's a college sports game that you can't miss while you're in town, make tracks to Lincoln Park. Most of the alumni associations (especially for Big Ten schools) have a bar staked out for themselves.
phone: +1-312-649-0730

address: 1260 N Dearborn St

Once known as the Chicago meet-up spot for 2600, the computer hackers quarterly, 3rd Coast is an upscale late-night oasis amid blocks of impressive, silent Old Town row houses. Evenings feature jazz and solo guitarists, and the food is far above average for a cafe.

address: 2519 N Halsted St

Small but dedicated blues bar. On Sundays, one cover charge gets you into B.L.U.E.S. and Kingston Mines across the road. This is one of the true Chicago blues experiences.

phone: +1-773-472-2771

address: 2771 N Lincoln Ave

This is the joint where Kurt (Cobain) met Courtney (Love). No kidding. The booze selection is unbeatable and recent almost-rock-stars spin the records.

address: 2548 N Halsted St

The larger of the blues bars on Halsted. Has a great set-up with two stages and two bands every night. One band plays for an hour on one stage then the other band takes over on the second stage for an hour — continuous music all night from 9:30PM.

Liar's Club

phone: +1-773-665-1110

address: 1665 W Fullerton Ave

Good place to dance on the weekend — the DJs play the hits and know how to take the measure of the frat-free crowd. The round wood track-lit dance floor is a stand-out, too. If your friends don't dance, they can wait at the bar upstairs.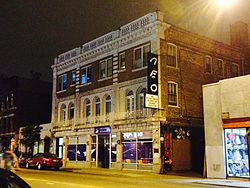 phone: +1-312-944-7020

address: 219 W North Ave

An old-time Old Town dive, decorated with photos and newspaper clippings to show its history and favored status among famous Second City alums. Note the very late hours.

phone: +1-773-868-0608

address: 1480 W Webster Ave

Webster's has wine tastings/classes twice a month, and all of the expertise to satisfy a sophisticate.
Sleep
Connect
Lincoln Park Library

phone: +1-312-744-1926

address: 1150 W Fullerton Ave

Public library with free internet access. Two blocks west of the train station.
Go next
If you are in the mood for exploration, and would like to evade the sports bar scene in Lincoln Park, consider heading west across the river to Wicker Park or Bucktown for some more colorful nightlife and shopping.